Karlsson is dominating the Bruins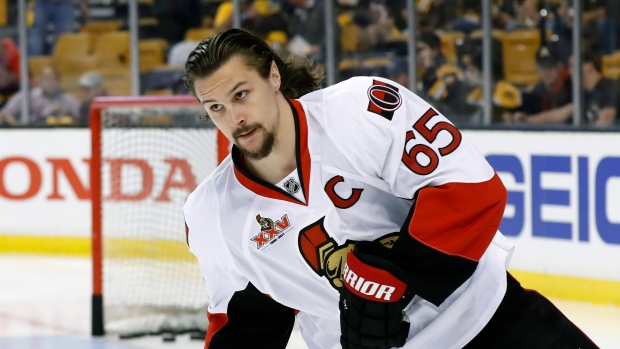 Last week, I posited a simple question to the Ottawa Senators: How do you plan on slowing down the Patrice Bergeron line?
The Bergeron line (including wingers Brad Marchand and David Pastrnak) was coming off of a monstrous Game 1 and little has changed on that front. They aren't scoring right now, but the ice is comically tilted when they are out there for 15 or so minutes a night. This has been a consistent theme throughout the season – it seems no team really has a solution for slowing that group down other than a little hope and prayer.
Ottawa is a unique team from a matchup perspective though. While they still don't have an answer for the Bergeron line, they can counter in a way most teams can't. The Bruins don't have an answer for Sens defenceman Erik Karlsson, and considering he plays significantly more than Bergeron (or Marchand, or Pastrnak), the advantage slides the way of Ottawa.
I mentioned that the Bergeron line has dominated for four games. The problem is that Karlsson has more than offset the Bergeron line, creating a situation where Boston is emphatically losing about half of the game at even strength. That's a problem for many reasons, not the least of which concerns how much pressure you put on your top line to score goals – something the Bruins trio isn't doing right now.
Consider the shot differentials with the Bergeron line and Karlsson both on and off of the ice. You can see the clear divide I'm talking about in both instances:

From a pure territorial advantage, both units are picking apart the opposition (note: scoring chances are strikingly similar from a percentage basis). But the disparity on the Karlsson side is the clear takeaway here. Boston is getting absolutely caved in whenever he's on the ice, and that's close to half of the game (he's averaging close to 28 minutes a night). That puts an incredible amount of pressure on the Bruins to try to win the minutes he's not out there. If the goals aren't coming – and they aren't right now for Boston – you're in a bad spot.
A lot has been made about Karlsson's scoring (he already has five assists in the series, a few of which have been of the highlight-reel variety), but the real hallmark of this series is in the data above. Boston simply can't sustain offensive zone pressure when he's out there. If they lose the puck, he recovers it and instantly breaks out – something the rest of the Ottawa defensive corps struggles with. Far too frequently he takes a high-pressure situation in the defensive zone and turns it into offensive zone time.
The question for Boston is pretty simple: What do you do with your lines? Do you throw your elite trio against him as frequently as possible and hope your depth beats Ottawa's? Or do you let him run roughshod on your weaker players and hope that the Bergeron unit starts scoring?
I don't think there are any great answers. Karlsson has pretty much had the better of every regular Bruins player he's faced. Here's how his aggregated shot differential looks against any player he's seen on a consistent basis: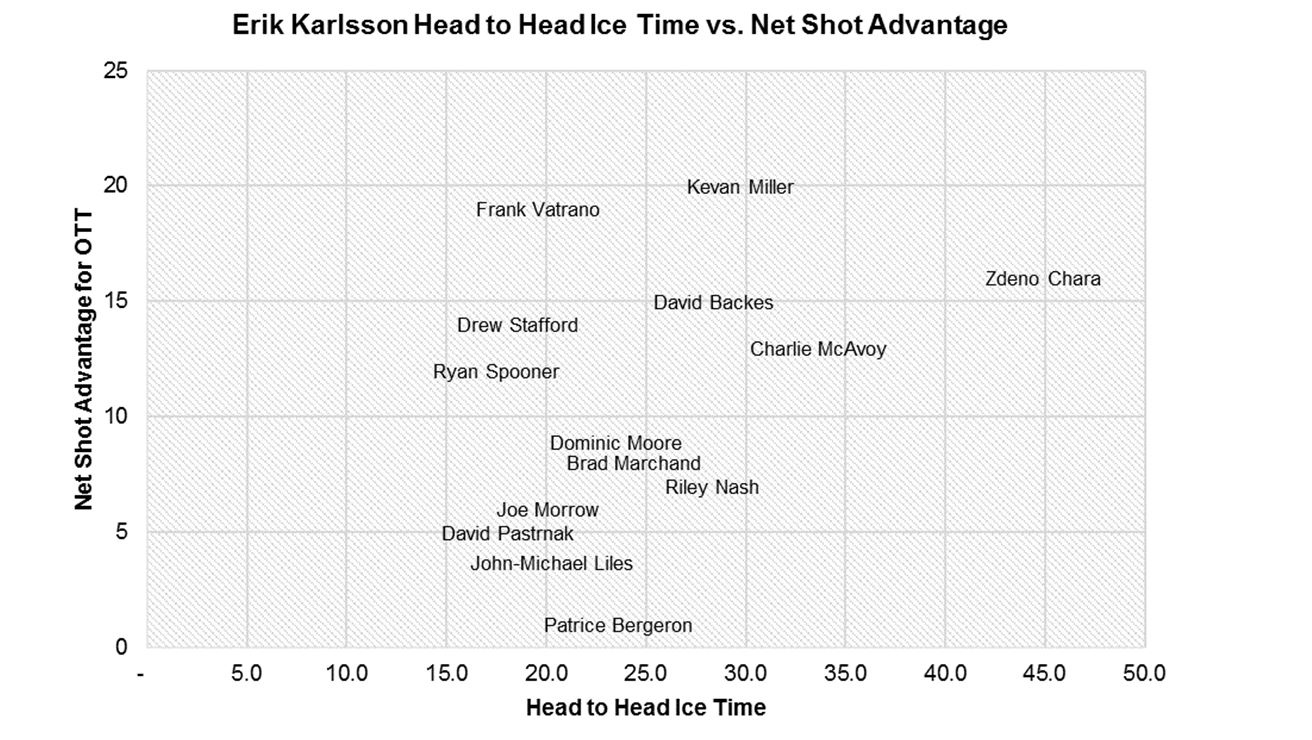 There's not a single regular Bruins skater who is in the black against Karlsson. That's the first problem. The second problem is that even Boston's elite line is fighting to break even against Karlsson in the minutes they are out there. I look at this as unstoppable force versus unmovable object, but it's notable that the Bergeron group has been pulverizing the rest of the Senators.
The further north you get on the graph, the more trouble you have had in the series. Guys like Zdeno Chara are concerning here, but note that they have played a ton of minutes head to head. Names like Frank Vatrano, David Backes and Kevan Miller have played half as many head-to-head minutes and have basically bled the same number of shots.
At the end of the day, I think Ottawa conceded that they don't have an answer for slowing down the Bergeron line. Rather, they posed a question back to the Bruins: How are you going to slow down the league's best defender, and a guy who is going to eat up a lot of minutes?
Boston is still searching for a solution. I don't think one exists. That's why the Senators are one game away from moving on to Round 2.