Karlsson is great, but there are ominous signs in Ottawa
The Ottawa Senators may own the Norris Trophy favourite in Erik Karlsson, but TSN's Travis Yost explains the lack of depth in Ottawa could be their demise.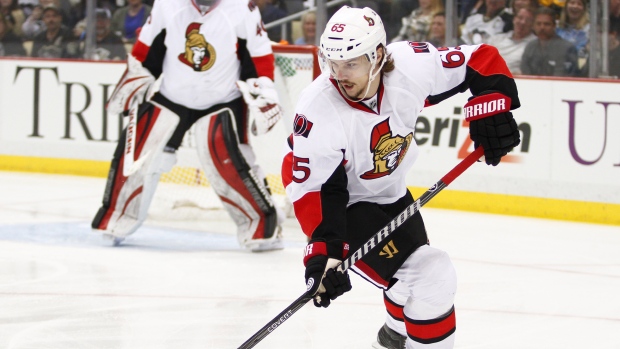 How can a team with such high-end talent look so bad on a nightly basis?
It's a question we have dealt with before. Remember Ilya Kovalchuk's Atlanta Thrashers? A generational talent surrounded by very little. There were legitimate spurts where I would have considered him the league's preeminent talent. Atlanta never made it out of the first round of the playoffs.
And who can forget the 2012-2014 Pittsburgh Penguins? A team with not one, but two generational talents in the forward ranks. And again, little else to offer behind them. Their depth issues were magnified in a big way against stiffer competition in the playoffs, which included a pair of series losses to Boston and New York.
These organizations were criticized for their failure to build around guys who, at the time, graded out as three of the best hockey players in the universe. It was an entirely fair criticism. Both organizations wrangled with the same issues: an inability to properly delineate between competent/incompetent depth talents internally, an inability to exploit market inefficiencies and acquire competent depth talent externally, salary restrictions (through imposed budgets or hard cap management), general complacency and, in some cases, a belief that these issues were less debilitating than reality.
It's hard not to read that paragraph and think about the Ottawa Senators, isn't it?
Here's a team with a defenceman in Erik Karlsson who, barring injury, is going to win his third Norris Trophy at season's end. He's out-played two of my favourite defenders – Drew Doughty in Los Angeles and P.K. Subban in Montreal – by a considerable margin. He's neck-and-neck in the scoring race with all-world snipers in Taylor Hall and Vladimir Tarasenko. And he's still just 25 years old.
Karlsson has been dominant for years now, but it seems as though his game has been taken to new heights this season. There's a reasonable argument to make that he's in the Hart Trophy conversation right now. Considering just one defender has won it since Bobby Orr (Chris Pronger in 1999-2000), that's about the highest praise you can offer.
And yet, Karlsson's postseason ledger shows just one series win.
The reality is that Ottawa's never been good enough to do damage come April or May. Even in periods where they have had strong goaltending (like right now – Craig Anderson has been an absolute wall for them), the depth is usually overwhelmed against any form of respectable competition.
It ties back into what we saw with those Thrashers and Penguins teams in years past. Total, unadulterated dependency on star players to carry all of the burden for a multitude of bad reasons.
The troubling thing is that it seems to be getting worse with time. Let's take a look at cumulative shot differentials in Ottawa over Karlsson's career. Note how the team 'without Karlsson' has seen their performance absolutely nosedive of late:
For years, the Senators were a great team with Karlsson and a very average team without him. That might be good enough for playoff conversation, but it's not good enough for any kind of Stanley Cup talk. Not even close.
Of late, it's grown even more extreme. Even on a team that's out-shot in ways you can't even begin to comprehend (like 40-16 Tuesday night against Florida), the two-time Norris winner is handling himself emphatically well. It's just that their depth forwards and depth defencemen get pummeled into the defensive zone and stay there for extended periods of time. It's pretty hard to win that way.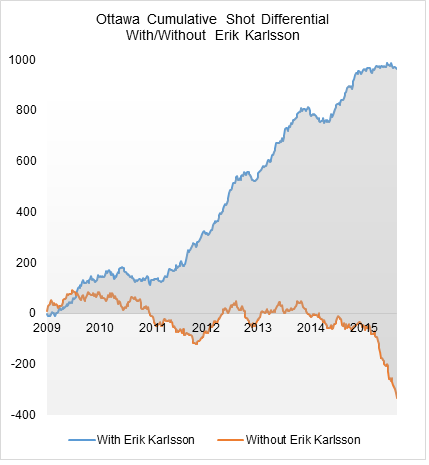 Let me, for a moment, show you what a team that builds well around their marquee talent looks like. Here's Chicago with/without Duncan Keith, another former Norris winner.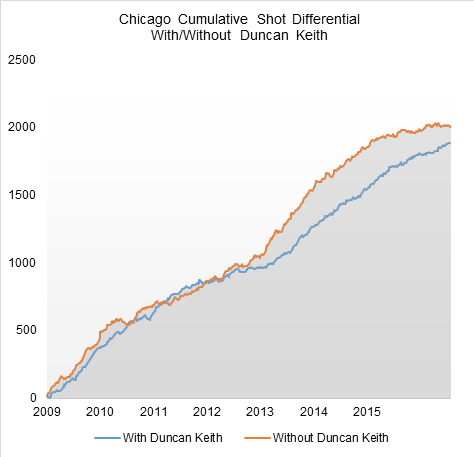 That's dominance.
Ultimately, this is one of the big reasons why I am so bearish on the Sens' playoff potential in 2015-16. Even after an exceptional PDO bender to start the year, they still sit fifth in the division, three points up on Tampa Bay —maybe the most talented team in the entire Atlantic. They could, theoretically, get there as a seven or eight seed. Getting some talented players back from injury will certainly help.
That said, has there ever been a point in time – healthy or otherwise – that this team has felt like Stanley Cup calibre? No. And that's the problem. Year seven of Erik Karlsson's going into the books, with little to show for it.
The Takeaway
Erik Karlsson (and, the first slice of Ottawa's top-end talent) seem good enough to compete with the toughs of the NHL. As for the rest of the roster? The jury is out. That doesn't bode well for this team's short-term outlook.