Karlsson on pace to join NHL greats
Ottawa defenceman's steady offensive productivity in a low-scoring era already puts him in the Hall of Fame discussion, Travis Yost writes.
If there was one award that appeared to be decided as far back as December, it was the Norris Trophy.
Brent Burns was on an absolute tear, and little has changed on that front. Burns has already amassed 70 points for the playoff-bound San Jose Sharks, and has a real shot at the 30-goal mark. For a defenceman in the modern era, that's a massive feat.

Erik Karlsson is trying to make it a two-horse race. Though he had a quiet first half of the season by his standards, Karlsson is on a torrid run of late – and suddenly, the Ottawa Senators can't lose. It seems unlikely that he's done enough to pass Burns in the Norris race, but at the very least, he's once again made the vote something of a debate. It's a debate Karlsson is seemingly a part of every season.
That last piece shouldn't be lost on anyone. Since Karlsson came into the league, he's accumulated an extraordinary number of Norris Trophy votes. Consider the totals over the last five years – a stretch that includes a mostly-missed 2012-13 season due to an Achilles tear: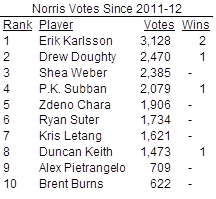 In those 3,128 votes came a pair of Norris wins in 2011-12 and 2014-15. If Burns is to hold on and win the Norris race and Karlsson finishes second, it'll be the Swede's second bridesmaid season – he finished just behind Drew Doughty in last year's voting.
Ultimately, I don't think Karlsson, nor the Senators, care much about this trophy, especially in light of their chase to win the Atlantic Division. But one thing that dawns on me after considering his Norris legacy: Even at the age of 26, there's an argument to be made that Karlsson – as he sits today – has already laid the foundation for a Hall-of-Fame resume.
The starting point is the obvious one: Karlsson is a two-time Norris Trophy winner. Every two-time (or better) Norris Trophy winner is in the Hall of Fame. That list runs from the legendary Bobby Orr and his eight wins all the way through fellow two-time winners Brian Leetch and Larry Robinson.
The biggest statistical argument in support of Karlsson already being there is his scoring. I've made this point before, but we really haven't ever seen a run quite like Karlsson's since the salary cap was put in place. The only defencemen who have outscored him through the age of 26 are guys who played in an era where scoring was drastically more prominent (data via HockeyReference):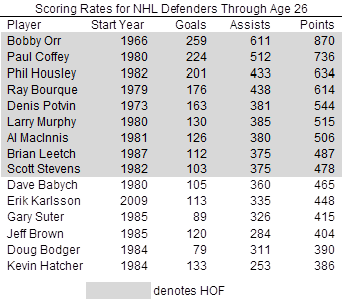 It's a very small list of guys he's looking up at, and every one of those players is already enshrined. The interesting thing here is that if you looked at rate scoring instead of aggregation (I argue the latter tends to drive HOF voting, but I digress) Karlsson would move up the list a bit, jumping guys like Murphy and Stevens.
The other standout is the complete absence of modern-era players on the list. Outside of Orr and Potvin, every one of these players racked up these scoring rates in a time when the average game saw about 7.5 (and in some cases, closer to eight) goals per game. The NHL has consistently floated around 5.5 goals per game during Karlsson's career, which means over an 82-game season, these defenders had about one incremental chance per game to pick up a goal or assist. That's a significant advantage.
To illustrate this, let's recreate the scoring list for defenders through age 26, but only for guys who started their run from 1996 onward – a reasonable starting point if you're looking for when the NHL became a tight-checking, strong-goaltending, low-scoring type of league. Here's what it looks like: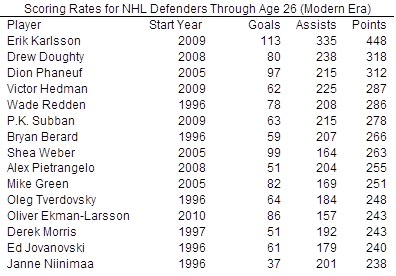 This is one measurement of a player's ability. Points aren't everything, but this kind of a gap is really hard to imagine, especially when you consider that Doughty is quite excellent at just about everything he does. (The gap between Karlsson and Doughty here at 1-2 is about the same as the gap between Doughty and Tom Poti at 2-38.)
Those 448 points already put him 75th all-time on the defencemen scoring list, with very few active NHLers ahead of him. At his current scoring pace, he'll need about three seasons (through age 29) to start knocking on the door of the top-25, which includes guys like Chris Pronger and Kevin Hatcher. Both of those names took well over 1,000 games to amass their point totals. Karlsson will likely need about 200 fewer games than that.
I don't think Karlsson has enough in the tank to chase down his third Norris Trophy this year. Burns has been ridiculously productive all year long, and though there's maybe an argument to be made about Karlsson's improved defensive game trying to offset the gap, I'm not sure there's enough there. Unlike last year – which seemed to be about voters getting tired of the idea of Karlsson winning it again, forcing some to consider less-productive options – Burns' resume is outstanding and deserving of a vote.
But what a year and what a run it has been by the Sens captain. Karlsson, like Zdeno Chara and Nicklas Lidstrom before him, has entrenched himself as the NHL's best by way of consistent – and freakish – productivity. Historically, that's been the way to walk into the Hall of Fame.
Add a championship trophy to the mix – something Karlsson is still searching for – and you can start preparing the banner.