Karlsson reveals more about ankle injury
Wednesday marked the first time the Senators captain has skated on consecutive days since undergoing surgical procedure in June, Ian Mendes writes.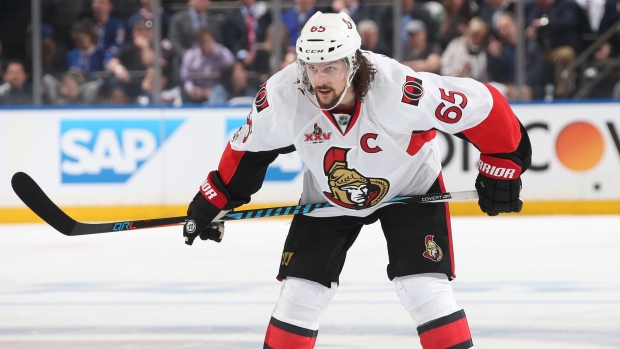 It took Erik Karlsson a few minutes to find the right words on Wednesday morning, but he finally was able to describe how his left ankle and foot feel after undergoing surgery in the middle of June.
"It's hard to truly say exactly what is different. It feels like I have a leather piece in my one ankle and you can't really move it," Karlsson told a crowd of reporters. "It's going to take some getting used to, but again, I think I can manage this pretty well right now."
The usually indefatigable Karlsson was noticeably short on breath during the first few answers he gave to the media, a clear sign that his conditioning is not quite in mid-season form. But Wednesday marked the first time the perennial Norris Trophy candidate skated on consecutive days since undergoing his surgical procedure.
Karlsson then raised a few eyebrows by describing that procedure in more detail than he had in the past.
"They took half of my ankle bone out and the part that is still there should be as normal possible," Karlsson revealed.
The Sens defenceman – who finished second in the NHL with 201 blocked shots last season – was asked if taking a puck to the ankle could cause further damage.
"If you get a shot there, there's always a risk of you breaking it – whether it's the same ankle or something else," he said. "But it's not something I'm worried about. Hopefully I can block a little bit different."
Karlsson wore a blue, no-contact jersey and remained on the ice with his teammates for the entire duration of the practice. He participated in many of the drills and said he's not experiencing any pain in his ankle or foot. Instead of pain, he describes the sensation as "weird" and acknowledges "the feeling is always going to be there."
Karlsson said the plan is for him to keep skating every day this week, provided he does not encounter any setbacks.
An encouraging sign for Senators fans is the fact that Karlsson's return to the lineup in October now seems inevitable. Just a couple of weeks ago, Karlsson himself suggested that his return could be delayed until November, which sent many Ottawa fans into a panic.
But Karlsson says that his foot "feels better than it did in the playoffs" and now he's even being asked about the possibility of suiting up for Ottawa's regular-season opener next Thursday night against Washington.
The Senators captain pumped the brakes on that storyline, suggesting that returning to the lineup next week might be a tad optimistic.
"Most likely not – no," Karlsson said when asked about playing against the Capitals. "Again, anything can happen and we'll see how it reacts here once I get into things a little deeper. It's a good sign that I'm finally skating."
Karlsson is no stranger to stunning comebacks, having authored one of the most famous ones in recent NHL history when he returned to the Ottawa lineup in 2013 just 10 weeks after suffering a torn Achilles tendon that was supposed to sideline him for several months.
But the 27-year-old said there wasn't much of a comparison between the two injuries he's sustained because they had such different outcomes.
"With the Achilles, I had more trouble skating in straight lines and not going side-to-side – which is the issue with this one," says Karlsson, who notes he will be doing extensive edge work to try and get his lateral game back on track.
Karlsson has been able to engage in light workouts to help boost his cardio over the past couple of weeks. But he said we likely won't be seeing him do grueling and punishing skates at the end of practices to try and get his conditioning to a mid-season form.
"I'm a sprinter, not a marathon guy in the games," Karlsson said with a slight chuckle "And that's what I have to get back into – short shifts that are hard. Skating around the rink for 100 laps won't do me much."