Karlsson's return gives Sens fans a proper chance to say goodbye
Saturday's game is an opportunity for fans to thank the former captain for multiple Norris Trophy seasons and an extended playoff run in 2017 that has reached iconic status in Ottawa, Ian Mendes writes.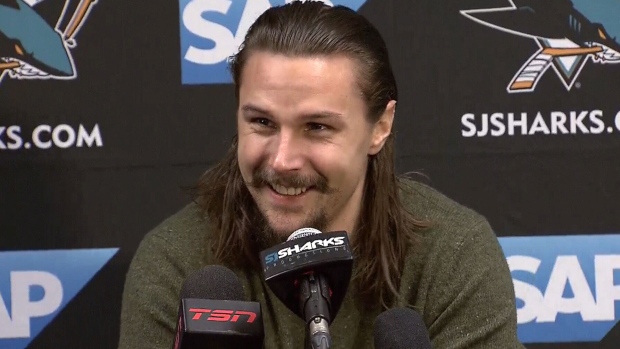 It was exactly one year ago – Nov. 30, 2017 – that the first cracks in the relationship between Erik Karlsson and the Ottawa Senators became visible to the public.
On that day, Karlsson appeared to lob a grenade in the direction of the Senators front office, suggesting he had no desire to take a hometown discount to stay in Ottawa.
The two sides weren't officially allowed to negotiate the terms of a new contract, but the superstar defenceman and team captain was already setting his parameters.
"When I go to market, I'm going to get what I'm worth and it's going to be no less – no matter where I'm going," Karlsson said in Brooklyn that day. "That's the business part of it. That's the way every player has been treated ever since this league has started and I think the players have been a little bit on the other side of things when it comes to negotiations. I think it's time to realize that when we go to the table, it's business on both parts – not just [owners]."
Whether you want to believe it or not, that was the beginning of the end of the Erik Karlsson era in Ottawa. Karlsson later admitted that he never had a meaningful conversation with either general manager Pierre Dorion or owner Eugene Melnyk after November of last year, around the time that the club asked for the teams on his no-trade list.
From that point forward, Karlsson started to slowly fade away from the scene in Ottawa. Whereas Daniel Alfredsson's departure from Ottawa was swift and sudden, Karlsson's exit was prolonged and protracted. Each passing month seemed to bring a piece of news or sound bite that pushed Karlsson one step closer to the city limits.
In December, Melnyk suggested that his team's payroll would be tied to attendance – a comment that ran completely counter to Karlsson's notion that he wasn't taking a hometown discount.
In January, Dorion seemingly opened the door to a Karlsson trade by suggesting that even Wayne Gretzky got traded.
By early February, the club was touting the merits of a rebuild in a press release, which left many wondering if Karlsson would be part of that new direction.
March brought the devastating news that Karlsson and his wife, Melinda, had lost their baby son, just weeks before he was due.
Karlsson fished out the puck from his own net after the Senators final home game in April – a clear signal that he wanted a souvenir from what would likely be his last game in Ottawa.
In May, a massive story broke detailing how Melinda had filed an application for an order of protection against Mike Hoffman's girlfriend, Monika Caryk, alleging that she orchestrated a campaign of cyberbullying against the Karlsson family.
Everything was pointing to Karlsson leaving town, but by late June, the Senators were preparing to offer Karlsson a significant contract – despite all the turmoil surrounding him. Dorion had promised season ticket holders during a town hall meeting in the spring that he would offer Karlsson a maximum eight-year contract offer.
To his credit, Dorion held true to his word and offered the superstar defenceman an eight-year contract. The Senators are adamant that they offered him a deal in the neighbourhood of $88 million. The hockey world waited with bated breath to see how the negotiations would unfold over the summer.
And then, after months of a constant news cycle involving Karlsson, the strangest thing happened: everything went into radio silence.
From early July until training camp in September – a period that only lasted 10 weeks, but felt like an eternity to Senators fans – there wasn't the slightest bit of news around Karlsson. There were no tangible or legitimate contract negotiations. There was just…silence.
The Senators interpreted that silence as a deafening scream from the Karlsson camp that he wanted out of Ottawa – or at least was planning on testing free agency in the summer of 2019.
So the Senators determined that their situation with Karlsson had become untenable; that they reached the point of no return at some point during the bizarre odyssey that was the 2017-18 campaign. Finally, they traded Karlsson to the San Jose Sharks on the first day of training camp.
The reaction was predictable.
Fans vowed to stay away from the Canadian Tire Centre in droves. Sure enough, there has been a dip of about 2,000 fans on average at Sens home games this season.
That should change Saturday afternoon, when Karlsson returns to Ottawa for the first time as a member of the Sharks. If the building is not sold-out it should be close to capacity as many disenchanted fans circled this as their one must-see game of the season.
There were multiple false starts last season and so many trade rumours that never came to fruition that Ottawa fans never got a proper chance to say goodbye to Karlsson.
They never had a chance to properly say thanks for multiple Norris Trophy seasons and an extended playoff run in 2017 on a fractured foot that has reached iconic status in this market. Even the most ardent Alfredsson fan would have to concede that Karlsson is the greatest player to ever put on a Senators jersey.
They'll get their opportunity on Saturday afternoon, inside a building that should be full of life. Senators fans have been through this act before, with a former high-profile star returning home to an arena that doubles as a bubbling cauldron of emotion.
In December of 2010, the atmosphere was downright toxic when Dany Heatley stepped onto the ice in Ottawa for the first time as a member of the Sharks. He was voraciously booed every time he touched the puck and the atmosphere was so venomous that Heatley action figures were even placed inside some urinals inside the arena.
When Alfredsson made his much anticipated return in December of 2013, the mood was distinctly more divided. It was mostly a love-in for the former captain, but there was a portion of the fan base that was booing Alfredsson because they felt like he alienated the fan base with his decision to sign as a free agent in Detroit.
On Saturday afternoon, the mood will almost certainly be unanimously in support of Karlsson. Whereas the fans cast all of the blame on Heatley for leaving and some of it on Alfredsson for his departure, almost all of the venom in the Karlsson-Senators divorce has been directed towards the organization.
Management will point back to the fact that they offered the Karlsson camp a contract and never heard back. If a contract negotiation is supposed to be like a tennis match, with constant volleys back and forth, the Senators felt like they lobbed up an easy serve and got no return.
But perhaps the more accurate tennis term to use in this situation would be double-fault, because ultimately, both sides bear some responsibility for how things played out.
And truthfully, Karlsson was ready to move on from Ottawa. Clearly the Senators were also ready to move on from him.