Karlsson might not return until November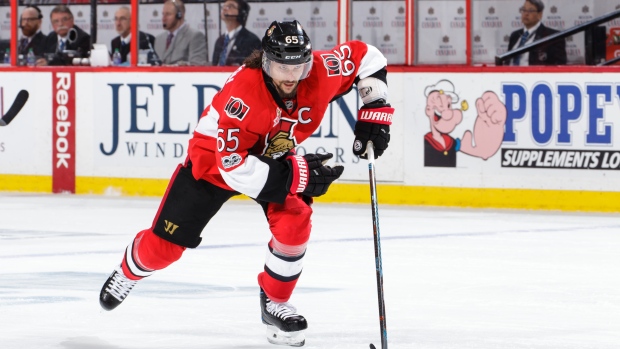 Erik Karlsson stood in front of reporters on Monday afternoon wearing a pair of sandals that gave everyone a clear view of his surgically repaired left foot.
The Senators captain admitted he's currently forced to wear the open-toed footwear because the scar on his foot keeps opening up when he wears shoes. That means Karlsson isn't anywhere close to putting on a pair of skates and hitting the ice with his teammates when training camp opens later this week.
While Karlsson left the hockey world in awe when he returned months ahead of schedule from a serious Achilles injury in 2013, he says this time around he's going to take a more cautious approach with his rehabilitation. The perennial Norris Trophy candidate admitted he might have to miss the first month of the season to make sure he's fully healthy.
"I'm going to make sure this is something that is not going to affect me moving forward in my career," Karlsson said. "Whenever I'm 100 per cent I'm going to come back and play – whether that is in October or November. For me, it's not going to make a difference. When I do decide to come back it's going to be 100 per cent and it's not going to be an injury I'm going to have to battle with for the next two or three years."
If Karlsson does not return until early November, there is a chance he could miss close to 15 regular-season games. The Senators play 12 games in October and then have a long break in early November leading into a home-and-home series against the Colorado Avalanche in Stockholm. Those two contests represent the club's 15th and 16th games of the campaign and because they are being staged in his home country, they would clearly be a target for Karlsson's return.
Senators general manager Pierre Dorion had a phone conversation with Karlsson on Monday morning and the captain informed him that he likely wouldn't be ready to skate for another two or three weeks.
"That obviously puts the start of the season in jeopardy for him," admitted Dorion. But we all know Erik is special. We have the assets on the back end – and no one can replace Erik – but if he's out for a week or two or three, we'll be fine."
Karlsson underwent surgery to repair torn tendons in his left foot on June 14 in Charlotte. He required crutches to move around following the procedure and was told to stay away from most activities for a period of three months to allow his new tendon to settle.
Because of the surgeon's original prognosis ¬– that Karlsson would be able to return to physical activities by mid-September – the star defenceman isn't too concerned that he could miss the first few weeks of the season.
"It's progressing. Overall I'm not too worried with where I'm at or how it's looking right now," said Karlsson. "Everything is going as expected."
Karlsson said that once he starts skating – ideally later this month – it will still take him some time to get adjusted to the sensation of having an artificial tendon in his foot.
"It's a weird feeling. It's never going to feel like it did before. That's going to be my new normal," said Karlsson.
Karlsson later joked, "I can safely say my basketball career is over."
Senators' fans, of course, are more interested in Karlsson resuming his hockey career and picking up where he left off last spring as he led the Senators to the Eastern Conference Final. Karlsson's individual performance was so impressive that he garnered a vote for the Conn Smythe trophy – even though the Senators didn't reach the Stanley Cup Final.
The fear for most Senators fans is that Karlsson will be a watered-down version of himself when he returns to game action this fall. Following the Achilles injury in 2013, it took a good 18 months for Karlsson to really find his old skating stride and his Norris Trophy form.
But the 27-year-old cautions against making any comparisons to his previous catastrophic injury.
"It probably took me a few years to feel really good from the Achilles injury and this is something completely different," he said. "It doesn't really have any comparisons.