Kisner confident atop the PGA leaderboard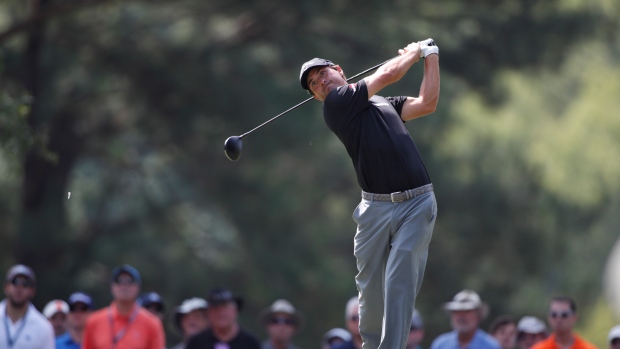 CHARLOTTE, N.C. -- No one should be surprised that Kevin Kisner is atop the leaderboard at the PGA Championship. Kevin Kisner certainly isn't.
While he doesn't get mentioned in the same breath as names like McIlroy, Johnson, Spieth or Day, over the past two years he's been one of the most consistent players in the game.
On Friday, the golfer who lives just two hours south of Charlotte posted his second consecutive round of 67 and had a four-shot lead.
Yes, Kisner is this good. He's won an event in each of the last two seasons, had six more runner-up finishes and made it to the Tour Championship in 2015 and '16.
It's only at the majors where he has failed to show up. In 11 past appearances in majors, Kisner has never been a factor. His best finish is a tie for 12th, that coming at the 2015 U.S. Open. This year, while he made the cut in each of the first three, a tie for 43rd at the Masters was the best he could muster.
Now he's ready to change that.
"I've been upset with how I've played in the majors so far in my career," he said. "I feel like I have the game to compete in majors, and tons of 30th- to 40th-, 50th-place finishes. That's kind of been our goal for the year. We haven't played well in them yet this year but every year you learn more about the majors and how to approach them."
So far, around Quail Hollow, Kisner has been able to do what no other player has managed – figure out the greens and roll in some decent-length putts. After 36 holes, he was first in Strokes Gained: Putting, having holed 181 feet of putts.
While many in the field struggle with the slopes of the putting surfaces or with trying to figure out the grain of the Bermuda grass, Kisner drained a 23-footer for eagle on the seventh, and added three more birdies on 10, 12 and 15. A bogey on 13 was the only blemish on his card.
"I'm really fired up about it the way I'm hitting the golf ball," Kisner said. "I haven't hit it this well this whole summer. A lot of averages finishes. When I start hitting it the way I am now, I play well."
The Aiken, S.C., product has come a long way. Not that long ago, he figured his game was so poor he considered quitting. In fact, he wasn't thinking about majors, he was worried more about shanking a ball into one of his playing partners. He'd acquired a bad case of the shanks and to avoid embarrassment – and possibly his pals' doctor's bills – he played alone.
But lots of hard work with his coach, John Tillery, grooved his swing and restored his confidence. His play started to shine through and his enjoyment of the game returned.
"I've always played other sports throughout my life, and I've never been the biggest guy, so I had to find a way to get things done," he said. "That's why I play golf now because I was better than everybody else at golf. I like beating people and I like competing, and that's kind of how I was raised."
Needless to say, Kisner will be breaking new ground as he heads to the weekend with the lead. But he doesn't seem worried about being at the top of the leaderboard and looking down at the world-class chasers.
"At the end of the day, it's just golf, right?" he stated. "I have to hit my tee ball where I'm trying to look, and if I don't, I have to find a way to get the ball in the hole the fastest. I think players spend too much work into figuring out golf courses, instead of just getting the ball in the hole."
If Kisner can continue getting the ball in the hole, as he's done so far, he'll certainly make a name for himself.