Laine much more than a one-dimensional sniper
The Winnipeg winger's remarkable impact on his team's offensive numbers makes the Laine-or-Matthews Calder Trophy argument a debate worth having, Travis Yost writes.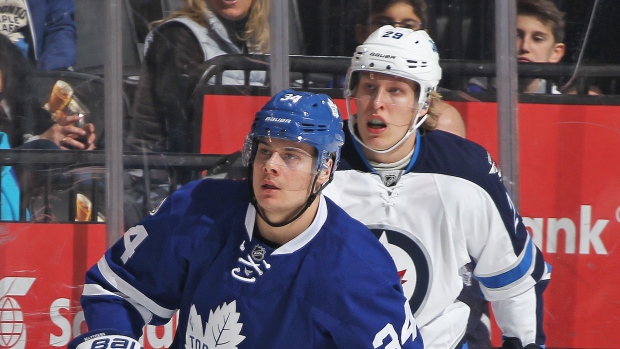 The suddenly furious discussion around the Patrik Laine and Auston Matthews Calder Trophy race is a debate worth having, if only because what Laine has provided to his team offensively is remarkable.
As it stands today, only two players – Pittsburgh's Evgeni Malkin and Minnesota's Jason Zucker – have been on the ice for more goals per-60 minutes than Laine. It's a testament to his wondrous shooting capabilities and the chemistry he's developed with his linemates.
So, yes, I think it's a very real argument. As is the case with anything of the sort, you can slice and dice it a thousand different ways. Winnipeg fans will note that Laine plays for a weaker team. Toronto fans will note that Matthews is probably the better defensive player. And round and round we go.
The one piece I keep coming back to is the offence that comes with Laine. I've written in the past about my optimism over his individual shooting percentages – he strikes me as a Steven Stamkos or Ilya Kovalchuk type, which is tremendously high praise. It's exceedingly rare for anyone to sustain high shooting percentages over long periods of time, and even if Laine isn't a 19.5 per cent shooter, he's got a real shot at 15 per cent or so, which would be phenomenal.
I do think there's a perception that Laine is simply a pure finisher. That, in most instances, is a fair label to place on a guy who scores the way he does. But I do think it glosses over the fact that his teammates seem to score an awful lot more of their own goals when Laine is on the ice. Is he truly a one-dimensional sniper, or is there more to his game?
Consider the data below – an aggregation of all of Laine's teammates' shooting talent with Laine on the ice versus Laine off the ice, plus the same for Matthews. Keep in mind that although we are talking about hundreds of shots, we still are talking about a) only one year of data; and b) not a lot of understanding about environmental/teammate impact as it pertains to the Toronto/Winnipeg split.
Still, the results are curious: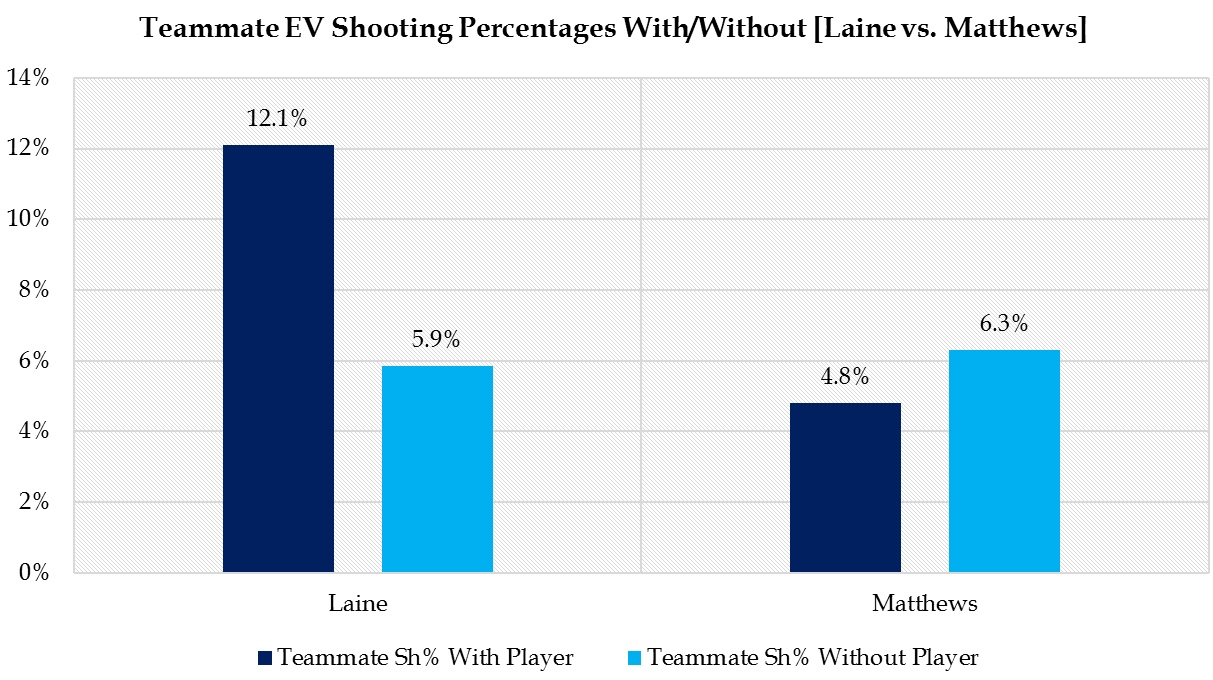 The Matthews piece is mostly explainable. It would seem to me that Matthews is probably taking the best shots for his line, which is why he has a lot of goals on the year. He's also not playing with great scoring types – I'm not exactly sure what the expected shooting talent of guys like Zach Hyman and Connor Brown is, but it can't be that high. You also can't ignore deployment here. Matthews and his linemates are fantastic at suppressing goals against, which matters just as much as scoring. And make no mistake, Babcock's entrusted his line to do heavy lifting on both sides of the ice.
Laine's splits are fascinating. Guys like Mark Scheifele, Nik Ehlers, Dustin Byfuglien, Mathieu Perreault, and Bryan Little all see big shooting percentage benefits when playing with Laine, and see those numbers crater when away. Much like Laine's individual shooting percentage, I'm not sure the percentages we see (12.1 per cent teammate shooting talent, specifically) are real right now. Laine and company are on a white-hot run, and the best bet is still to forecast regression over the next few seasons.
Still, I ask the same question here as I did when writing about Laine's individual shooting talent: Regression might be the best bet, but to what degree? Laine came into the league with the draft pedigree of a guy who could change the way we think about shooters, and at least through the first 60-or-so games of his career, he's delivered. Not only has his shooting percentage driven big goal-rates, but the shooting percentage of his teammates has, too.
Guys have done it in the past. Over a nine-year stretch across multiple teams, Kovalchuk's teammates shot a full percentage point better with him on the ice (11.1 per cent versus 10.1 per cent) over thousands of shots. The spread there is much tighter than what we are observing with Laine this year and likely a much more realistic target, but it does go to show you that even over long intervals, elite players can make those around them better.
Let's assume, for the sake of argument, that just some of this is real. It would certainly lend credence to the argument that Laine's either an underrated playmaker, that his presence alone creates seams for his teammates due to the way the opposition strategically defends, or a combination of the two. That's worth an awful lot in a league where scoring remains at all-time lows.
At the end of the day, I'm more on the fence than ever before with the Laine-or-Matthews debate. As much as I think Matthews is a superstar of the highest order and a truly phenomenal two-way centre, I separately buy the notion that Laine is the game's next big offensive weapon.
Reconciling what's worth more in the Calder debate has never been more difficult.