Leafs feeling positive despite dropping another game to rival Bruins
The Maple Leafs deserved better than the 3-2 loss handed to them by the Boston Bruins on Saturday night. Or so they think. It was the Leafs' third loss in four games against their Atlantic Division foes this season, but unlike the other multi-goal defeats, this loss was a tale of opportunities missed by Toronto, and mistakes pounced upon by the Bruins. TSN's Kristen Shilton has more from Toronto.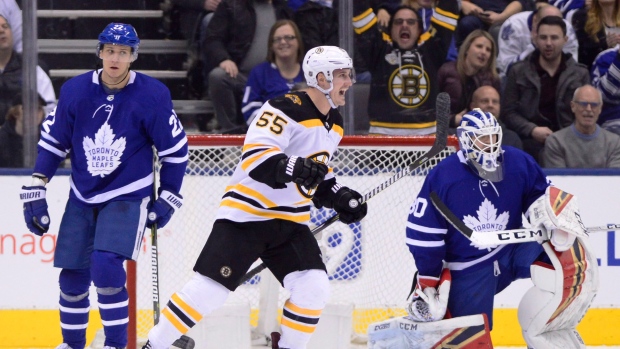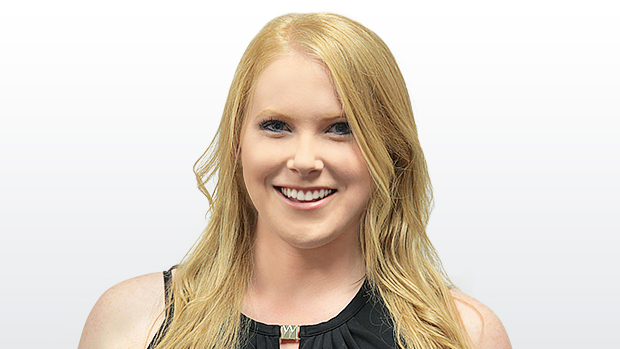 TORONTO – The Maple Leafs deserved better than the 3-2 loss handed to them by the Boston Bruins on Saturday night. Or so they think.
It was the Leafs' third loss in four games against their Atlantic Division foes this season, but unlike the other multi-goal defeats, this loss was a tale of opportunities missed by Toronto, and mistakes pounced upon by the Bruins.
"I think we just leave knowing we did all the right things," said Mitch Marner. "Mistakes are going to happen; they capitalized on them when they had them. We know what we need to fix. I thought we played the game we wanted to tonight. Just not the [right] result."
On its own, losing to Boston wouldn't be all that concerning for Toronto. Except now it's the Leafs' fourth loss in six games, with every defeat coming against playoff-positioned clubs, plus its dropped Toronto from second overall in the NHL standings to fifth (with games in hand), and cut their lead on Boston for second in the Atlantic to just two points.
Also like in their other recent losses, it was Toronto's details costing them again.
After a shaky opening five minutes, the Leafs dominated the first period on Saturday at nearly 64 per cent possession, but in the frame's dying minutes they haphazardly gave up the game's first goal to David Krejci.
Roaring back in the second, Toronto tallied two goals by Andreas Johnsson and Marner on the power play to pull ahead 2-1 midway through the frame. That's when familiar defensive lapses came back to haunt Toronto.
First Jake Gardiner turned the puck over in the corner to Chris Wagner, who teed up Sean Kuraly's tying goal. Then, with just 13.7 seconds remaining in the period, Nikita Zaitsev turned the puck over behind the net to Kuraly, who fed it to David Pastrnak for the Bruins' backbreaking go-ahead goal. That left Zaitsev and Gardiner at a combined minus-five for the game, and while the Leafs wouldn't recover from Pastrnak's dagger, Mike Babcock didn't see it as for a lack of trying.
"We had a couple mistakes there where we ended up with guys below the goal-line for no reason…which ended up costing us," said the Leafs' head coach. "And another execution [error, on Krejci's goal]. You have to clean that up. But I liked our energy, I liked our matchups, I liked most things about it. We didn't get what we wanted."
That's been happening too often for the Leafs of late, and can easily be drawn back to the fact some of their sharpest shooters have gone quiet.
Auston Matthews, who has one goal in his last nine games, had a sensational chance to tie the game late in the third when the puck rolled up and off his stick. Nazem Kadri, who had the third-best possession among Leafs at 70 per cent and tied for the most shots on goal with four, has two goals in his last 26 games. William Nylander is still stuck on one goal in 16 games.
Rather than staggering their struggles, several of the Leafs' stars are going through them at the same time.
"Complaining and saying you're unlucky and feeling sorry for yourself isn't going to do much," said Kadri. "So you just have to have that work ethic, have that positive mentality and be able to turn that page every game."
"[Have to] grind it out," offered Babcock. "We had it on Matty's stick there, you're home free, it rolled off him. I'll take that all day long. You have to push through it. A little struggle in your life never hurt anyone. Dig in."
While the Leafs won't see the Bruins again in the regular season, there's a good possibility a repeat of last season's first-round playoff matchup could be awaiting Toronto come April. A year ago, Boston eliminated Toronto in seven games, and their success in this season's series suggests they'd have the upper hand in a re-match.
Fueled by how well they feel Saturday went, final score notwithstanding, the Leafs wouldn't back down from another postseason bout with their toughest rivals.
"We're always looking forward to playing these guys," said Kadri. "They're a great team and they're well-coached. Tons of credit goes to them. But we're a good team too and tonight we did play good enough to win, just didn't get the result."
Takeaways
Tackling the top line
The Bruins' top unit of Patrice Bergeron, Brad Marchand and Pastrnak entered Saturday's game having tallied a combined six goals and 12 assists in three prior meetings with Toronto. Tasked primarily with shutting them down in the final meeting was John Tavares, Zach Hyman and Marner, and they held that group to only one point in Pastrnak's goal, which happened when Tavares' line wasn't on the ice.
Pastrnak has had the Leafs number all season, scoring six goals in four games, but this time Toronto's top line did enough to hold the Bruins' mostly at bay.
Kadri's unit catching on
Since Kadri's line with Nylander and Patrick Marleau was re-assembled last week, they've been looking for a rhythm found at last against Boston. They just didn't have the stats to show for it. Again.
Pacing all Toronto's lines at 66 per cent possession, Kadri's unit was dominant in the offensive zone with nine combined shots on goal and a strong pace, yet they finished a combined minus minus-seven after being on the ice for Boston's second and third goal. It's been that type of maddening stretch for Kadri and company; even when they have one of their better games, it's not reflected in the numbers.
Particularly for Nylander, Saturday's game was a step in the right direction, though. Often maligned for his lack of defensive competitiveness, Nylander was battling in corners and behind the net for loose pucks and making good plays at both ends of the ice. In the second period, right after Johnsson's game-tying goal, Nylander drew a key penalty in the offensive zone during a puck battle.
Nylander has struggled to keep up with the NHL's pace after a long contract negotiation kept him out of action for months last fall, but on Saturday he had a good jump to his game throughout, and wasn't get caught out of position as often.
Hutch hanging in
Michael Hutchinson may not have been the better goalie on the ice Saturday – that mantle went to Tuukka Rask's 30-save performance - but as he has done through all five of his starts for Toronto, Hutchinson gave his team a chance to win with another solid showing.
Along with his teammates, Hutchinson weathered the early flurry from Boston in the first without giving up a goal, and played effectively from there. Kuraly's goal appeared the most egregious from a goaltending perspective, sailing over the top of Hutchinson's outstretched glove, but he said the puck had knuckled unpredictably on its way toward him.
Toronto's defensive breakdowns didn't offer Hutchinson much help, as has been the case in his other losses to Minnesota and Nashville. When necessary, Hutchinson came up with a couple big-time plays of his own, including on a goal-mouth scramble in the third with the Bruins' top line all over him. In the end, Hutchinson turned aside 26 shots for an .897 save percentage in a performance that fell short of being the saving grace Toronto needed.
Stronger special teams
The Leafs' power play had undergone a mild facelift earlier in the week when Matthews and Kasperi Kapanen swapped spots onto the second and first power play units respectively, all in an effort to combat Toronto's lagging numbers with the extra man. Before Marner's second period tally, the Leafs had gone five games without a power play goal and were 5-for-44 in the 16 games heading into Saturday. Toronto had pledged to keep things simpler on the man advantage to help break their slump, and that's what facilitated the turnaround – crisp puck movement and using open lanes. They finished 1-for-2 on the power play.
Toronto's penalty kill was equally crucial to victory against Boston, keeping the Leafs alive early in the second period while trailing 1-0. Back-to-back penalties by John Tavares and Johnsson put the Leafs' kill in the spotlight, and they rose to the occasion with aggressive play that turned into shorthanded chances for Marner and Hyman. Neither converted on the opportunity, but more importantly those units kept the Bruins from adding to their goal total with a 2-for-2 finish.
Blue and White Trending
Tracking Leafs' trends all season long
Saturday was only the fourth time this season the Leafs have finished a one-goal game in regulation, dropping to 1-3 in that situation.
Next up
Toronto meets the Colorado Avalanche at home on Monday.
Open Mike
"I don't mind our team against them. You're going to play real good teams if you're fortunate to be in the playoffs. They're probably one of them."
- Mike Babcock, assessing the possibility of seeing the Bruins in the playoff again after Toronto lost the final game of their regular-season series, 3-2.