Leafs flip the script and finish strong against Sens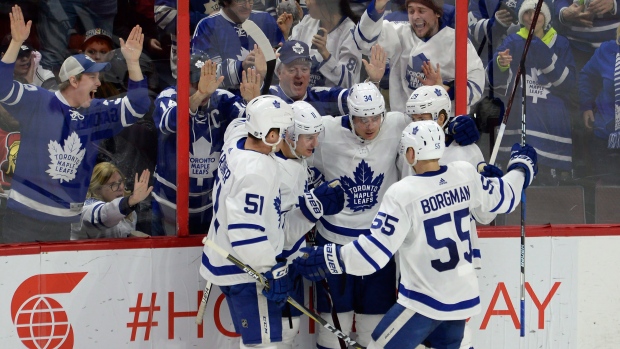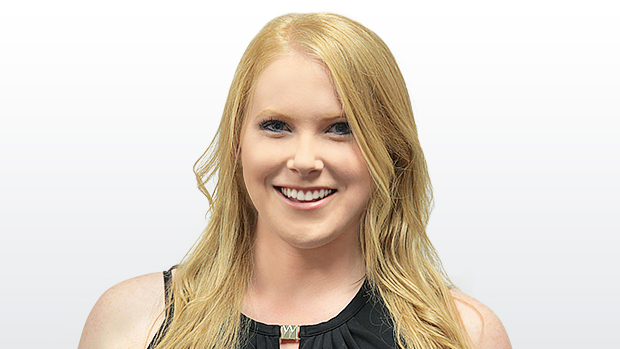 OTTAWA -- Flipping the script on their own recent troubles holding multi-goal leads, the Toronto Maple Leafs overcame a two-goal third period deficit to top the Ottawa Senators 4-3 on Saturday night. It was the Leafs' first win in regulation since Dec. 28, and just their sixth regulation victory since Dec. 1. Since Mike Babcock took over as head coach at the start of the 2015-16 season, Saturday marked just the second time in 11 meetings the Leafs have beaten their Atlantic Division rivals. Toronto moves to 26-17-5 on the season.
Takeaways
(Finally) finishing strong
When Frederik Andersen called out his teammates publicly for a lack of effort after a two-goal blown lead led to an overtime loss in Philadelphia on Thursday, it seemed to be a positive turning point for the Leafs in terms of internal accountability. But there was no accounting for what transpired on the ice over 20 minutes in Ottawa. Once again, the Leafs' held an early 1-0 lead off a Zach Hyman goal, and they were outshooting the Senators 12-4 after a good first period. And then the wheels (temporarily) fell off.
Ottawa is the worst second-period team in the league, getting outscored 65-36 in that frame, but playing Toronto was clearly a cure for what ailed them. The Senators needed just eight shots to score three goals on Andersen in the middle frame, one at even strength, one on the power play and one shorthanded. The Leafs looked lost, with no answer for anything the Senators were throwing at them.
But whatever was said in the dressing room during that intermission got the Leafs' back on track in the third. They needed just six shots to score three goals from Auston Matthews, Mitch Marner, and Connor Carrick that gave them back their lead. It marked the first time since Dec. 28 that Toronto scored more than three goals in a game, a stretch of nine contests. The Leafs were adamant before Saturday that if they could finally close out a close game after losing their last four by one goal each, that elusive swagger they've been looking would return. Another positive for the Leafs was their final shots-against - Toronto gave up just 18 to the Senators, tying their lowest shots-against total of the season (Oct. 30 vs. San Jose).
Marleau magic
Much like Andersen, Patrick Marleau doesn't often make a splash with his words. When he does, people take notice. So when he rallied the Leafs during the second intermission with a rare motivational speech, his teammates took the message to heart.
"He's a pretty soft-spoken guy, but when he says something, you better listen up," said Matthews. "I think that kind of got the ball rolling."
Other Leafs agreed, saying Marleau is always a leader by example but when he's vocal, it carries a lot of weight. "I didn't really tell them anything they didn't already know," Marleau demurred when asked about his role in securing the come-from-behind victory. "I just think it was time [to speak up]. We had been going through a little bit of a skid and working our way out of it, and everybody brought it tonight so that was good."
Marleau has been in a challenging stretch himself recently, going without a point in his last seven games, a symptom of his entire line with Nazem Kadri and Leo Komarov continuing to struggle producing offence. But while he didn't contribute directly to the Leafs' positive outcome on the scoresheet Saturday, he deserved the credit for inspiring a sterling third period from his team.
First-line fire
The Matthews line was the Leafs' best by far on Saturday, generating the majority of its positive offensive plays and producing Toronto's first two goals. Hyman tallied his eighth of the season to open scoring in the first period, with Matthews feeding him a pass. It was Matthews' first point in seven games, and turned out to be just the beginning of that duo.
While the Leafs were trailing 3-1 to start the third, Hyman and Matthews connected in similar position to their first goal, but this time it was Hyman feeding Matthews for his 20th of the season. That score was an undeniable game-changer for the Leafs, who vowed after Marleau's intermission speech to go get one back, and see where that took them.
While he didn't tally any points, William Nylander was equally strong on that line, seeming to take his brief demotion to the fourth line in Thursday's game to heart. Not only was he flying around the ice and backchecking well, Nylander was hitting Matthews with crisp tape-to-tape stretch passes and had a great scoring chance of his own in the second when he got behind the Senators' defence.
Matthews' line finished with the Leafs' best possession of the night (64 per cent) and combined for 11 shots on goal. It was the first multi-point game for Matthews since Dec. 31 vs. Vegas, and the first for Hyman since Dec. 19 vs. Carolina.
Totally redeems himself
While the Leafs have struggled to hold leads and close out tight games, Marner has been in an error-filled slump of his own. He was at fault on the St. Louis Blues' overtime winner out of the bye week, was stripped of the puck on Nolan Patrick's goal in Philadelphia, and contributed to both shorthanded goals against Toronto in their last two games.
Against Ottawa, the Leafs were trailing 2-1 with a chance to even things up on the man advantage, when Tyler Bozak, Marner and Jake Gardiner all inexplicably trailed the same forechecker into a corner of the defensive zone, leaving Tom Pyatt wide open in front of Andersen to score shorthanded. Against the Flyers, Marner was out on the power play when they served up a 2-on-1 scoring play that was criticized specifically by Andersen in his potent post-game comments that night.
But Marner redeemed himself in the third period on Saturday, pulling off a terrific, patient move on Craig Anderson that sent his first goal in ten games into the twine. Before that, Toronto hasn't scored a power play goal in four games, and they have only five such goals in their last 12 games.
Whether it's a lack of communication or a lack of consistent effort, the power play is hurting the Leafs' far more than it's helping at this stage, so it was as important a boost for power play confidence as it was Marner's confidence that he got them rolling again in the right direction, and gave him personally something to build from. Marner finished with two shots on goal and 50 per cent possession.
No Mo, Mo problems?
Morgan Rielly is in the midst of a career-best season, but he was forced out of the lineup on Saturday by an upper-body injury sustained on Thursday in Philadelphia. Andreas Borgman drew back in on the backend after being a healthy scratch in Toronto's last two games to join an increasingly fragile defence corps that's already missing Nikita Zaitsev.
Gardiner and Ron Hainsey formed the Leafs' top pairing in Rielly's absence, but the chemistry wasn't the same between them and unforced errors ensued. Gardiner also slotted in to Rielly's spot on the Bozak power play group, and was on the ice when the Leafs' gave up the shorthanded marker that put momentum firmly back with the Senators.
But in Rielly's absence, Travis Dermott took it upon himself to step up his own game. Playing in his fifth NHL game since being recalled for the first time in early January, Dermott had his best game of the bunch against the Senators. He had great energy in his game, and showed off an impressive offensive skill set dancing through the neutral zone with the puck on his stick to set up offensive zone scoring chances. Dermott was hard on the puck all night, earning appreciative cheers from the Leafs fan-heavy crowd when he held his ground against Derick Brassard at the blue line to force the Senators out of the Leafs' end. He finished with two shots and 65 per cent possession.
Carrick also had a solid performance playing with Dermott in Babcock's blended pairings. Aside from scoring the game-winning goal, his second of the season, Carrick seemed to feed off Dermott and played his most confident game in weeks. Carrick finished with a team-high 66.67 per cent possession and three shots on goal.
Next game
The Leafs head home for a meeting with the red-hot Colorado Avalanche on Monday.