Leafs' Matthews not worried about recent scoring slump
TSN Toronto reporter Mark Masters checks in daily with news and notes on the Maple Leafs. The Maple Leafs practiced on Sunday at the MasterCard Centre.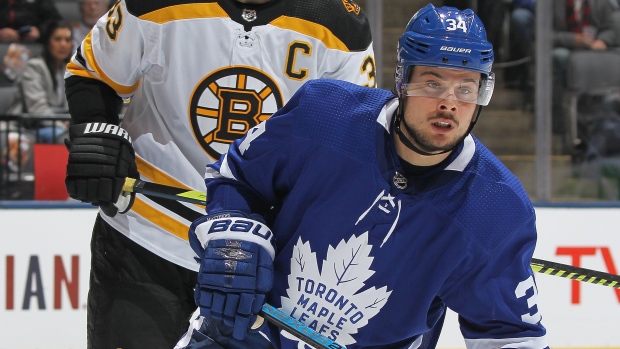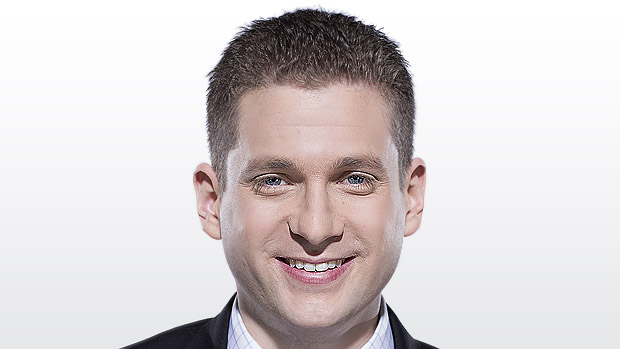 TSN Toronto reporter Mark Masters checks in daily with news and notes on the Maple Leafs. The Maple Leafs practiced on Sunday at the MasterCard Centre.
Auston Matthews had the puck on his backhand and an open net to shoot at late in Saturday's game against the Bruins, but the Maple Leafs centre couldn't pull the trigger. Toronto lost the game and Matthews is now stuck on one goal in his last nine outings.
"It just rolled off my stick so not much you can do," he said. "It's just (shakes head) it's just the way it's been going, I guess, as of late. But I think these last three games, especially our line, we've done a lot of good things. For me, personally, these last three are probably the best I've felt in a while."
Per Natural Stat Trick, the underlying numbers look promising for Matthews in the last three games as the Leafs have a 13-6 edge in high-danger chances with him on the ice at even strength. On Monday against Nashville, Matthews hit a post and had a goal called back on an offside review. And the Matthews line, with left winger Andreas Johnsson and right winger Kasperi Kapanen, did produce a goal against Boston as a Johnsson shot in the second period found its way through the pads of Tuukka Rask while Matthews battled in front.
"We're holding onto the puck," Matthews said. "We're playing in their end a lot more, making plays. I mean, the opportunities are there, they're just not going in the back of the net so it gets frustrating at times. But, at the same time, when you look at it, it's a better situation to be in when you're generating all these chances and got the puck on your stick and you're having these nights where you get five, six, seven shots on net and they're good scoring chances than it is to be in games where you're chasing the game all night, you know, playing D all night and stuff like that. So, there's lots of positive things that our line's doing and we're doing as a team and it's only a matter of time before it gets rolling again."
Matthews is averaging 3.1 shots per game during this nine-game run, which is down only slightly from his 3.2 season average.
"I thought they were real good last night," said head coach Mike Babcock when asked about the Matthews line. "I think Auston's skating better than he has since he came back. They've had some chances and just haven't finished."
Matthews isn't used to stretches like this. Over the last two seasons his longest goalless run has been five games. Putting the puck in the net is simply what he does. Matthews did have a 13-game slump in his rookie season, which weighed heavy on him, but now – at 21-years-old and in his third NHL campaign – he's handling the situation better.
"It's a bit easier now," Matthews acknowledged. "Mentally, you just kind of block it out and don't worry about it too much."
---
Matthews isn't the only player struggling to score these days. William Nylander, of course, has just the one goal in 16 games this season. Patrick Marleau has no points in eight straight while Nazem Kadri has just one goal in the last 17 games. The lack of depth scoring has caught up with the Leafs, who have now dropped four of six and three of four at home.
So, even though Colorado has lost nine of 10, you can understand why Babcock wasn't buying it when asked if he expects to see a desperate Avalanche team on Monday.
"Can they be more desperate than us?" the coach asked with a smile. "I don't know about that. In the league, every day, I think you're all pretty desperate, you need the points. But you need that feeling where you're floating instead of grinding and in order to get that feeling you have to earn it."
---
The Leafs could get a big boost on Monday as Vezina contender Frederik Andersen appears poised to return after missing his last six starts with a groin injury. There was a chance he could've returned on Saturday, but after coming down with a nasty flu bug the decision was made not to push the envelope.
"I definitely feel ready to go so we'll see," Andersen said after going through his fifth straight practice with the team. "It's just a confidence thing of being in different positions with my leg and I think we covered a good amount of ground today so it felt really good."
Andersen hasn't played since Dec. 22 making this his longest in-season layoff since the 2014-15 campaign in Anaheim. Is he expecting to feel rusty or rested?
"Once I get my energy back from this flu I'm sure I'll feel really refreshed so hopefully that's something that will benefit us," he noted.
Babcock plans to announce his starter for the Avalanche game on Monday morning after conferring with the team's medical staff.
---
On Sunday, Garret Sparks participated in his first full practice since sustaining a concussion. Is he ready to dress for tomorrow's game?
"I'm medically cleared to participate with the team and what they choose to do tomorrow is up to them," the 25-year-old said.
Sparks suffered the concussion, the first of his career, at practice on Jan. 2 when he took not one, but two hard Nylander shots off his helmet. He's making changes to safeguard against future injuries.
"I've made a couple of adjustments to a couple parts of my helmet," Sparks revealed. "Just added some padding to a couple areas where I felt it could be enhanced. And I added some rubber shocks basically between my cage and my mask to kind of deaden a little bit of that energy."
And Sparks will also be more careful when he does get hit in the helmet again. It's the second Nylander shot, he says, that compounded the issue earlier this month.
"It's just being more aware of how you feel after you get hit," he explained. "Every time taking a bit of a mental evaluation of yourself and not being the tough guy who gets hit in the head and puts his mask back down and gets back in net, because that's why I got hurt."
Michael Hutchinson, who has made the last five starts for the Leafs, worked out on the ice with goalie coach Steve Briere and director of player development Stéphane Robidas after the main practice.
---
Lines at Sunday's practice:
Hyman-Tavares-Marner
Johnsson-Matthews-Kapanen
Marleau-Kadri-Nylander
Lindholm-Gauthier-Brown

Rielly-Hainsey
Gardiner-Zaitsev
Dermott-Ozhiganov
Marincin-Holl

Andersen
Sparks

Power play units at Sunday's practice:
Rielly
Kapanen-Kadri-Marner
Tavares

Gardiner
Matthews-Johnsson-Nylander
Marleau