Leafs need Andersen to bounce back in a hurry
Toronto's improved shooting percentage isn't going to matter much if the team's goaltending continues to be an issue, Travis Yost writes.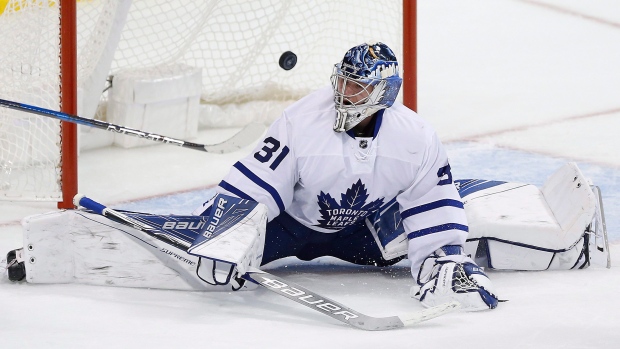 In our Toronto Maple Leafs season preview, one of the things I pointed out was that last year's team was structurally sound, but lacked the individual talent to turn increasingly favourable shot differentials into favourable goal differentials.
Part of the rub last season was that the team couldn't buy a goal from their attackers. They shot a lowly 6.4 per cent at 5-on-5, good enough for dead last in the league. Mike Babcock made the point in the off-season that he thought the team would be better at turning those scoring opportunities into goals this time around, and so far, so good: the Leafs are shooting 12.3 per cent through the first three games of the year. Even if we conservatively estimate that they'll be an average shooting team the rest of the way (roughly 7.6 per cent), that year-over-year increase will mean an awful lot of goals.
But the other side of the coin has also proved problematic. The Leafs, just like last year, have had substandard goaltending, and it's arguably already cost them multiple points in the standings.
It raises an interesting question: How great does a team need to be from a skater level to offset porous goaltending? The answer isn't very encouraging, and it illustrates why the Leafs need newly acquired Freddy Andersen to rebound quickly.
Let's assume that the Leafs' scoring prowess remains around league average for the entire season. Let's also assume that the Leafs, by year end, will see about 3,800 shots on net either for or against – the average observed in the league last season.
The below goal differential forecast will show just how decisively the Leafs would have to control the shot clock in order to offset the kind of goaltending they're getting right now. As you might have guessed, it's a shockingly high threshold – life is extremely difficult when you are at a goaltending disadvantage on most nights.

If you're curious where Toronto sits right now, draw your eyes to the 54 per cent shot differential (fantastic!) and 89.5 per cent save percentage (pretty terrible!). Even dominating possession wouldn't be enough to offset that sort of stop rate, and the Leafs would likely end the season with a 5-on-5 goal differential of -27. In other words: not good enough for playoff consideration.
Assuming the Leafs received the same goaltending talent through an 82-game season, they'd need to control about 58-60 per cent of 5-on-5 play to have a shot at breaking even in the goal department. That's a harrowing and basically impossible task, considering the number of teams who have accomplished such a feat (a) can be counted on one hand; and (b) were legitimately Stanley Cup contenders, the likes of which include Mike Babcock's old Detroit Red Wings team, Darryl Sutter's Los Angeles Kings, and Joel Quenneville's Chicago Blackhawks.
The good news is that while the jury is still out on Andersen's talent, our best bet wouldn't be the 89.5 per cent save percentage the Leafs have posted so far this season. He's actually been a shade above 92 per cent at 5-on-5 in his career. So, if we assumed that Andersen will favourably regress toward his historical averages and the Leafs will maintain the same shot control, they'd be 16 goals above average – which, more likely than not, will mean a playoff berth.
Long story short: The Leafs look great, except for the goaltending. And that's a pretty massive problem. Time will tell if Andersen can rebound, but if status quo remains, the Leafs might be in trouble despite assembling a very competitive team.