Leafs still searching for their best as they face Bruins
The Toronto Maple Leafs head into their third meeting of the season with the Boston Bruins still searching for the best image of themselves. TSN's Kristen Shilton checks in with news and notes on the team.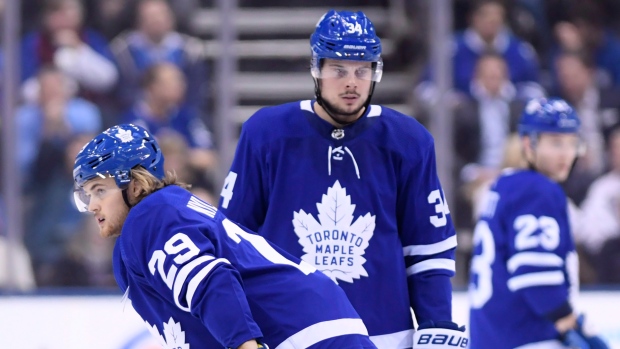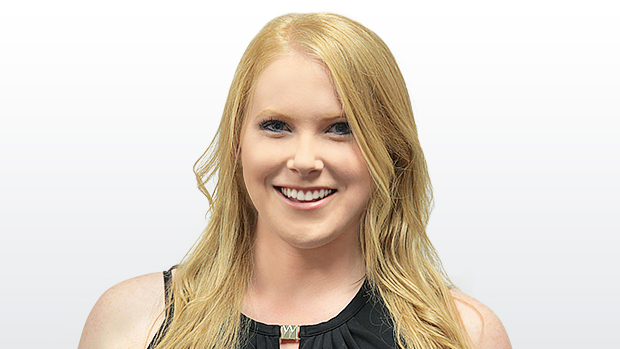 TSN's Kristen Shilton checks in with news and notes on the Maple Leafs. The team held a 10:30 a.m. morning skate at TD Garden. Boston skated at 11 a.m. at Warrior Ice.
The question itself seems simple enough: Over the last calendar year, just how much has this Maple Leafs' team changed?
But the answer goes beyond just dissecting their position in the standings (second overall, four points back of the Tampa Bay Lightning) or encouraging statistics (Toronto has the NHL's second-best goal differential at plus-28).
"We haven't had our team together all year," said Mike Babcock after the Leafs' optional morning skate on Saturday, referencing the recent return of William Nylander to the lineup. "I think any time we've changed our roster, we haven't been quite as good right away for a bit."
"We're trying to find the best image of ourselves for 60 minutes that we can turn into a blueprint and do it over and over again. I think we have to get everyone on deck first, and then I think we can find that."
Toronto's third meeting of the season against Boston will be Nylander's second game back since reconciling his contract stalemate. He played only 12:29 in Thursday's debut, but felt his mental game was more lacking than anything physically.
On Saturday, he's slated to play with Nazem Kadri and Patrick Marleau, a bump down from Auston Matthews' group, but a place Nylander hopes to start feeling back to normal.
Helping that cause could be his career success so far against the Bruins. Nylander scored his first NHL hat trick in Boston on Feb. 4, 2017, and has seven points in nine meetings.
"I'm just trying to focus on the game tonight," he said. "It's a rivalry that's been there for a while. It's a fun game and a great atmosphere."
"Just being back and getting playing and being part of the team is important," added Babcock. "The amount of jokes and amount of abuse you take, and then just getting in...[but] it's going to take him time…when you haven't been here every day. It's going to take him time, but he's an important part our team and we have to get him up and running."
Nylander's teammates have kept things as routine as possible for him since he got back, and have been clear no one is worried that it might be a few weeks before he looks like the Nylander of old.
"I talked to him a little bit yesterday, he said he felt good," said Morgan Rielly. "I think with each game that goes by he'll be more and more comfortable, and so we're looking forward to just watching him get into his groove."
Having gone through lengthy absences of his own in the past, most notably when he rehabbed a knee injury while playing for the WHL's Moose Jaw Warriors in 2011, Rielly can appreciate the daunting prospect Nylander faces entering a season midway through.
"For him to jump right back in 28 games in, you're playing against guys who have been at it for a while and it's a bit more difficult," he said. "I think he's done a great job. He came back and worked hard and he's a great player and has a great deal of skill, so he'll be fine."
The Leafs are confident in themselves as a group, too, that they will eventually play more cohesively once everyone settles in.
"We have a group that believes we're pretty good," said Babcock. "To be really good and to be a champion, you have to do it every day and you have to do it with detail and you have to do it hard, you have to have people to step up. So we have a long way to go."
----
Nylander never saw the hit coming.
He and fellow winger Kasperi Kapanen were driving from the Leafs' practice facility in Etobicoke on Friday to the airport when a car struck their passenger side. The collision badly damaged Nylander's vehicle, but fortunately didn't injure anyone involved.
"The car just turned into us," Nylander shared. "It just takes a little second there to get into an accident. I'm just happy everyone was okay, me and Kappy are okay, and we can move forward from that."
The teammates weren't much delayed reaching the team plane that would take off for Boston, after sorting out all the car and insurance related issues. The incident did provoke a related memory from Babcock of a time when two of his Detroit Red Wings' players – Tomas Holmstrom and Nik Lidstrom – were late for a game, and no one knew why.
"[Then] Tommy comes running into my office and says, 'we had a big accident, we had a big accident,'" Babcock recalled, "but don't worry; when I knew we were going to get hit I dove in front of Nik so he didn't get touched!"
Babcock joked that Nylander had also done "some good driving, so Kappy didn't hit" but Nylander wasn't sure how much he helped minimize the impact.
"I don't even know [if I did], it just happened from behind us," he said. "I didn't really have time to react that much. I'm just happy [the driver] was okay and the passenger in that car is okay."
And yes, the driver of the other vehicle did immediately recognize Nylander.
----
The ghosts of games past against Boston still haunt the Leafs to some degree, given how heartbreaking they've been in nature. Their Game 7 playoff losses, in 2013 and 2018, are well-documented, but the Leafs are determined not to let those outcomes effect how they see themselves going forward.
"There's been a lot of changes over the years, new faces, new players, you name it," said Rielly. "We're more worried about the future than the past. Most guys have been here a few years. I think the chemistry is good when you've been around the coaching staff and the things you have going on within the team, it makes life a bit easier. It's important we build and grow together and keep trying to get better."
Given how well the season has gone for Toronto so far, and the way they've navigated missing key pieces like Matthews (who was sidelined 14 games with a shoulder injury) and Nylander, it would seem like the team's confidence is sky-high. But Rielly sees room for growth there, too.
"We're getting there. I think [confidence is] an important quality," he said. "I think we have work to do, we have to earn a little bit more of that when it comes to winning in the post season. We have some work to do in that respect, but there's things that have happened over the years that have been worthy of a little bit of confidence in that room. We're on the right path."
To that end, the Leafs say they won't miss an opportunity to improve by taking a banged-up Bruins' team lightly. While Toronto is coming in on a 5-0-1 run in their last six games, Boston has lost three straight and are 2-4-0 over their last six games. Plus, they're missing key players – Patrice Bergeron and Zdeno Chara are dealing with long-term injuries, and it was revealed on Saturday that Jake DeBrusk is concussed and is out until further notice.
"Boston is a good team; they have been for a long time," Rielly insisted. "We know that, and it's a good challenge for us tonight. It's important for us to be ready."
The Bruins play a heavier game than the Leafs in general, and especially defensively Toronto is preparing to combat tight checking and tight gaps.
"There's a number of ways to create room – be physically strong on the puck, you end up in a battle with two guys and you get it past that guy and you've created space for someone else," said Babcock. "The other way is to be physical on the forecheck, cut off arms on big guys, get on the right side and own the puck and then you have them on the wrong side."
----
Maple Leafs projected lines vs. Boston:

Hyman-Tavares-Marner
Johnsson-Matthews-Kapanen
Marleau-Kadri-Nylander
Ennis-Lindholm-Brown

Rielly-Hainsey
Gardiner-Zaitsev
Dermott-Ozhiganov

Andersen starts
Sparks