Leafs' van Riemsdyk trying to ignore contract chatter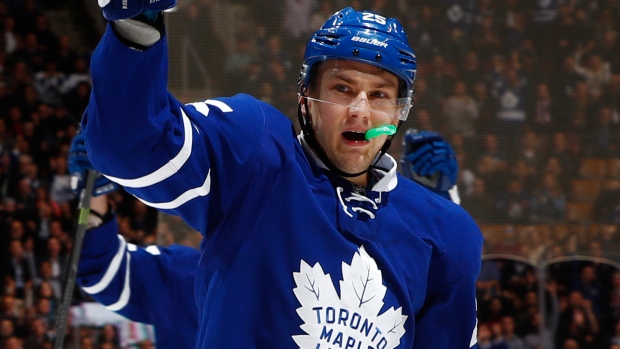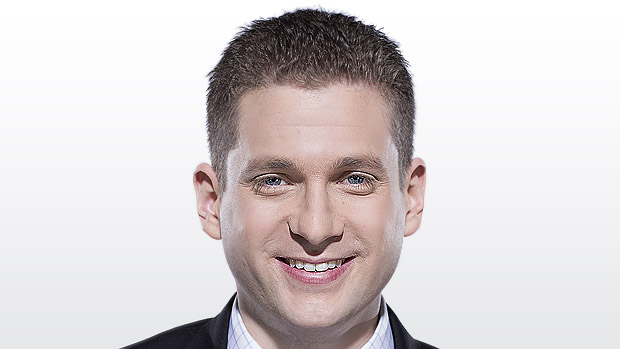 TSN Toronto reporter Mark Masters checks in daily with news and notes from Maple Leafs practices and game-day skates. The Leafs and the New Jersey Devils skated at the Air Canada Centre on Wednesday morning.
When it comes to his next contract, James van Riemsdyk made it clear on Wednesday that being on a contending team is a priority.
"At the end of the day, that's what you remember at the end of your career," the Leafs left winger said, "the good teams you were on and the teams you were able to have success on. Being in a situation like that is important, I'm sure, to every guy."
And van Riemsdyk, who is poised to become an unrestricted free agent at the end of the season, sees a bright future for the Leafs.
"Just being through some ups and downs over the course of my time here and now to see the direction that we're taking is encouraging," he said. "Ever since I've played here, I've enjoyed it here, enjoyed the city, enjoyed the fans and have been treated really well. Nothing but good things to say about my time here."
Van Riemsdyk, who is in his sixth season with the Leafs, faced a barrage of questions about his contract situation on Wednesday morning:
How much did he pay attention to the off-season signings by wingers of a comparable stature?
"Obviously, you know you're going into this sort of year so you definitely know what's going on on the outside, but every situation is a little bit different so you try to not get too wrapped up in it. But, from afar, you see what's going on and have a gauge for where things are at. But I'm trying to focus on things I can control."
Studying the Leafs cap situation?
"There are lots of different things. You could probably drive yourself crazy if you start looking into and reading into too much."
Outside of media inquiries, how much is the New Jersey native thinking about his situation?
"Um, it's hard to say," the 28-year-old admitted with a smile. "At this point, not so much. I mean, we're just getting into the routine of the season and stuff like that. But, you always realize that these things work out the way they're supposed to work out. You just try to play the game and go from there."
- Van Riemsdyk repeatedly emphasized his desire to keep his focus on the present and specifically the game against the Devils. And, in that regard, he believes he may be in tough to put a puck past Devils starter Cory Schneider.
"Definitely someone who I've had a hard time scoring on even going back to when I played for the U.S. program," he explained. "We played against him when he was at Boston College."
Schneider laughed when informed of van Riemsdyk's assessment.
"I just remember the shootout, he seems to score on me quite a bit," the goalie said. "I feel like every time I play these guys here we have a shootout. I'll try to learn from that. I got to know him a little bit at the World Cup last year. In front of the net and on the power play and in and around the net he's still one of the best players in the league when it comes to deflecting pucks and making those in-tight plays. He's tough to handle. He must be forgetting quite a few goals he scored against me, so that's awfully nice of him to say."
For the record, van Riemsdyk has scored three goals in nine NHL games against Schneider, with two more coming in the shootout.
- Mike Babcock is pleased with van Riemsdyk's evolution since he took over in Toronto.
"Well, he's way bigger and stronger," the Leafs coach said. "I mean, he's spent way more time on his body so now instead of a rush player he can be a cycle player. Their line (with Tyler Bozak and Mitch Marner), in the last two games, they got the game winner and the game tier to allow us to win in overtime. They're good players and they normally play pretty well for us. The puck has gone in against them a bit this year, but other than that they've been pretty good so we got to keep them going and, obviously, James is a guy who can flat-out score."
- ​In New Jersey's season opener, Blake Coleman was serving a penalty and asked teammate Brian Gibbons to bring him some pickle juice in the box. Turns out, the Devils forward uses the sodium-rich drink to fend off cramps during games.
Does Bozak recall any weird types of foods or drinks used by teammates over the years?
"JvR does some crazy stuff with all his pills and everything," he said with a smile. "He's pretty on top of his health and taking care of his body so he probably does the most stuff that I've ever seen, but it works for him."
In the Leafs' room, van Riemsdyk has a well-earned reputation when it comes to being fastidious about his health. So, what does he think of pickle juice?
"I've heard of guys using pickle juice for hydration, but never drinking it during the game," he said. "Why wouldn't you, I guess, if it's supposed to help hydrate you or whatever ... Most guys are pretty dialled in now, but that would probably be one of the more different ones I've heard. But it's a good idea, I think. I might have to try that one."
- Kyle Palmieri will return to the Devils lineup after missing Monday's game due to a lower-body issue. The right winger sustained the injury courtesy a knee-on-knee hit by Colorado's Erik Johnson in New Jersey's season opener on Saturday.
Head coach John Hynes said Palmieri will be reunited on the top line with Taylor Hall and Pavel Zacha.
Lines at Leafs morning skate:
Forwards
Hyman-Matthews-Nylander
Marleau-Kadri-Komarov
van Riemsdyk-Bozak-Marner
Martin-Moore-Brown
Leivo, Fehr
Defence
Rielly-Hainsey
Gardiner-Zaitsev
Borgman-Rosen
Polak, Carrick
Goalies
Andersen
McElhinney