Loose Leafs enjoy a little levity at practice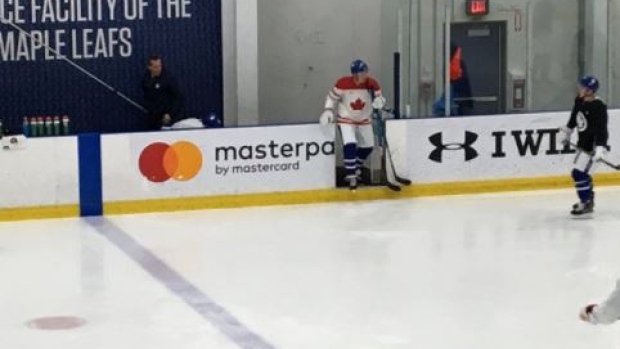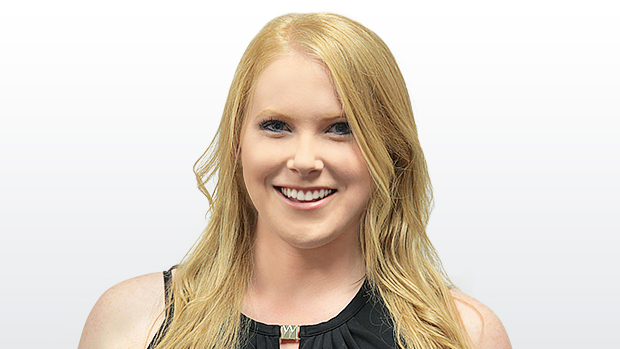 If you bet against Canada's international hockey teams with the Maple Leafs' coaching staff, you'd better be prepared to pay up.
Swedish import William Nylander and Finland native Leo Komarov both arrived to Leafs' practice on Wednesday in Team Canada sweaters they were forced to wear for the first 15 minutes of the skate before Toronto dove into line drills.
A sheepish-looking Nylander (who was born in Calgary but always called Sweden home) knew his punishment would eventually come. He bet head coach Mike Babcock ahead of Sweden's 3-1 loss to Canada in the gold-medal game of the 2018 World Junior Championships in January.
Komarov's comeuppance was swifter after he wagered with video coach Andrew Brewer on the outcome of Wednesday morning's quarterfinal matchup between Canada and Finland at the Pyeongchang Olympics (Canada won 1-0).
"I had to wear a Swedish sweat suit for practice [if I lost] – but I wouldn't have been able to get it off. That's the difference," Babcock joked after practice. "Paying back those bets are tough. We decided the wine [used in previous wagers] wasn't good enough; they don't like the wine enough."
It was just a year ago that Babcock was on the losing end of a Word Juniors wager, when he put up a "nice" bottle of wine against Auston Matthews' Team USA in the gold-medal game. Babcock wasn't too quick to pay up in that case, with Matthews claiming he only just received the bottle earlier this year, but it didn't much matter. The 21-year-old explained he's not much of a wine guy and passed the vino along to his parents.
The very mild public humiliation is about as difficult as life has been for the Leafs of late. Toronto has won 11 of its last 13 games, and closed the gap between them and the Eastern Conference-leading Tampa Bay Lightning to just four points (albeit in two more games played).
Given the relatively smooth waters upon with the Leafs are currently sailing, Nylander wasn't all that surprised to see the Canada sweater hanging in his stall a full seven weeks after the initial agreement.
"Well, he had to supply the jersey, so I was just waiting," Nylander said with a smile. "It was okay. You lose a bet, you have to hold up your end of the bargain. We didn't bet that time [Sweden beat Canada last spring at the IIHF World Championships], so that was too bad."
Komarov was similarly stoic about taking his lumps ("It looked good on me, eh?"), but perfectly happy to take off the colours when the Leafs' usual post-victory 3-on-3 scrimmage came to an end.
The workout that ensued from there was as relaxed as any Toronto has had in recent memory, which from a coach's perspective can be a double-edged sword if not properly managed.
"I thought we were real loose in practice today, and I don't care if we're loose," said Babcock. "But you have to have intensity. I think being loose is a sign of winning and feeling good. There's nothing wrong with feeling good about yourself, but just because you're loose doesn't mean you can't…work hard and prepare right and all that."
Those are the exact qualities Babcock points to in Olympians that's helped make these Games a must-follow for so many around the Leafs' room. In another world – where the NHL had opted to allow players and coaches to go to the Olympics – all of Babcock, Nylander and Komarov might have been in South Korea instead of Etobicoke, Ont., on Wednesday.
"[I'm watching] as much as I can. Had a few buddies in town, we watched last night," said Babcock. "It's spectacular to watch [the athletes] and see them compete…Expectations are a wonderful thing but it's hard to deliver on them, so when you can it's a special thing."
"I checked the news today and saw [Olympic Athletes from Russia] won so I'm happy," added Moscow native Nikita Zaitsev of his country's 6-1 victory over Norway in their quarterfinal. "I'll follow the [next] games and try to watch. It's a good team for sure, good hockey players. It's going to be interesting."
With the OAR taking on the Czech Republic next in semi-finals, Zaitsev slyly mentioned he might put "a few bucks" on the outcome with fellow blueliner and Czech Republic native Roman Polak.
But even without the side wagers and chirping of teammates suffering through defeat, the borderline carefree atmosphere around the Leafs would be palpable. With 20 games left in the regular season, the Leafs intend to keep aiming higher – while also enjoying the ride.
"I think you should enjoy [what's happening here], that's part of being around a winning atmosphere and that's what we're trying to build here," said Babcock. "You win on a regular basis, you prepare and you act like a pro. You try to get better each and every day and that's what we've told our guys."