Losing Daley could be series changer for Pens
Pittsburgh defenceman hobbled after a collision with Tampa Bay's Ryan Callahan during the second period of Game 4.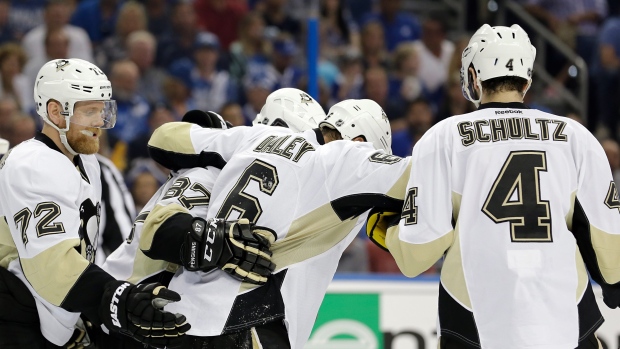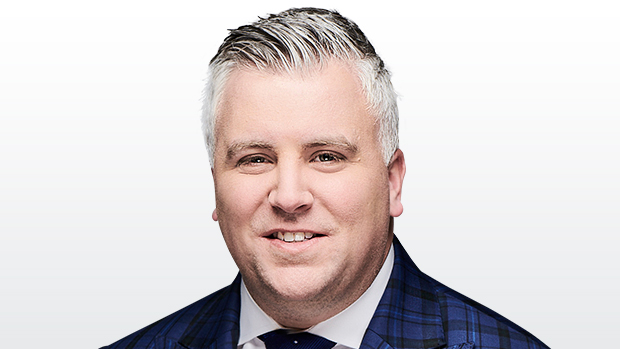 TAMPA, Fla. — When the whistle mercifully blew, Trevor Daley collapsed back on the ice in pain.
Daley was hobbled after a collision with Tampa Bay's Ryan Callahan during the second period, but not in any immediate peril, so referees allowed play to continue in Pittsburgh's zone.
Daley crawled toward the Penguins' net in an all-out scramble, unable to get back to his feet and put any weight on his left leg. It was half defence mechanism, half desperation, and 100 per cent tough to watch.
The scene will be even more difficult for the Pittsburgh Penguins to stomach if Daley misses any of this Eastern Conference final series, which has morphed into a best-of-three scenario for a trip to the Stanley Cup final.
Daley limped out of Amalie Arena on Friday night on crutches with his leg heavily wrapped. His absence could change the complexion of the series.
Daley, 32, was acquired from Chicago on Dec. 14 — the night of Mike Sullivan's first game as head coach of the Penguins. He became Pittsburgh's much-needed second puck-moving defenceman, with the ability to contribute on the power play. Daley chipped in with six goals and 16 assists for 22 points in just 52 games, the second-highest point production run of his 13-year NHL career.
Daley also took a lot of heat off of Kris Letang and provided a big buffer in the talent drop off from Letang to the rest of Pittsburgh's defence corps.
With Daley out, Letang's workload increased to 31:38 on Friday night, his highest total since Game 2 in the second round against Washington.
Sullivan said he did not have an update on Daley's status following Game 4 other than to disclose it was indeed a "lower-body" injury. On Saturday, the coach said Daley would be re-evaluated when they return to Pittsburgh, but revealed it wasn't very encouraging to see him on crutches after the game.
"He's an important player on our team," Sullivan said. "So when we lose him for the rest of this game, he's a hard guy to replace. He plays a lot of minutes. He plays in key situations. So when you lose him halfway through the game like we did and you get down to five [defencemen] — it's hard enough going down to five, but when you lose someone like Trevor that plays important minutes for us, it just makes it that much tougher."
It is always dangerous to play doctor, but Daley's injury appeared to occur when Callahan's skate accidentally kicked Daley's leg into the boards on the follow through of his hit. There was no malicious intent on the play — simply a hockey hit with an unfortunate outcome. The result could have been anything from a knee injury to Achilles tendon damage.
Daley's injury appeared to be significant. Even if he misses just Sunday's game, it will be a big blow to the Penguins.
If Daley were to miss Game 5 on Sunday night in Pittsburgh, it would mean the return of either Olli Maatta or Derrick Pouliot to the Penguins' lineup. Neither has played with much confidence in their playoff appearances.
Maatta, 21, has been a healthy scratch for three of the four games in this series. He hasn't looked like himself since making his way back from a myriad of injuries at the start of the playoff calendar.
Pouliot, 22, is also a Penguins' first-round pick, but seems to have fallen out of favour with the coaching staff. He made his playoff debut against the Capitals in Round 2 and played two games in that series.
The winner of Game 5 has advanced to the Stanley Cup final more than 81 per cent of the time (63-14) in NHL history when a best-of-seven semi-final series is tied at two, according to WhoWins.com.
Contact Frank Seravalli on Twitter: @frank_seravalli