Marchand a surprising fit alongside Crosby on Canada's top line
While Patrice Bergeron's appointment alongside Sidney Crosby on Team Canada's top line makes a lot of sense, Brad Marchand's selection is a little more surprising, Frank Seravalli writes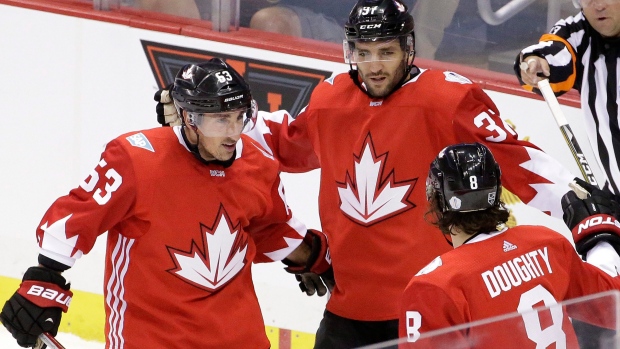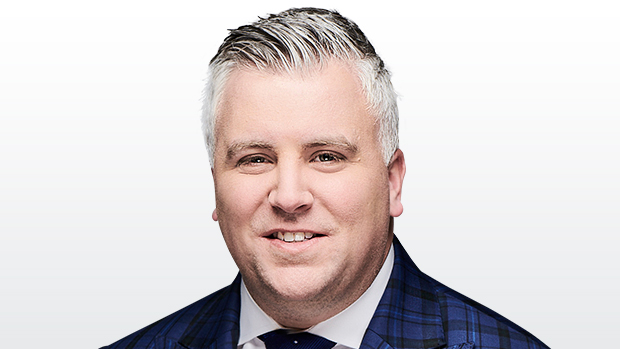 TORONTO — Joe Thornton laughed. The notion that playing on a line with Sidney Crosby is tough seemed like a joke to him.
"It looks easy to play with him," Thornton said. "Guys get so many opportunities."
If finding linemates for Crosby in Pittsburgh has proved difficult at times, it is not on Team Canada - even on a roster overloaded with centres.
In fact, Crosby's line with Patrice Bergeron and Brad Marchand was the only one Mike Babcock did not fiddle with in Canada's final pre-World Cup practice before facing Team Czech Republic in the tournament opener on Saturday night.
"I didn't think it was any issue at all," Babcock said of finding the right fit for Sid. "He likes to play with guys with speed that turn over and guys with hockey sense. The other thing is he wants to be on offence, so if you play him with one really intelligent defensive player, as well, like 'Bergie,' it helps him out."
The cerebral Bergeron, who has won three Selke trophies as the NHL's best defensive forward, makes perfect sense in that regard. They've played together in previous international events.
"I think he's just good in every area," Crosby said. "He's reliable at both ends of the ice, he's got really good hockey sense. I think his hockey sense is probably what sticks out the most."
The surprise is more in that Crosby has jelled seamlessly with Marchand, of all the players on Canada's roster. Dubbed the "Little Ball of Hate," Marchand has never been lauded for thinking the game near the same level as Crosby or Bergeron.
Marchand, 28, is a classic pest - the ultimate disturber who Jonathan Toews said recently is successful because he is so good at "getting in guys' heads." But as he displayed last season when he racked up a career-best 37 goals on Bergeron's line in Boston, Marchand has the skill and speed to keep up. He can also serve as a capable puck retriever in corners, where his knack for being a nuisance comes in.
There is a science to chemistry in hockey, but no one said it's rocket science.
"They look good, they've got really good chemistry," Thornton said. "In short tournaments, it's tough because guys are usually centres, not wingers. You put a bunch of centres together and it can take more than two weeks to find chemistry."
With other tinkering still taking place throughout the lineup, Crosby's line will be counted on to hit the ground running on Saturday night against the Czechs.
Hours before taking on Canada at the Air Canada Centre, Czech Republic forward Jakub Voracek scoffed at the notion that his underdog team was taking on an unbeatable juggernaut.
"We're not going to war 10 guys against 100," Voracek said. "We're going to play a hockey game, start at 0-0."
Babcock said he expected the building to be tense and full of nervous energy, something that Team Canada could "loosen up" with a fast start.
"We haven't really started the tournament yet and it feels like there is a lot of attention on it and everyone seems to be into it," Crosby said. "You prepare and know that you're going to get their best … Everyone has an opinion and that's great, but we've got to go out and do our part."
Contact Frank Seravalli on Twitter: @frank_seravalli
Projected lines vs. Czech Republic
Marchand-Crosby-Bergeron
Couture-Toews-Perry
Tavares-Getzlaf-Stamkos
Thornton-O'Reilly-Duchene
Vlasic-Weber
Pietrangelo-Burns
Bouwmeester-Doughty
Price
Crawford
PP1
Burns
Crosby-Thornton-Stamkos-Bergeron
PP2
Doughty
Perry-Getzlaf-Tavares-Toews