Leafs on the bubble to feature against Habs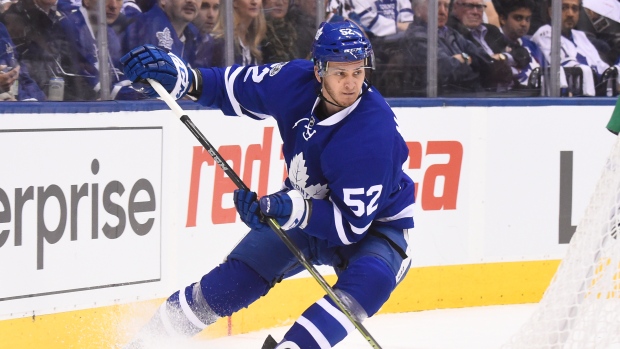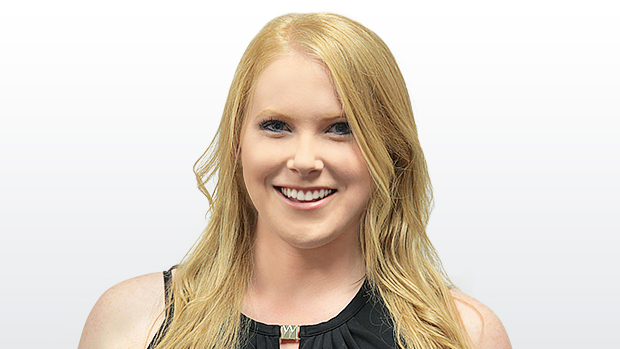 TORONTO - For the Maple Leafs players with job security, the dog days of preseason can feel like an eternity. For those without it, the exhibition slate can feel never quite long enough to prove you belong.
When the Leafs take the ice against Montreal in Quebec City on Wednesday night, just one week removed from the team's regular-season opener, it will be with a roster comprised almost entirely of players fighting for spots – on the fourth line, on defence, and even to be the first call-up down the road.
"There's no sense being anxious. You may as well be loose and driving and get out there and play," head coach Mike Babcock said Wednesday after practice. "You see our lineup tonight – we have to work. It's a great opportunity for our guys. They're going to be playing against good NHL players. They're trying to play in the NHL. It'll be a good test."
Martin Marincin and Nikita Soshnikov know how it feels to be a full-time NHL player, but training camp is brimming with talent, and there are no guarantees about their fates for the coming season.
There is only one top-six job available on defence and Marincin is vying for it against Andreas Borgman, Travis Dermott and Calle Rosen. They'll all be in the lineup Wednesday for the first time, along with the chosen one's projected partner, Connor Carrick.
Meanwhile, Soshnikov already looks to have been pushed out of the top 12, but is battling another projected AHLer – Kasperi Kapanen – to be the first call in the event of injury.
The other major battle still happening in camp, for the fourth-line centre job, also continues Wednesday with all of the candidates – Dominic Moore, Eric Fehr, Miro Aaltonen and Ben Smith – slated to play.
"They're going to play and I'm going to watch," Babcock said. "We're going to do it again, and do it another time, and then by then we probably still won't know what's going on, but we'll have to submit a lineup [to the league], 23 men, and then over 10 [regular season] games or so, we'll probably get it right."
Significant injuries hampered Marincin and Soshnikov last season. Marincin was a regular in the lineup until he suffered a lower-body injury in December against Boston that sidelined him for six weeks. When he returned, Marincin's confidence was lacking. He was a healthy scratch for all but 10 of the Leafs' regular-season games between mid-January and early April.
But Marincin slotted back in for the first round of the Eastern Conference playoffs against Washington, and no Leaf played more on the penalty kill than him over six games (2:41 per night). That built on his special teams work during the regular season, where Marincin recorded the second-most penalty kill time on the Leafs (2:49 per game). What he brings to that unit with his long reach and big body remain critical to earning a top-six role.
"He's just got to be steady, be a good penalty killer, play with confidence and be assertive," Babcock said.
Marincin is often praised for his strong analytics, which seem to justify the Leafs' giving him ample opportunity to succeed. Last season, his 50.86 per cent Corsi-for was third-best among Leafs defencemen, and he was tops among blueliners in Corsi-for when Toronto was ahead (50 per cent). But his lack of confidence shows up most obviously in chasing the play in the defensive zone and taking bad penalties when he gets beat to a puck, as he did in last Saturday's preseason game at Buffalo.
"I'm feeling better [confidence-wise] than last year, but still working on that," Marincin said. "[The numbers] are good to see and hear, but I just try to focus on my game and do good things on the ice. Everybody feels [the competition], but I don't put pressure on myself, I just try and be relaxed and play hard and have fun."
Trying to play relaxed was the first problem Soshnikov encountered in camp. A lower-body ailment delayed his start to last season with the Leafs by a month, and then the 23-year-old suffered a season-ending concussion on March 20.
The winger tried to return to the Leafs before their postseason run ended, but his body wasn't ready, as evidenced by a "foggy" feeling when he tried to workout. By the time his off-season routine began, Soshnikov said he felt capable of doing everything he'd planned on. But after playing 56 games last season, with five goals and four assists, Soshnikov knew returning to the fourth line wasn't a given and pushed himself too hard to perform.
"Two days or three days into training camp, I went to Sosh and I said, 'Sosh, you're all wound up. Take some pressure off yourself,'" Babcock said. "'You've missed a ton of time. You're not in the physical shape you should be in. You're not in the mental shape you should be in…the first thing you have to do is you have to breathe and give yourself a break and then get out here and play.' He's a good player and we know it."
Facing Ottawa in the preseason last week was Soshnikov's first game action in six months, and the first time he felt fully normal again. Now his nerves over taking full-speed contact have abated, and he can focus on showcasing his skills.
"It took me awhile but now I feel more confident to take a hit and make a hit," he said. "The first game is always hard; you never know when you're going to take the first hit. It wasn't the best night for me but now I'm getting more comfortable and I'm happy about it. I think it should be a big night tonight."
Leafs projected lineup vs. Montreal
Leivo-Aaltonen-Brown
Rychel-Moore-Kapanen
Greening-Smith-Grundstrom
Johnsson-Fehr-Soshnikov
Borgman-Carrick
Rosen-Dermott
Marincin-Holl
McElhinney
Sparks