Martin Jones took the long way to San Jose
Sharks GM Doug Wilson got the goalie he wanted after an awkward four days of talk and trades in the summer of 2015, Frank Seravalli writes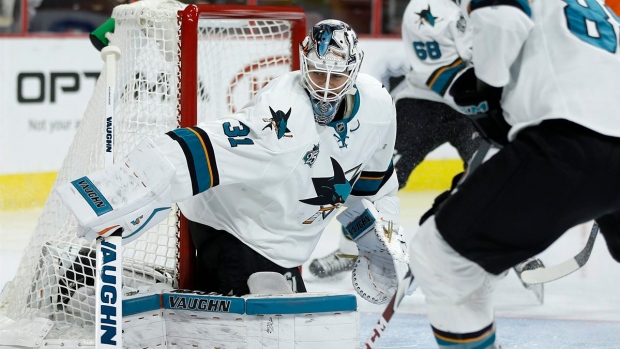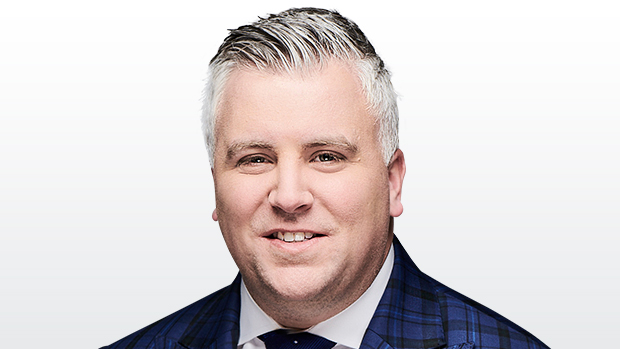 SAN JOSE, Calif. — When you think about it,
Martin Jones
landed in the Bay Area last summer by way of big talk.
In the days leading up to the 2015 NHL Draft, Sharks GM Doug Wilson tried to make a deal with his predecessor and former San Jose boss in Kings GM Dean Lombardi.
Wilson engaged in trade talks for Jones, knowing that Antti Niemi was on his way out the door. But trading the promising goaltender to a Pacific Division rival was a non-starter for Lombardi.
Sources said Wilson made it clear to Lombardi that the Sharks would attempt to sign Jones, a restricted free agent, to an offer sheet if no trade could be completed.
That threat alone was enough to force action.
The cap-strapped Kings couldn't afford to match any substantial offer: Mike Richards and Slava Voynov were still on the books. And as long as San Jose's offer was for less than $3.65 million per season, the Kings would only receive one second-round pick as compensation.
That wasn't enough.
So, Lombardi flipped Jones to the Boston Bruins on Friday, June 26, 2015, the night Connor McDavid was taken first overall in the NHL draft. Lombardi's rationale was that scoring winger Milan Lucic was a better return for Jones and a first-round pick than Jones escaping for just a second rounder.
Lombardi didn't have time to waste. Jones was susceptible to an offer sheet from San Jose two days later.
The Bruins, meanwhile, had no room for Jones with 28-year-old Vezina winner Tuukka Rask entering the third year of a $56 million deal.
Jones was reportedly only acquired by Boston as trade bait. After trading defenceman Dougie Hamilton to the Calgary Flames earlier that same day, the Bruins owned the 13th, 14th and 15th overall picks. GM Don Sweeney reportedly planned to peddle Jones and a combination of those picks to move up and take Boston College product Noah Hanifin.
The Carolina Hurricanes may well have been the target at No. 5 overall. Carolina had not yet traded for Eddie Lack and they were seeking a netminder to eventually take the reins from Cam Ward.
Sweeney's plan never materialized. Carolina selected Hanifin, who went on to play 79 NHL games last season as an 18 year old. And then the goaltending market dried up in a hurry.
The next morning, on Day 2 of the draft, the Hurricanes acquired Lack from Vancouver. Edmonton nabbed Cam Talbot from the Rangers. Then Wilson traded Niemi's rights to Dallas for a seventh-round pick, filling every starting goaltending vacancy in the league aside from his own.
That's what brought Wilson back to Jones - almost like he planned it that way.
It made for an awkward four days for Jones, considering the Bruins had no use for the bona fide starter and everyone in the hockey world knew his stay there was only temporary.
"I was ready to go there," Jones said Sunday. "They called me when I first got traded, just welcomed me. I was just shocked at the initial trade. I thought there was a small chance, but you never know with stuff like that. It was still a shock."
On June 30, four days after he was shipped to Boston, the Bruins sent Jones back to the Pacific in exchange for a 2016 first-round pick and prospect Sean Kuraly. The Sharks quickly signed the North Vancouver native to a three-year deal at $3 million per season.
Eleven months later, Jones vanquished his former team, the Kings, in the first round and now has the Sharks three wins away from their first Stanley Cup.
If San Jose were to overcome their deficit against Pittsburgh and hoist the Cup, Jones would have to be the odds-on Conn Smythe Trophy favourite as MVP of the playoffs. The 26-year-old netminder is sporting a .946 save percentage in the final, allowing six goals on 113 shots in three games.
"I don't think the shot count reflects the game too much," Jones shrugged. "That's kind of just the way they play. I've felt good. We've played better and better as the series has gone on. I think if we want to win, everyone has got to find another level. Every play is so magnified at this time of year, every save."
Jones (2.13 GAA, .922 save percentage) is neck-and-neck with Penguins counterpart Matt Murray (2.15 GAA, .924 save percentage) atop the playoff leaderboards.
Wilson declined to go into detail about his negotiations last summer, opting last week to keep those discussions private. He did say, however, that Jones was always at the top of San Jose's list.
"If you see something that you really want, we have no problem paying full value and going up and getting him," Wilson said.
Contact Frank Seravalli on Twitter: @frank_seravalli