Matthews thinking smaller amid scoring slump
Maple Leafs rookie centre focusing on 'little plays' in tight areas all over the ice to help snap out of five-game funk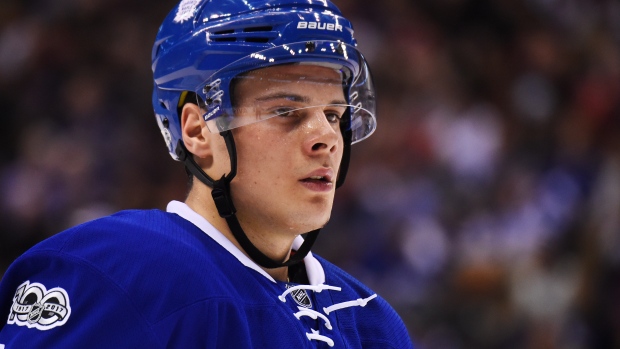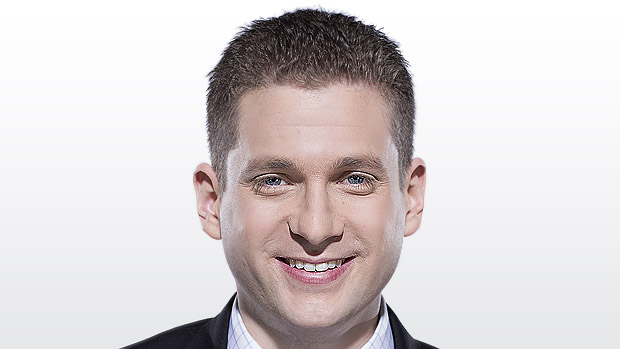 TSN Toronto reporter Mark Masters checks in daily with news and notes from Maple Leafs practices and game-day skates. The team practised at the BB&T Center in Sunrise, Fla., on Monday.
- Auston Matthews has gone five games without a point matching his longest drought of the season. How's he dealing with the dry spell? "I definitely want to contribute," he said, "you go through stretches like this and the main thing is just to stay positive." Does he feel like he's in a slump? "Just want to go out there and play hockey," Matthews said before the reporter finished the question. "Just want to go out and play hockey and have fun. I think that's the most important thing and right now we're winning, so you have to be happy with that." Matthews is averaging 3.4 shots per game, but has fired just four shots on target in the last three games. Matthews has also been below 50 per cent Corsi in six of the last seven games. He believes the key to getting back on track is focusing on the smaller 10-foot plays. "Things are tight so you're not going to be really wheeling the puck through the neutral zone a lot," he explained, "it's a lot of those little plays in tight and in tight areas and all over the ice so I think that's the most important thing." Matthews also went five games without a point during a stretch of games from Oct. 27 to Nov. 3.
Head coach Mike Babcock is stressing the positives when it comes to the Matthews drought. "His line did a good job the other night," the coach said. "There was no room at all in Carolina. If you're a fan at home you think it's an ugly game. I think it's a thing of beauty, actually, when there's no room out there, so it was a good game." So, he's not worried at all? "I noticed [Alexander Ovechkin] didn't have one [goal] in 10. I don't think they're that worried about Ovie so I'm not going to spend too much time [worrying]."
- Babcock has rotated right wingers on the Matthews line quite a bit of late. On Saturday in Raleigh, it was William Nylander. At Monday's practice it was Connor Brown. "What I like about Brownie and [Zach] Hyman and Auston together is they can play against anybody. No matter who they want to match-up against they're going to spend a ton of time in the O zone. Willie and Auston play more on the rush when they're together and the other guys play more on the cycle." Matthews insists it's not a big adjustment whether he skates with Nylander or Brown. "It doesn't change much," he said. "I'm a shooter either way. It doesn't matter who I play with, it's kind of a shoot-first mentality. They're both different players, but they both make plays. They're both really strong on the puck."
Matthews has never been through a playoff race like this in his young career. Last season, his ZSC Lions were league frontrunners in Switzerland. "Right now, you know, we're in a good position," he said. "It's a tight race. This is what we want to be in and you kind of live for these moments and definitely want to make the most of it." Babcock is happy with how his young group has responded to the stress of the stretch drive. "We play in a big game tomorrow, but I think, to me, that's what the fun's all about," the coach noted. "If you're not enjoying this, then what are you doing? You should be having a riot."
- Tyler Bozak missed Monday's practice as he continues to deal with an undisclosed injury issue. Last week, the centre also missed Thursday's morning skate and Friday's practice. The Leafs didn't have a morning skate Saturday in Carolina and then took Sunday off. "Bozie hasn't skated in a bit so our people are all over that," Babcock said. "We'll manage that the best we can." Bozak worked out off the ice on Monday and is expected to play on Tuesday. During Thursday's game, Bozak was sitting on a blue cushion on the bench similar to the one used by Joffrey Lupul when he battled some back issues. Bozak, who will turn 31 on Sunday, recently joked that his body isn't as kind to him now that he's getting older. And yet, the recent results have been fairly positive for the veteran pivot, who has picked up at least a point in five straight (two goals, five assists). "He's doing whatever he can to get out there and play," said linemate James van Riemsdyk after Saturday's win. "You always appreciate that, when guys are going the extra mile to play in these big games. We need him."
- Defenceman Connor Carrick practised with the Leafs on Monday for the first time since sustaining an upper-body injury in a game on Feb. 21 against the Winnipeg Jets. "It's more of a day-by-day thing," Carrick said when asked when he may play again. "Let's be honest, these are very important games and we got capable depth all throughout our lineup. If you're not ready, you know, it's a pretty selfish thing to throw yourself out there and not give the group its best chance to win." Babcock said Carrick wasn't involved in much contact during the workout and is still "a ways away." Martin Marincin remained paired with Jake Gardiner at Monday's practice. The Slovak played just 12:17 on Saturday as he returned to the lineup after sitting 16 straight games as a healthy scratch.
* Lines at Monday's practice:
Hyman-Matthews-Brown
Komarov-Kadri-Nylander
van Riemsdyk-Fehr-Marner
Martin-Boyle-Soshnikov
Leivo
Rielly-Zaitsev
Gardiner-Marincin
Hunwick-Polak
Marchenko-Carrick
Andersen
McElhinney