Matthews won't set expectations for return date after first practice
On Sunday, Auston Matthews participated in a Leafs practice for the first time since injuring his left shoulder on Oct. 27. However, the star centre wore a red sweater and didn't take contact or skate on a regular line.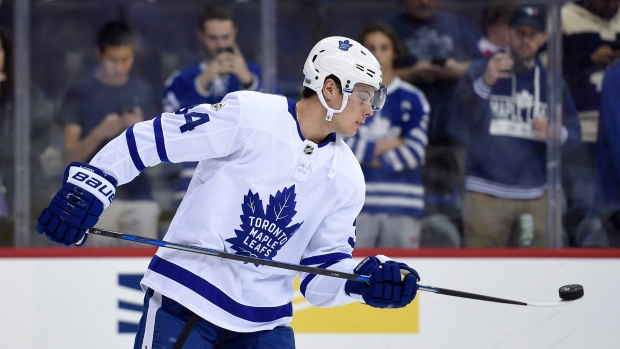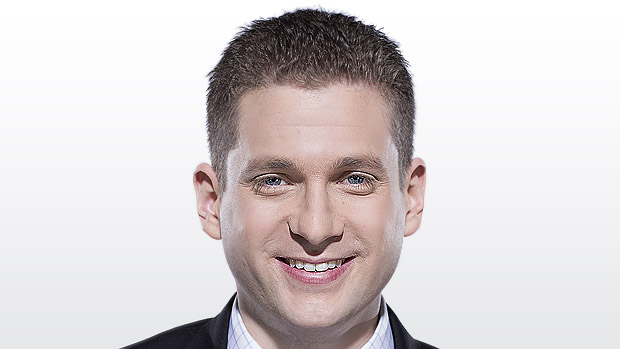 TSN Toronto reporter Mark Masters checks in daily with news and notes on the Maple Leafs. The team skated at MasterCard Centre on Sunday.
On Sunday, Auston Matthews participated in a Leafs practice for the first time since injuring his left shoulder on Oct. 27. However, the star centre wore a red sweater and didn't take contact or skate on a regular line.
Per the initial timeline announced by the team, Matthews will miss at least four weeks. When he sustained a separated shoulder last season, Matthews was able to play again four weeks to the day of the injury. But the 21-year-old refused to set any expectations for his return when he met with the media after Sunday's workout. It was his first session with reporters since Oct. 29.
Here's an edited transcript:
Q: How did you feel at practice today?
AM: "I mean, it's obviously going to be tough on the lungs just kind of getting back to that pace of play and getting the feel for the puck in that kind of setting. Obviously, it's nice to be back out there with the guys. It beats skating by yourself all the time."
Q: How's the shoulder feeling?
AM: "It feels a lot better. I think it has progressed quite well. It's still not all there, but hopefully it continues to progress and I can get out there as soon as possible."
Q: How does it feel when you're shooting right now?
AM: "Just not all there. Just the little mechanics of it, the strength in your arm still coming back, not fully there and accuracy is a little off. But I think that stuff will come back soon."
Q: Saturday will be four weeks since the injury, is there a chance you play?
AM: "I don't know, honestly. Kind of just taking it day-by-day and it all depends on how I'm progressing."
Q: You have been working a lot before practices with Leafs player development consultant Darryl Belfry. Has this been a chance for you to work on anything or build up parts of your game?
AM: "Ah, I don't know. I mean, I think as the season goes on, it's just the nature of it that your body gets kind of stiff and just to be able to get out there and kind of work one-on-one, get kind of the flow of things back, your touch to the feel of the puck, it helps, especially as the months goes by. Like I said, it feels like you kind of get a little stiffer and stiffer as the season goes by so just working on my shot and making sure everything is kind of coming back into full focus."
Q: How will you know when you're ready?
AM: "You'll just know, I guess. Contact, ah, (sighs) just kind of feeling back in game shape, being able to do a full practice, all that kind of stuff, just a lot of protocol you have to go through."
Q: Does the injury from last year give you a baseline and help you know when you'll be ready?
AM: "I mean, it's pretty similar, but it's not exactly the same. It's just, you got to take it day-by-day, listen to your body, work with the trainers and I'll get back out there as soon as I can, as soon as I can once I'm feeling well."
Q: What did it mean to be able to come on the California trip?
AM: "Well, it was nice. I think Babs hit it on the head, just sitting at home (isn't fun). These are all your friends so, obviously, tight-knit group so being able to go on that trip, spend some time in the nice weather before it gets real cold here, and be along with the guys, obviously, a really good road trip for us and to spend some time there was definitely nice."
Q: Was it extra special because it was Patrick Marleau's return to San Jose?
"Yeah, it was nice. I mean, L.A., San Jose, a couple really nice cities. Like I said, the weather was great and it's tough coming back here when snow's on the ground when you touch down in Toronto. It just felt good to be out there and be with the guys again and feel part of the team."
Q: Not that you'd rush back or anything, but how much peace of mind does it give you that the team is winning?
AM: "In all honesty, it doesn't really matter. I think I'm going to come back when I feel ready. But it's great to see, getting a lot of wins and that trip's not an easy one to clean sweep it like that, like we did, and a lot of guys stepping up in big moments for us."
--
The Leafs just wrapped up a stretch of five games in eight nights and will start another five-in-eight stretch on Monday against Columbus.
"I don't think anyone felt good on the ice today, but that's probably why we were out there," noted defenceman Jake Gardiner after Sunday's session. "Get a little sweat and be ready to go tomorrow."
The team stayed over in California on Friday night before travelling on Saturday arriving back in Toronto in the afternoon.
"No one's going out there today feeling good," admitted coach Mike Babcock, "but what we tried to do is get the intensity up, high enough for just under 35 minutes, to give ourselves a chance for tomorrow. It's always tough. I coached in Detroit when we played in the West and it's always tough coming home so you have to get regrouped and have a good day, get freshened up and get at it tomorrow."
Toronto has opted to cancel Tuesday's practice and simply travel to Raleigh that day ahead of Wednesday's game against the Hurricanes. The next scheduled practice is on Thursday afternoon in Columbus. The Leafs play in the Ohio capital on Friday night.
--
Gardiner picked up an assist and made a big kick save on Ondrej Kase to help Toronto beat the Ducks on Friday night. Afterwards, he received high praise from Babcock.
"I thought it was Gardiner's best game maybe of the year," the coach observed. "Obviously, he was feeling real good out there. He had speed, he was skating, he was moving the puck, he was physical, he was determined."
How did Gardiner, who had a team-high eight shot attempts, feel?
"I felt solid," he agreed. "Defence comes first, but I think I created some offence as well."
The numbers back that up. Gardiner was on the ice for a team-high 27 shot-attempts-for in five-on-five play. He logged 23 minutes of ice time, his highest total of the month.
--
Garret Sparks stopped a career high 38 shots in Friday's 2-1 overtime win. It was a big bounce-back effort after he allowed five goals on 34 shots in Boston. It hasn't been easy for Sparks, a workhorse with the Marlies last season, to adjust to the long layoffs between games this year.
"I just want to be there for these guys in these back to backs," he explained in a jubilant dressing room in Anaheim. "I know that's my job and I know that excuses are worthless in the end. It's just a matter of competing. And, you know, they're giving everything that they have. They're on the second half of a back-to-back and you've been sitting there watching the last two games so you have to come in and provide some energy, provide a spark and just be somebody they can rely on when they need you. And I lean on them a lot when I need them so it's a pretty good relationship that way."
With the Leafs playing on consecutive nights Friday (at Columbus) and Saturday (v Philadelphia), Sparks is projected to play again this weekend.
--
Lines in Sunday's practice:
Hyman-Tavares-Marner
Marleau-Kadri-Kapanen
Johnsson-Lindholm-Brown
Ennis-Gauthier-Leivo
Matthews

Rielly-Hainsey
Gardiner-Zaitsev
Dermott-Ozhiganov
Marincin-Holl

Andersen
Sparks

Power play units in Sunday's practice:
Rielly
Tavares-Kadri-Marner
Marleau
Gardiner
Ennis-Johnsson-Kapanen
Leivo