Matthews working his way back from 'fluky' injury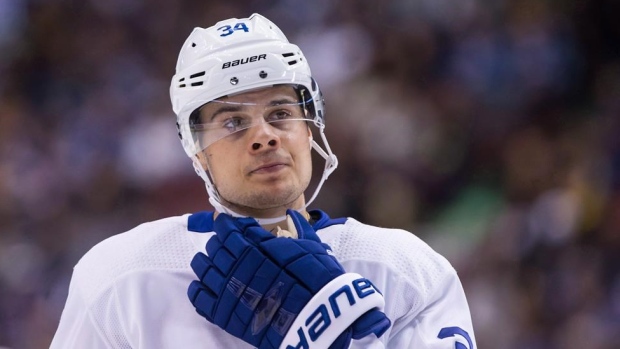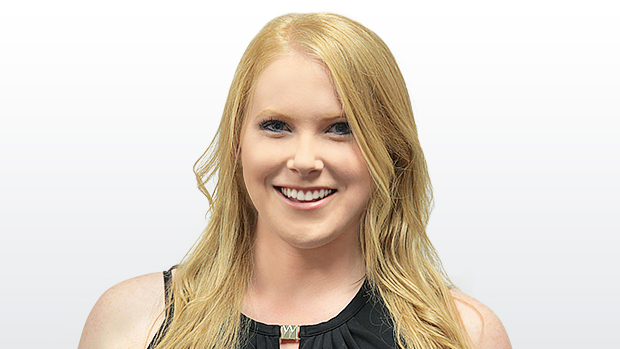 TORONTO – Slowly but surely, Auston Matthews is working his way back into the Maple Leafs lineup.
The 20-year-old centre suffered a shoulder injury in a collision against the New York Islanders on Feb. 22 and has been rehabbing with a vengeance ever since. Tuesday marked the second straight day he was involved in a full practice, although Matthews has yet to take part in all the Leafs' drills at normal speed.
"I'm feeling fine. Felt better every day," Matthews said in his first media availability since the injury. "It's nice to get on the ice with the guys and take reps and be [involved] rather than just skating by yourself, so you can get your timing and stuff back which is a big key in returning to play."
Matthews was succinct in detailing what being sandwiched between the Islanders' Adam Pelech and Cal Clutterbuck felt like, saying it was "pain in my shoulder, that's really it." He's dealt with a similar injury many years ago, but Matthews admitted to not sensing immediately there was a problem that would sideline him.
"[You're] taking contact from both sides – tough to brace yourself from both sides," he said. "[It was] kind of a fluky play. Unfortunate, but it happens."
This will be the longest leave of the season for Matthews, who previously missed four games with a back ailment in November and six games with a concussion in December.
Mike Babcock said Matthews won't play until after Wednesday's game against Dallas, with Buffalo (on the road Thursday) and Montreal (at home on Saturday) coming up on the schedule.
Babcock has also said before that players need at least one full practice at regular speed before they can return. If that holds true for Matthews, the Leafs aren't scheduled to practice again until Sunday, so his earliest potential game for a return would be Tuesday in Tampa.
"It's obviously frustrating, there's no question about that," Matthews said of missing time. "But stuff happens. Everything happens for a reason I guess. You just stick with it and do your best to get back and get healthy. I've been doing a good job of staying in shape and [working on] my conditioning with the trainers as well as rehabbing."
That's been the primary difference for Matthews this time around. His first two injuries didn't allow him to skate right away, but the separated shoulder didn't hold him back from keeping his legs moving each day while the Leafs took off on a 10-day road swing right after it happened.
Since they returned, Matthews has been back on the ice with his teammates in a red non-contact sweater, at first for only a limited 10-12 minutes before progressing to staying for the entirety of this week's practices.
"He's coming every day. I can tell just by the amount of physical contact he was in today versus yesterday," Babcock said. "He's going in the right direction feeling good and he'll be over-ready before he gets in."
Toronto has put up an 8-6-2 record without Matthews to date, including 2-2-2 over this last absence, which proves they can at least survive without him. With the Leafs firmly ensconced in a playoff spot as the Atlantic Division's third seed, there's little need to rush Matthews back into action.
But Matthews bristled at the suggestion it might be a good thing he's getting rest now prior to the postseason ("I don't really buy into that notion; I'd rather play"); rather he's gunning to re-claim his spot on Toronto's top line sooner rather than later.
"It's not fun watching when you can be out there," he said. "We went through a tough stretch there but it was a good win for us against Pittsburgh on Saturday and hopefully we can continue that tomorrow."