Matthews would join diverse group of Leafs Calder winners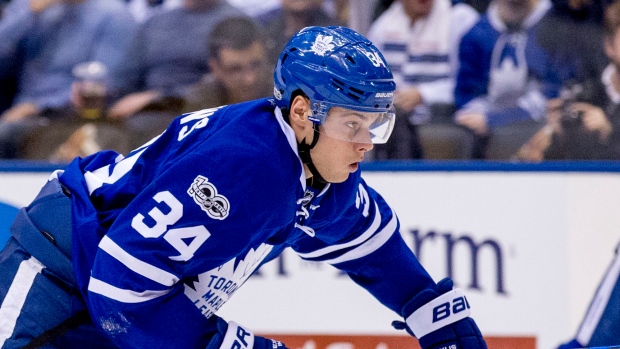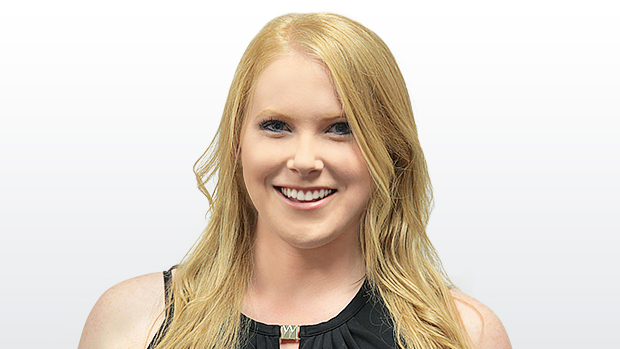 On the heels of the Toronto Maple Leafs' centennial season celebration, centre
Auston Matthews
could become the 10th player in franchise history to win the Calder Trophy as the NHL's best rookie when the league gathers in Las Vegas Wednesday night for its annual awards ceremony.
Matthews, who broke into the league as a 19-year-old a few months after being selected with the first-overall pick, stunned the hockey world with an emphatic four-goal debut and went on to rewrite franchise freshman history.
If he does beat out Winnipeg sniper
Patrik Laine
and Columbus defenceman
Zach Werenski
for the hardware, Matthews will join a group of Leafs Calder winners that includes seven well-known figures in hockey lore and two players who were never able to match the individual success of their first NHL season.
Examining the list requires a journey back five decades to the six-team pre-expansion era. Syl Apps (1937), Frank Mahovlich (1958) and Dave Keon (1961) are among the 100 Greatest NHL players of all time. Gaye Stewart (1943) was a two-time Stanley Cup champion and the last Leaf to lead the league in goals (37 in 1946). His linemate Gus Bodnar (1944) also won two Cups. Frank McCool (1945) shares the NHL record for most consecutive shutouts in the postseason (three) and still holds the Leafs' record for most shutouts in the postseason (four). Howie Meeker (1947) is a four-time Cup winner and was inducted into the Hockey Hall of Fame as a broadcaster.
Then there's Kent Douglas (1963) and Brit Selby (1966), the last Toronto players judged to be the league's most proficient rookies in seasons that proved to be the highlight of their NHL careers.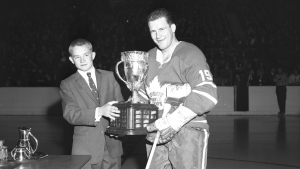 Before Douglas ever made it onto Maple Leafs' ice, he was a three-time Calder Cup champion over parts of five American Hockey League seasons with the Springfield Indians, an unaffiliated club with Eddie Shore at the helm. Douglas patrolled the blueline with a hard-nose style that was appealing to teams at the next level, but extracting him from Shore proved nearly impossible.

"[Shore] was a tyrant, and Springfield was a no-man's land," said Kevin Shea, a hockey historian and author of 16 books on the NHL.

The Maple Leafs eventually put together a package of five prospects to land Douglas, who played his first NHL game in 1962.
Toronto already had four great blueliners – Bob Baun, Carl Brewer, Allan Stanley and Tim Horton – when Douglas arrived, so the rookie put his toughness to work as their fifth defenceman and helped the Leafs reach the Stanley Cup Final, where they beat the Detroit Red Wings.

Douglas played in all 70 regular-season games that season, recording 22 points (seven goals, 15 assists) and becoming the first defenceman to ever win the Calder. The first 30 winners, astonishingly, were all goalies or forwards.

"For Douglas, I'm sure he must have been frustrated wondering 'How am I ever going to play full-time minutes when I've got these guys ahead of me?'" Shea said. "But he was also appreciative of being on a Stanley Cup team. He had an edge to him no doubt; he wasn't always management's favourite guy. But it wasn't like he was misbehaving. He was just his own man."

Douglas played in four more seasons with the Leafs, between stints with the AHL's Rochester Americans and the Central Hockey League's Tulsa Oilers. He was with the Leafs during their Cup-winning seasons in 1964 and 1967, but was sent down before the playoffs each year, and only has the one title to his name.

"There was always this wealth of talent and guys like Kent Douglas got shuffled to the side," Shea said. "But he was a big part of those championship teams when he was there."

After his last season in Toronto – 1966-67 – Douglas played two more years in the NHL with the Red Wings and Oakland Seals before bouncing around the AHL, Eastern Hockey League, World Hockey Association and International Hockey League. He ended his professional career as a player/coach in 1976 with Baltimore in the AHL.

All told, Douglas skated in 428 career NHL games, amassing 33 goals and 115 assists and retired to North Bay, searching for a new passion.

"He had only trained to be a hockey player," said Shea. "He had no education to speak of, no appreciable skills to step into a new career, so he struggled for a little while to find his place. He was playing with NHL alumni at various charity events."

Douglas passed away in 2009 at age 73 after a battle with cancer.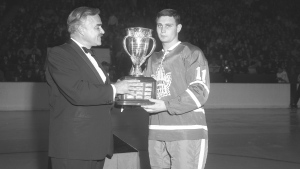 Like Douglas, Selby's Leafs' career started with him waiting for an opportunity. In 1965, during Selby's second full season with the Ontario Hockey Association's junior Toronto Marlboros, the winger was brought up to the big club for the injured Ron Ellis. In three games, Selby asserted himself with two goals.
Selby became a Leafs regular the following year. Head coach Punch Imlach signalled the newcomer was "the guy" that season by taking Ellis' number 11 – which he had worn as a rookie – and giving it to Selby. The winger was named rookie of the year that spring after scoring 27 points in 61 games, the second-lowest ever by a Calder-winning forward.
"Brit was quite a prolific goal scorer in junior; he wasn't in the NHL," said Shea. "The fact there was little competition [for the trophy] at the time helped. His rookie season was his best, which was unfortunate."
In the 1967 expansion draft, Selby was claimed by the Philadelphia Flyers. But that marriage proved short-lived when the Leafs orchestrated a multi-player trade to bring Selby back into the fold in March of 1969. Eight months after his return, Selby was shipped off to the St. Louis Blues so the Leafs could re-acquire a player they had lost in that first expansion draft - defenceman Baun.
"My feeling is that it was a bigger step than he realized [to the NHL]," Shea said. "When he got there, he realized his role was going to be a checking role or a third line role. You realize pretty quickly where you fit into the whole scheme of things, and that's why you look for other opportunities."
In 1972, Selby was drafted by the Houston Aeros of the newly formed WHA and opted to sign there. He bounced around with several teams afterwards, winning a WHA championship with the New England Whalers in 1973.
A final trade of Selby's circuitous career brought him right back where he started, to Toronto, with the WHA's Toros. He would retire with the organization in 1975.
Selby finished with 347 NHL games to his name, tallying 55 goals and 62 assists. He went into teaching at North Toronto Collegiate after his playing days were complete, and spent 27 seasons behind the bench as the school's hockey coach. Now retired, he declined to be interviewed for this piece.
The Maple Leafs' drought without a Calder winner was tantalizingly close to being broken only once, by Wendel Clark in 1986 (he finished second in voting). Since then, the Leafs hadn't had anything close to a truly electrifying rookie – until last year. And while Douglas and Selby may have peaked with a Calder Trophy season, Leaf fans are hoping Matthews is just getting started.