Maximizing lineup the next step for Maple Leafs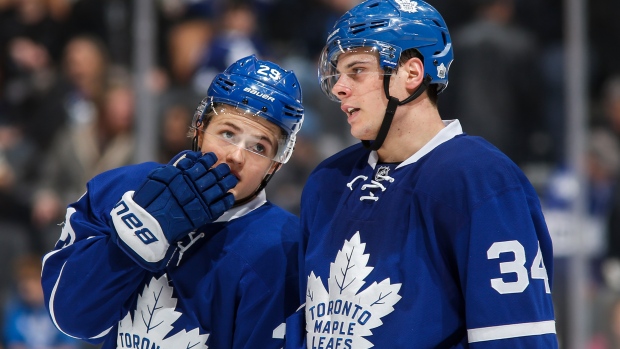 The biggest question facing the Toronto Maple Leafs in 2017-18 is how do they improve on last year's fantastic season?
The answer won't come through an addition via free agency or trade – the Leafs were mostly quiet through the summer, with the only real splash coming in the form of 38-year-old forward Patrick Marleau. Marleau still has plenty of game, but at this point in his career it's likely that he'll settle into more of a secondary or tertiary scoring role on this young Leafs squad.
If the Leafs are to take another step forward they'll have to do it with a reasonably similar roster to the one they iced a season ago. They're betting substantially on their young players to continue shuffling up the developmental curve, as well as another strong year from a small but talented veteran group.
One of the interesting challenges for head coach Mike Babcock will be ensuring that he's optimizing his lineup as much as possible. Because so much of the core of the roster is coming back from last year, one of the ways that Babcock could look at this is to map out how each player performed with any other player on the roster. The spirit of this exercise becomes identifying relationships on both ends of the performance spectrum – finding teammates that work well together and finding teammates that probably shouldn't spend as much time united during this year's campaign.
I have pulled out every single regular skater from the Leafs 2016-17 season, ordered by position. The number identified is the Corsi% the two players achieved in the minutes they saw together (minimum 75 minutes played). Anything above 50 per cent is better than break-even; anything better than 51 per cent is better than the Leafs average last year.
Let's take a look at the full scale of data, and then tease out some of the key findings.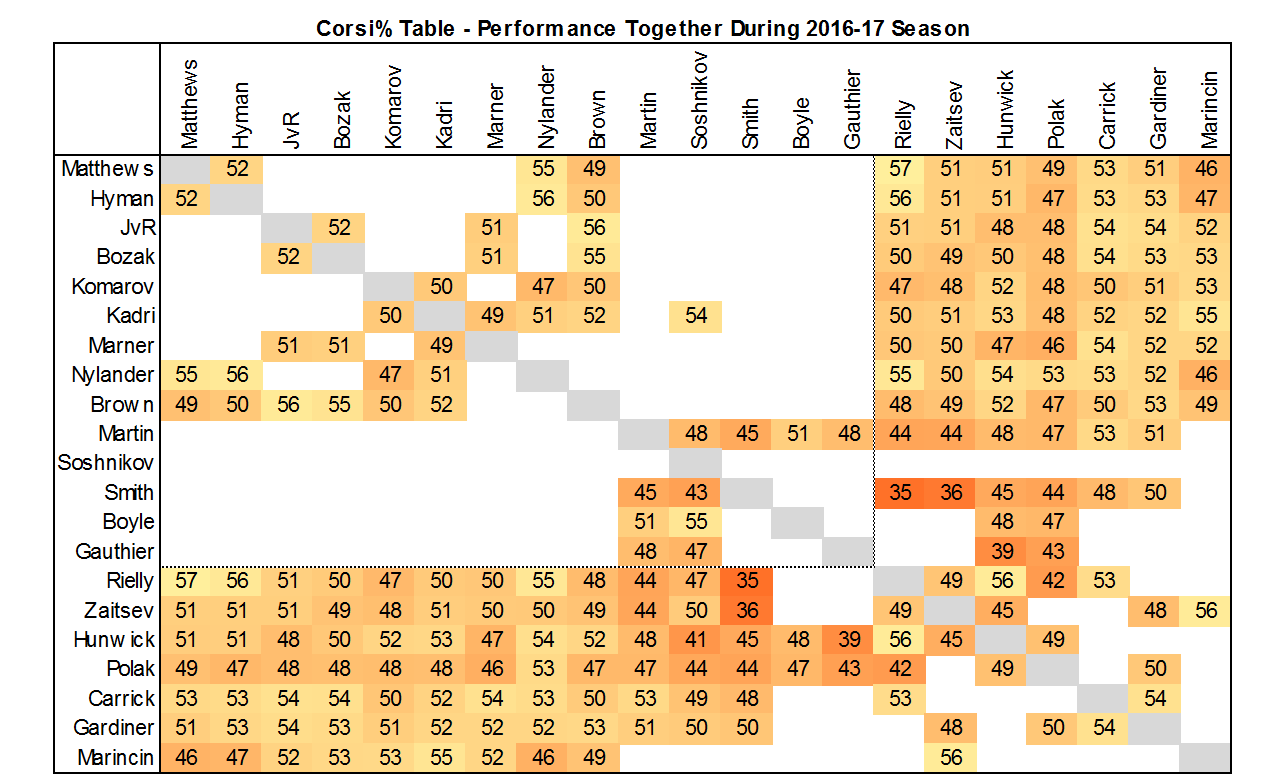 Let's start at the top of the table with Toronto's most important player in Auston Matthews. Matthews, of course, is a magnet for driving play – virtually everyone saw big upticks in shot differentials when playing with him, which is usually the sign of a high-end NHL forward. There are two notable exceptions though in defenceman Roman Polak and winger Connor Brown, both of whom saw a 49 per cent Corsi% when playing with Matthews. Polak, of course, is still an UFA and won't be back with the Leafs. But Brown will be.
Brown has some obvious skills as an energy winger, but I think there's an argument to be made that his style of play – and the fact that he's still a pretty young player – lends itself better to the middle parts of the lineup. You can kind of see that manifest on his row. Notice how his Corsi% moves way up when playing with the likes of James van Riemsdyk, Tyler Bozak, Leo Komarov, Nazem Kadri, and so on. I think you might have a situation here where Brown – when playing with Matthews – sees some really tough competition, and in those situations his effectivity is mitigated. And, in turn, Matthews' isn't the same type of player.
Let's move down a little to William Nylander. This is a player I've raved over since his first shift in the league, and for good reason. Nylander scored 61 points in his 20-year old-season and is polished in the defensive third. More than anything, he's the type of guy you can stick with Matthews on the top line and watch magic happen, or keep him on a second line to provide some scary depth for other teams to try and deal with.
Nylander shows really well here. The only time he saw his shot numbers fall in any meaningful manner was in the few instances he was put in a purely defensive role on Komarov's line. Komarov is obviously a fantastic defensive player, but I do wonder if you are stunting Nylander's value a bit when he's down this far in the lineup. For what it's worth, the duo had just 44 per cent of the goals in the 300+ minutes played together, and they shot about 7.5 per cent. Would it help Toronto more if they pulled Brown down the lineup and put Nylander on Matthews' hip? I think that makes a lot of sense, but Toronto also has to figure out where to put the recently signed Marleau.
On the defensive side, things get even more interesting – in part because the group is so young, and in part because it's almost certainly the Leafs' current weakness. The two things that stick out: Morgan Rielly and Jake Gardiner both play exceptionally well when playing with the more offensively talented Leafs attackers, but Rielly struggles as the minutes get tougher and the forward quality dissipates. That's not entirely true for Gardiner. It's another data point that reinforces the argument I have made for some time: Gardiner is the better all-around defender of the two.
In this light, it'll be interesting to see if Babcock's defensive strategy changes a bit this year. Babcock clearly loves putting Rielly in tough minutes with lots of defensive zone starts against the toughest opposition forwards. In one way, it's sort of mitigated Rielly's offence, and the defensive numbers for Rielly haven't really progressed much. Could we see more of a balance between the Gardiner/Rielly minutes next year? I certainly think so.
It gets really dicey after those two names, though. Who steps up? I think Connor Carrick and Nikita Zaitsev (who the Leafs bet big on) will see increased roles next year. Ron Hainsey, brought in from Pittsburgh, will likely take all of Polak's minutes. The Leafs are very excited about 18-year-old Timothy Liljegren, but it's unclear when he'll make the jump to the NHL. After that, it's a collection of depth guys – Martin Marincin and so on – that I'm not sure the Leafs can count on for a full year.
Overall, the roster looks deep and talented, especially on the forward side of things, and I suspect it'll be more than enough to get this team back into the postseason. But keep an eye on the Leafs and their defensive situation, especially as the trade deadline approaches. We already know they were in on Travis Hamonic, and I suspect they will be sniffing around most every top-four name that becomes available between now and March.
If there's one weakness, it's on the blueline. If the Leafs want to push deeper into the playoffs, it's an area they'll want to target for improvement.