McKinnie living unlikely NBA dream with Raptors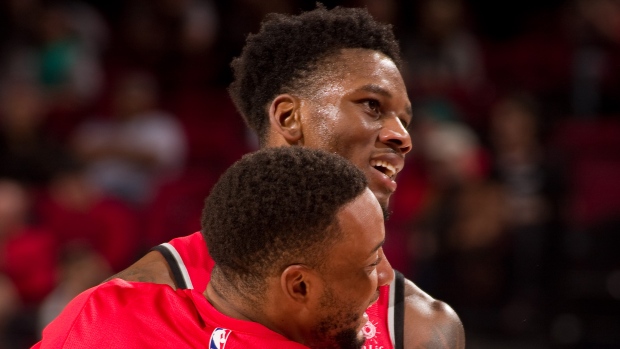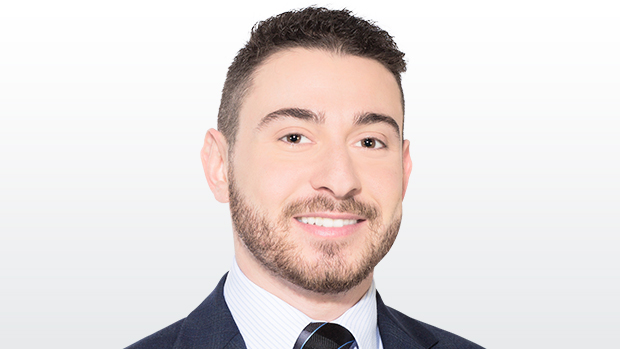 TORONTO – Fifty-nine players made their NBA debuts this past week. It's a memory they will all hang on to, but for some it's also something that can easily be taken for granted in the moment. For the first-round draft picks and highly touted prospects from preeminent college programs, it was just a matter of time.
For Raptors' rookie forward Alfonzo McKinnie it was a moment to savour in a unique and unlikely basketball journey.
When McKinnie stepped on the Air Canada Centre court late in last Thursday's season opener he tried to clear his mind. He reminded himself to focus on the job at hand: closing out the final 74 seconds of what turned out to be a 17-point win over the Chicago Bulls.
With the game already decided, that minute went by fast. It wasn't until the buzzer sounded that he stopped to appreciate what had just happened.
"I kind of just looked around and was like, man, it's crazy. I'm really here," McKinnie recalled. "It was a little surreal. It was just a special moment for me with everything that I've been through. Just everything that I've done and everything I've worked for, it made it even more special."
From there, McKinnie headed straight for the visitor's bench, where he sought out Bulls assistant coach Nate Loenser.
The two first met last fall, almost a year ago to the day. McKinnie was unemployed at the time, still searching for his next opportunity when he showed up on Loenser's radar.
Loenser had just accepted the head coaching position with the Windy City Bulls, Chicago's first-year G-League affiliate, and was looking to fill out his roster. Randy Brown, the former NBA player and current member of Chicago's bench staff, suggested they take a look at McKinnie – a local product he coached in an international 3-on-3 tournament that summer.
McKinnie was asked to attend Windy City's open tryout but he had to pay $150 to do so. In hindsight, that was money well spent. "Best investment ever," he jokes.
Over the last 12 months, Loenser has watched McKinnie make the Windy City roster, crack the rotation and eventually the starting lineup, blossom into a G-League all-star and parlay it all into an unlikely opportunity to realize his dream of being an NBA player.
That his debut came against the organization and the coach who gave him his big break was a happy coincidence, but according to McKinnie, that post-game conversation with Loenser was one of the highlights of his night – a full-circle moment that reminded him how far he's come in such a short amount of time.
"A lot can change in a year," he told his former coach.
"I'm sure he's aware of how much of a big deal it was for me to get to see him out on that court, to see where he had come just in 12 months," Loenser said in a phone interview with TSN earlier this week. "That's the type of kid he is and the type of person he is. I think he is very aware of his past and where he's come from and the people that have helped him along the way in his journey. He's a great example [that] it doesn't matter where you've been but where you're going."
While he's always had the tools, McKinnie's resume has never read like that of an NBA prospect. His five-year collegiate career, split between Eastern Illinois and Green Bay, was solid but unspectacular. He wasn't highly ranked and tore the meniscus in his right knee twice before going undrafted in 2015.
Without many options, McKinnie ended up in Europe the following season, playing with the East Side Pirates of Luxembourg. As you might expect, he was a fish out of water in a small country he knew little about, but it would end up being a life-changing experience.
McKinnie was the team's lone American and they looked to him to do things he wasn't accustomed to as a role player in college. They looked to him to score, to be a playmaker, to play and to defend all five positions. Most of all, they looked to him to be a leader.
After putting up big numbers he hoped to graduate to a higher-profile league overseas, but the offers never came. He finished out the year playing in Mexico before returning home to Chicago and it was back to the drawing board again.
"As a basketball player you always have doubts when things aren't going well," he said, looking back at a time of great uncertainty in his life. "A lot of people were like, 'Why you are playing in Luxembourg? Nobody checks for [players] in Luxembourg.' Then I ended up going to Mexico and same thing, 'Nobody checks for players in Mexico. What players in Mexico go to the NBA?'
"… I had a lot of doubts, but at the end of the day when I got my opportunity to play with the Windy City [Bulls] I took that as a golden opportunity and just put a lot of work in."
Loenser said the biggest thing that stood out about McKinnie was his willingness to learn.
"Obviously his athleticism and his size jumps out at you initially, but the more we got to coach him and teach him in our training camp, and with him being a part of our team, he made a great impression and he never looked back from there," Loenser said.
"He just never really had a bad day for us. It started in training camp. But even as his status and his role and things changed about who he was and as more people took notice of him, the thing that I really appreciated about him is that he always came to practice or games with the same mindset and that was to get better."
Meanwhile, Dan Tolzman – general manager of Raptors 905 – had been keeping an eye on McKinnie throughout the G-League season. Impressed with what he saw, he made sure McKinnie was on the list of attendees for Toronto's free agent mini-camp in June.
By that point, the 25-year-old already had Summer League invites from over half the league, with many teams offering up one of the NBA's new two-way contracts. For the first time in his basketball career, McKinnie was in demand.
It didn't take long before he and the Raptors found a fit in each other. In McKinnie, Toronto saw a hard-working, high-character guy with the athleticism and improving jump shot that may allow him to blossom into a three-and-D combo forward. In the Raptors, McKinnie saw an organization that is committed to developing young players and give them opportunities to thrive at the highest level.
Signed to a partially guaranteed two-year deal over the summer, McKinnie beat out four other players for the final roster spot in training camp, including the recently waived K.J. McDaniels, who came to the Raptors with more experience and a higher pedigree.
To even make the team is an accomplishment but he knows there's still work to be done. McKinnie wants to stick around and has bigger aspirations than making occasional appearances as a garbage time mop-up man. Now that he's finally gotten his foot in the door, perhaps he has an advantage over some of the league's more entitled players.
"I just look back at all the stuff that I've done and I'm proud of myself," he said. "But at the same time I've still got a lot of work to put in, still got a lot of stuff to do to [gain] the coaches' and everybody's trust, for me to get more minutes and be able to come in and make an impact for this program.
"Even though I've proved people wrong it's like I'm coming back and I've got to prove people wrong again. People don't know me so now I have to keep working to show people around the league what type of kid I am, what type of player I am and the type of impact I can bring to a game."