Mendes: Alfredsson still has major influence on Sens' captaincy
When Erik Karlsson was told he was being named Ottawa Senators captain in a meeting on Wednesday, he was sworn to secrecy until Thursday. But as Ian Mendes of TSN Radio 1200 writes, he couldn't help but share his good news with former captain Daniel Alfredsson.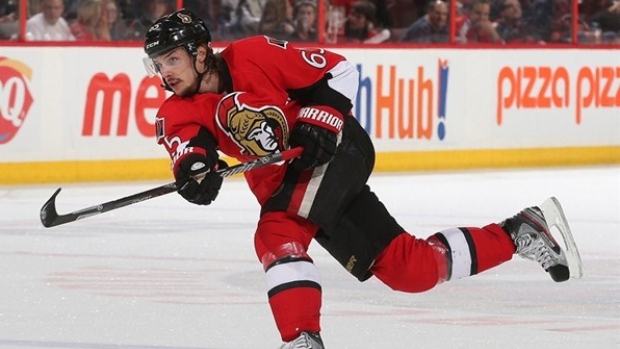 When Erik Karlsson was told he was being named Ottawa Senators captain in a Wednesday afternoon meeting with Eugene Melnyk, Bryan Murray and Paul MacLean, he was sworn to secrecy.
The club wanted to announce the news at a splashy news conference early Thursday morning and they wanted the new captain to be tight-lipped until then.
However, Karlsson couldn't help but share his good news with a couple of trusted people in his inner circle. First, he phoned his father in Sweden Wednesday night to tell him about the captaincy. And then early Thursday morning, he had a 40-minute phone conversation with the man who knows the role of captain in Ottawa better than anybody else: Daniel Alfredsson.
In a twist of fate, Karlsson was named captain of the team exactly 15 years to the date that Alfredsson was bestowed the same honor back in 1999. In some ways, there is a direct parallel between the two situations. Both are inheriting the captaincy from a player who wore jersey No. 19 and left town under less than ideal circumstances. In the case of Alfredsson, he took over the captaincy when Alexei Yashin decided to sit out the 1999-2000 campaign because of a contract dispute. And this year, the captaincy became vacant in Ottawa when Jason Spezza decided to ask for a trade at the end of the season.
For Karlsson, the phone conversation with Alfredsson was certainly not out of the norm. In fact, the two speak to each other once or twice a week on the phone. He said Alfredsson was genuinely happy for him to assume his old role in Ottawa.

"I just called him to let him know what was going on. He was really happy for me and he thought that I would be ready for it and that it would be a good thing for my career, for this organization and this team," Karlsson said.
This wasn't the first time the two had spoken about Karlsson possibly assuming the Senators captaincy. They spent a majority of the summer together in Sweden, where Karlsson said he had numerous conversations with Alfredsson about the ultimate leadership role in Ottawa.
"We're really close friends. Just being around him from such a young age when I got here and seeing how he acts around people, sSometimes you don't have to ask questions, you can just pick it up," Karlsson said of Alfredsson's influence on him. "I've been really fortunate that way to become really good friends and to look up to him and take after him in certain areas."
But Karlsson is also quick to point out that he simply won't be an Alfredsson clone as the Senators new captain.
"I'll never be Alfie. I'll never be Spezz. I'll never be anybody else," he said when wrapping up his media scrum on Thursday morning. "I'll just be myself and I'll lead in a different way than other players will. No one should shape themselves exactly after somebody else. I was fortunate enough to be around Alfie and take the best things from him and also Spezza, Phillips and Neiler. It helps shape you into who you want to be."