#MondayMustRead: Vail has a gift for GIFs
Frank Seravalli introduces you to the creator of the best NHL GIFs on the web, examines coaches manipulating the challenge system and ponders which rookies eligible for the slide rule will stick.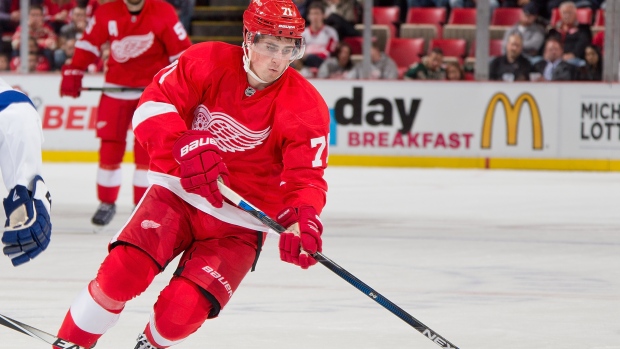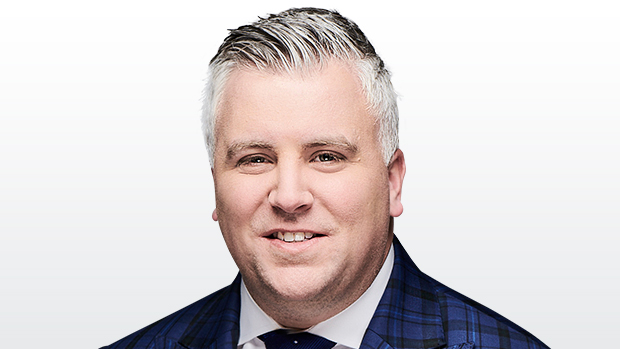 If you've seen an animated hockey highlight on Twitter recently, there's a good chance it is a product of the handiwork of @myregularface.
Her real name is Stephanie Vail - and she's quickly become one of the most integral players in hockey's social media community.
Vail, 28, records a snippet of team broadcasts on her computer and compresses them into GIF form for instant posting on Twitter. They are short, silent and looping videos, but they capture the most important moments: a goal, a celebration, a controversial play, an injury, a priceless reaction.
With 10 or 12 games on any given night, it's impossible to have your eye on every key moment around the league. That's where Vail comes in, providing a glimpse of
Evander Kane
's injury on Saturday night while you were watching the Maple Leafs and Canadiens.
Vail said she watches up to five games at one time: four simultaneously on her iMac and one more on another monitor. If she misses an important moment in another contest, she'll rewind on GameCenter Live to find it and post it. She rarely takes a night off.
"Honestly, I'm a broke college student. I'd much rather be watching hockey anyway," Vail said Sunday. "Some nights, I often forget to eat dinner."
With that dedication, Vail has carved out a can't-miss niche, not unlike the one the late Matthew Wuest created with the founding of CapGeek.com. If you follow Vail, whose username was changed from @mybruinsface to reflect her neutrality, you won't miss anything in the NHL.
Vail has turned her hobby into a small gig with the Oilers, where she clips highlights to be posted on the team's Twitter account during games. Her own account has surged in popularity to nearly 27,000 followers.
Vail is working toward her degree at Southern New Hampshire University, but she'd eventually like to parlay her passion into a full-fledged job.
That will depend on whether the NHL allows fans like Vail to freely redistribute copyrighted broadcast materials from rights holders online. When MLB Advanced Media was announced as a new partner for the NHL's online and video rights in September, the NHL said they were not inclined to make any changes with their current social media policies. The NHL is by far the most progressive of the four major sports when it comes to online video rights, allowing widespread use and distribution.
Vail said she had a contract position lined up with SB Nation until the NFL petitioned Twitter to temporarily shutdown the accounts of @Deadspin (893,000 followers) and @SBNation (219,000) for posting GIFs of games.
"I'm really hoping the NHL decides to keep it the way it is, but I guess we'll see what happens," Vail said. "I love watching hockey and I think GIFs have helped spark discussion and celebrate the game."


Although the coach's challenge has mostly run smoothly, one item on the agenda at Nov. 10's GM meetings in Toronto will be coaches deliberately killing the flow of games. Of the 15 challenges so far, three have been in question. The most egregious example was Jack Capuano's challenge on Oct. 17 against Nashville. The Islanders held a 4-2 lead with under six minutes to play, but Nashville was coming on strong. Nashville's Mike Fisher appeared to make no contact with Thomas Greiss in front as James Neal scored, but Capuano challenged anyway. The futile review took a few minutes and effectively killed Nashville's momentum, which was a better tactic than any timeout. NHL senior executive vice president of hockey operations Colin Campbell said the league anticipated competitive coaches would attempt to manipulate the rule for competitive advantage, but so far it hasn't been a huge problem. It's unclear what kind of deterrent (minor penalty?) could be put in place to prevent bogus challenges should they become an epidemic, particularly later in the season. "It's something we'll talk about next month," Campbell said.
Since teams were inappropriately rigging wiring to other locations throughout their arena for more eyes on the replay system, they have been granted more flexibility. Previously, the only locations with access to the HawkEye system were supposed to be in the home and visiting locker rooms as well as the scorer's box for referee access. The revised ruling is that any extra capability added by the home team must be duplicated for the visitor, particularly around the bench area. For instance, the Bruins added a 40-inch monitor just off their bench (pictured below), with access to replays for the coach's challenge. One had to be added for the visitor. Other teams are now following suit in their arena. This rule has actually existed for a while, meant to make benches and facilities equal. "Teams liked to play all kinds of games," Campbell said. "The visitor's bench would be smaller than the home bench, or the coach would have to stand a step down, almost in a hole." So far, an unscientific poll of video coaches said the access has been uniform and fair. Campbell did, however, have a warning for teams that rigged the system. In case of any technical glitches: "It's on you."



Half of the 12 rookies still on NHL rosters who are eligible for the "slide rule" will reach their 10th game this week. Eligible players on entry-level contracts may enjoy a nine-game tryout before a 10th game tolls the first year of their contract. We know for sure Connor McDavid and Jack Eichel aren't going anywhere. The same is likely true for Dylan Larkin. What about Sam Reinhart, Nik Ehlers and Noah Hanifin? All three of those players are projected to hit 10 games on Thursday night. Buffalo sent Reinhart back to Kootenay last year after 9 games, but this would be his fifth season of junior hockey, making that choice rather unappealing. Hanifin, 18, has four points this year, but is only playing 13 minutes per night. One other game to watch: Penguins at Canucks (Nov. 4). Three players (Jake Virtanen, Jared McCann and Daniel Sprong) would all hit their 10th game that night. This is the week we could start to see players going down. GeneralFanager.com has a complete list of slide players here.


It's hard to figure an endgame between the Flyers and Vinny Lecavalier, but the Flyers are doing everything possible to make life miserable for the former Tampa Bay star. Lecavalier, 35, has been a healthy scratch all seven games this season. Even with coach Craig Berube fired last April, the off-season did not get off to a smooth start after GM Ron Hextall told Lecavalier during his exit meeting: "Just because the coach is changing, don't expect your situation to change." Hextall admitted the Lecavalier situation did not work for either side, but did not buy out Lecavalier last summer. After this year, Lecavalier has two more remaining at a $4.5 million cap hit. The Flyers' best-case scenario is that he gets disgusted enough to walk away, which some believe is Hextall's plan. Lecavalier isn't considering retiring - for now. Though he's made more than $125 million and won a Stanley Cup, a proud Lecavalier wants to go out on a good note. It's a Catch–22 for Hextall: the only prayer to move Vinny is to play him (and eat half his salary). Lecavalier could see his first action of the season Tuesday night against Buffalo with Michael Raffl and Sean Couturier dinged up.

While some have searched for deeper meaning in Mike Babcock's words to start the season, Babcock has been rather transparent. More than skill or point totals, Babcock is placing the most emphasis on compete level and work ethic. Look no further than ice times for proof. Brad Boyes has gone from 17 minutes per game down to 12 recently; Peter Holland went from 14 to a healthy scratch. Conversely, Daniel Winnik (15 to 18) and Nazem Kadri (16 to 21) are being rewarded. His system, so far, is a meritocracy. "I'm not interested in wake-up calls," Babcock said Saturday. "I think when you play in the NHL, you know every day if you don't compete, somebody is going to have your job."

Coyotes GM Don Maloney does not have plans to visit Switzerland to check on projected No. 1 overall pick Auston Matthews. "I don't need to go to Switzerland to see Auston Matthews," Maloney said last week. "I know how special he is. He's a heck of a talent." Arizona's European scouts are still keeping close tabs on Matthews. Maloney is not alone in believing Matthews - the Scottsdale, Ariz., native who grew up a huge Coyotes fan - would have been in the discussion for the No. 2 pick with Jack Eichel last June. He saw Matthews play live more than a handful of times. Matthews, 18, leads the Swiss "A" league in goals (10) and is fourth in points-per-game (1.14). He lost the "golden helmet" as Zurich's leading scorer this week, but he's played four fewer games than teammate Robert Nilsson. USA Hockey is working on a replacement to coach Matthews and Team USA in the Deutschland Cup in Augsburg, Germany, on Nov. 6-8 after John Tortorella was hired by Columbus.



Details are still fluid, but the NHL is getting closer to finalizing exhibition plans for next year's World Cup of Hockey. Each of the eight teams will play a home-and-home series, in which the hosting federation keeps proceeds from the gate. They will then play a third exhibition game, with that revenue going to the NHL/NHLPA. It is believed the home-and-home between Team USA and Team Canada will take place in Ottawa and Washington. Sweden and Finland could face off in Gothenburg and Helsinki. Team Europe and Team North America could meet in Quebec City and Montreal. The question marks are Russia and Czech Republic. Pittsburgh's Consol Energy Center is believed to be hosting Russia is some capacity, possibly for an exhibition game. Team Canada is expected to hold training camp in Ottawa. Team USA has not yet firmed up camp plans, but one possible locale is Las Vegas. The new MGM Arena is scheduled to open in April, five months before the World Cup.

With eye-opening starts to the season, three players have at least skated their way into the discussion for Team North America: Detroit centre Dylan Larkin, Arizona winger Max Domi and St. Louis defenceman Colton Parayko. The big question, particularly at forward, is whom would you take out from Craig Button's preseason projection? Alex Galchenyuk has been excellent for Montreal; Curtis Lazar brings a bit of grit and grinding; Hockey Canada brass is high on Sean Couturier after the World Championships. Peter Chiarelli, Stan Bowman and Todd McLellan will have no shortage of tough decisions.



Lastly, check out Jack Eichel's faces as he takes a whiff of smelling salts on Saturday night in Buffalo. There have been some other funny faces captured around the league here. More than half the NHL's players crack open the ammonia carbonate capsules before the start of a game or the beginning of a period. They are used to increase alertness with the eye-watering, pungent odor triggering an inhalation reflex. So long as they are not being used to arouse a dazed or potentially concussed player, there is no adverse health risk in small doses. There is no actual physical benefit to smelling salts, only a temporary mental jolt. Hockey players are far from the only professional athletes to use them, but it seems like cameras are catching players sniffing more and more.

Frank Seravalli can be reached at frank.seravalli@bellmedia.ca.