#MondayMustRead: Cooper's roots run deep on both sides of the border
Lightning head coach is the quintessential Team North America representative at the World Cup of Hockey, TSN Senior Hockey Reporter Frank Seravalli writes.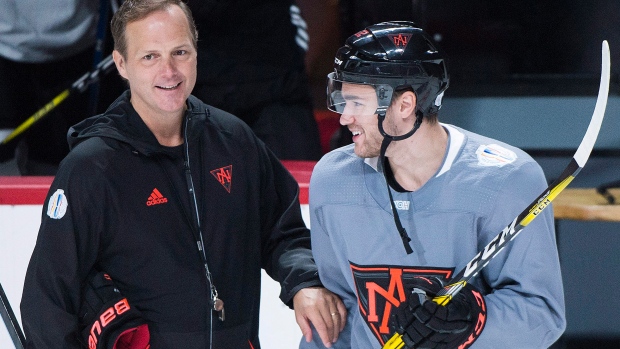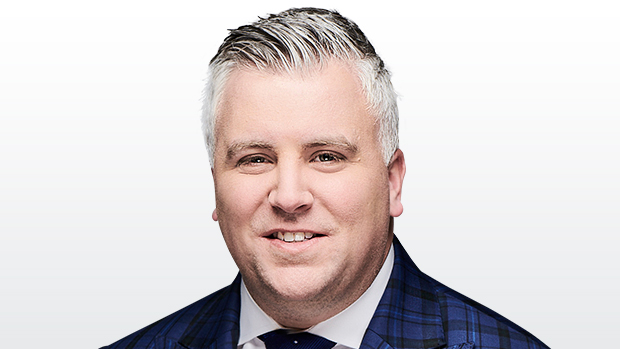 Dual citizen Jon Cooper is the quintessential Team North America representative at the 2016 World Cup of Hockey.
"My family is the definition of a border family," Cooper said, laughing.
Cooper's father, Bob, is from British Columbia. His mother, Christine, is from California.
The Coopers have lived in the same Prince George, B.C., house for more than 50 years, but there is one knickknack that still draws Bob's ire. Christine has a trinket from the 1980 Miracle on Ice, a piece of memorabilia she reminds her husband about every time international hockey rolls around.
"He still wants to throw that thing through the window," Cooper said last week in Montreal.
Cooper's own marriage spans both sides of the border. He was born and raised in Prince George, but his wife, Jessie, is from Michigan.
The Tampa Bay Lightning coach's three children are American, born on different stops during his rise through the coaching ranks in St. Louis and Green Bay.
Cooper became a United States citizen in the mid-90s. He has been living in the U.S. exclusively since 1990, nearly 30 years now, when he got a job in New York after graduating from Hofstra University on Long Island.
So, does Cooper - who is serving as an assistant to Todd McLellan - see himself more as a Canadian or an American?
He wouldn't bite.
"This is so difficult for me," Cooper said. "I think growing up in Canada, where the whole country lives and dies on hockey, the sport is bred in you. My passion and love for the game were born in Canada.
"But then I think about my time in the United States - my education and coaching education was fostered there. I've had the chance to work with a lot of amazing people who taught me well. I think both places fed into my growth, helped me get where I am today."
Cooper, 49, has never been asked to work with Hockey Canada in a coaching capacity. He has worked in a limited role with USA Hockey, coaching at festival camps way back when with current Red Wings coach Jeff Blashill, and as an assistant with RPI coach Seth Appert at the Ivan Hlinka U-18 tournament in 2008.
Cooper has seemed reluctant to make any sort of declaration about his national coaching ties, because like players with dual citizenship, once a decision is made to go one way, there is usually no switching sides.
So, for now, Cooper is relishing his role with Team North America, where he can happily remain in the middle with the 12 Americans and 11 Canadians on the roster.
"I think the best part is I don't have to choose," Cooper said. "Just being here is a massive honour in itself. You can ask me the question again if I ever get the opportunity to coach one side. You'll be the first to know."
What's another two weeks? It has been a bizarre summer for free agent defenceman Kris Russell, to say the least. He seemingly went from a big pay day in the first few hours of free agency to more than two months without a guaranteed job for this season. Russell's agent, Allain Roy, said Sunday he is in conversation with eight teams. Roy said a deal is likely before the conclusion of the World Cup. At this point, Russell might as well wait. A handful of teams are waiting to see whether the Anaheim Ducks move a defenceman after they come to terms with restricted free agent Hampus Lindholm. Russell, 29, could be a sensible Plan B option there. Russell could also return to the Calgary Flames. Both sides are believed to be interested in brokering a deal there, but it would require the Flames to find a new home for defenceman Dennis Wideman. In order for that to happen, Calgary would likely need to retain half of Wideman's $5.25 million deal, which expires after this season. Everything hinges, though, on Johnny Gaudreau's new contract number.
The future of linesman Don Henderson's career as an NHL official remains in doubt. NHL director of officiating Stephen Walkom said Sunday that Henderson is still recovering from off-season surgery. He missed this weekend's training camp for officials held in Buffalo. Henderson underwent neck surgery in July to repair disc damage reportedly suffered when he was hit by Wideman back in January. Henderson, who turns 48 next week, has called more than 1,300 NHL games. His status for this season is unknown at the moment, Walkom said.
Wideman was able to remain in that game simply by throwing a string of expletives at the Flames' concerned trainer, according to a transcript in court documents obtained by Sports Illustrated. As a result, the NHL has decided to change the concussion spotter program, according to a report, which would allow four centralized spotters watching on television the non-negotiable power to remove a player from the bench if they exhibit signs of a possible head injury. The NHL sued the NHL Players' Association in June in an attempt to vacate the reduced 10-game suspension handed down by a neutral arbitrator. According to a transcript in the documents, Wideman was able to avoid a more thorough examination by team doctors for a possible concussion because of his persistence:
"I remember that I bumped into him, but I don't recall - I didn't realize that he fell down or how hard I ran into him," Wideman said of Henderson in his hearing testimony. "And then I went to the bench, and I remember feeling pretty out of it and I just - the only thing I remember from being on the bench is the trainer asking me if I was OK."
Interviewer to Wideman: "And how did you respond?"
Wideman: "I told him to (bleep) off and I'm fine, and then I can't remember if it was the second or third time, I told him to go (bleep) himself, I'm fine."
Interviewer: "He asked you more than once to leave the bench?"
Wideman: "Yeah. He asked me if I was okay, yes."
Interviewer: "And you said you were okay?"
Wideman: "I said I'm fine."
…
Interviewer: "And he persisted, correct?"
Wideman: "Yeah. He asked me a couple of times."
Interviewer: "And finally you told him to (bleep) off?"
Wideman: "That was right away, pretty much. That was one of the first ones."
And before Team Canada fans claim referee bias during the World Cup, here's an early reminder that 13 of the 14 officials in the tournament are Canadian-born. Boston native Chris Rooney would've reduced that number to 12, but he blew out his Achilles during summer training. Rooney's timeline to return to the ice this season is also unknown.
World Cup teams will be able to name injury replacements up until 3:30 p.m. on Friday, or 24 hours prior to puck drop in the tournament. There is one caveat to this rule: if a team drops below the minimum 18 skaters and two goaltenders, they will be able to name a replacement at any time during the tournament. That isn't entirely out of the realm of possibility of happening, considering how quickly we've seen minor injuries pile up already in the pre-tournament games.
Speaking of roster management, the NHL has agreed to make an exception on requiring teams to meet veteran minimums this preseason. Teams are normally required to dress eight veterans for each preseason matchup, a number that includes recent first-round picks. That won't be the case this entire preseason, with each team sending an average of seven players to the World Cup of Hockey. Six of the eight World Cup teams will be eliminated by the time the 106-game preseason schedule opens on Sept. 25, allowing teams to re-stock throughout the preseason. There has been so much banter about the World Cup being a "cash grab," but that's really a better term for the eight preseason games most teams play - especially this fall.
A few teams are curious how the Detroit Red Wings will slide under the $73 million salary cap this season. At first glance of the numbers on GeneralFanager.com, Detroit's cap situation is ugly: the Wings are a projected $4.9 million over budget. But once Johan Franzen ($3.95 million) and Joe Vitale ($1.1 million) are moved to the long-term injury list, Detroit will be compliant. With 23 players on the roster, the Wings would be skating with just under $205,000 in space. It isn't pretty, but it'll work - and it's still early. Franzen, 36, is expected to remain on the long-term injury list for each of the next four seasons with his career likely over due to concussion issues. He has missed 141 of Detroit's last 143 games.
One other name generating interest on the free agent market is veteran defenceman Dennis Seidenberg. The catch is Seidenberg, 35, wants a contract, not a tryout. There are a few teams circling, hoping to get a better look at him during the World Cup of Hockey with Team Europe. The German-born, left-shooting blueliner averaged north of 19 minutes last year, but has missed significant chunks of two of the last three seasons with injuries. Seidenberg made his debut in Team Europe's lineup on Sunday night, where he managed three shots and was on the ice for one goal for and one goal against in 20 minutes of work in Europe's 7-4 loss to North America.
Contact Frank Seravalli on Twitter: @frank_seravalli