#MondayMustRead: Roy puts Avs' core under the microscope
Colorado Avalanche head coach Patrick Roy ripped Matt Duchene's celebration after a meaningless goal on Sunday. TSN Senior Hockey Reporter Frank Seravalli writes on the contentious times in Colorado.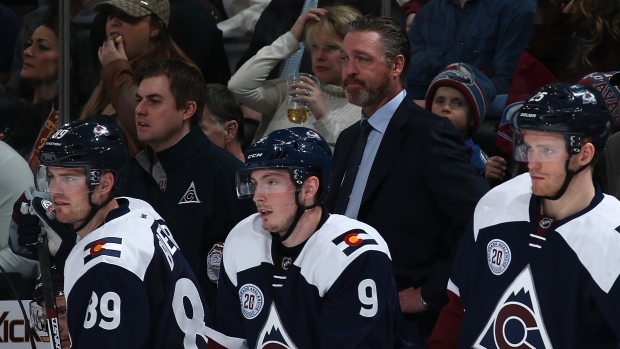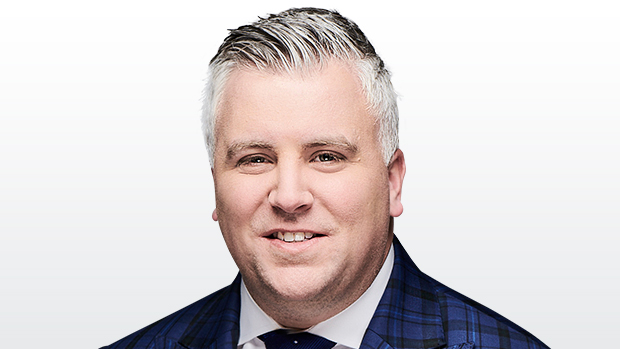 Matt Duchene became the first Colorado Avalanche player to hit the 30-goal plateau in nearly a decade on Sunday night, since current general manager Joe Sakic did it in 2006-07.
But Duchene's exuberant celebration put the entire Avalanche core under Sakic's microscope, if coach Patrick Roy's blunt criticism is any indication.
Roy blasted Duchene's celebration of a meaningless goal late in Sunday night's 5-1 loss to St. Louis, which all but eliminated the Avalanche from Stanley Cup playoff contention. Duchene, 25, jumped and threw his hands in the air after his redirection hit the back of the net.
His teammates were apparently well aware the milestone was on the horizon, since Mikkel Boedker immediately reached down to collect the puck.
One problem: the Avs were down 4-0 with 4:14 left in a make-or-break game.
"The thing I have a bit of a hard time with is the reaction of Dutchy after he scores," Roy told the Denver Post. "It's a 4-0 goal. Big cheer. Are you kidding me? What is that? I mean, it's not the reflect we want from our guys."
Roy then went on to rip the "core" of the Avalanche, which includes Duchene.
"I think we have some good leadership, but not enough from our core," Roy told the Post. "We need more from these guys. These guys need to prove to us that they're capable of carrying this team.
"When Washington needs a goal, they turn to [Alex] Ovechkin. When Pittsburgh needs a goal, they turn to [Sidney] Crosby. Their core players are the ones. Our core players are having a hard time carrying this team. That's the bottom line. I'm sorry. But I mean, I can look at myself in the mirror, and we can all look at ourselves in the mirror, but at the end of the day, the core has to be our best players."
Roy's own job security has been come under public fire with Colorado's high-risk, high-reward style of play. But Roy and Sakic have an atypical coach-manager relationship in that Roy has a hand in many player personnel decisions. That means his words hold more weight than most. It isn't just bluster.
Duchene played down the goal in his post-game media availability, but that occurred prior to Roy's comments. The Avalanche trail Minnesota, who has lost three straight games, by five points for the final Western Conference playoff spot with just three games to play.
"You play and you try and score goals for the playoffs," Duchene told the Denver Post. "Everyone just cares about who is in the playoffs. That's all we care about, that's all I care about. Obviously, it's a nice milestone, but I'm not thinking about that at all right now. I'm just very disappointed about this loss tonight."
Colorado will miss the playoffs for the second time in three seasons, proving 2013-14's 112-point campaign was an aberration. Duchene paced the Avs with 70 points as a 23-year-old that year and helped Team Canada to a gold medal in Sochi.
Similar criticism of the Oilers' core, highlighted by the pointed words of coach Todd McLellan after Saturday's drubbing, has led to rampant speculation that Ryan Nugent-Hopkins, Jordan Eberle or even Taylor Hall could join Nail Yakupov on the trade block this summer.
Duchene was already linked to trade talk in November. TSN reported the Ottawa Senators were among the teams to investigate Duchene's availability then, something Sakic quickly denied.
There would be no shortage of interest if Duchene were to hit the market this summer. He has three years remaining at a manageable $6 million per season. Coincidence or not, having his name in November's rumour mill served as the turning point for Duchene's season. Duchene has 26 goals and 25 assists for 51 points in 59 games since he was mentioned on Insider Trading.
Surgeons will likely remove Steven Stamkos' top rib on his right side today to alleviate pressure that caused a blood clot to form near his collarbone. "It isn't a rib like you'd think of, it is much smaller, more like the size of an index finger," explained Dr. Thomas Forbes, vascular surgeon at Toronto's Peter Munk Cardiac Centre. Forbes said that rib, which is bonded by the collarbone, constricts blood flow to the vein and can cause clotting with trauma or repetitive motion, such as raising your arms above your head. It isn't easy to pinpoint a timeline for Stamkos' return; the Lightning said between one and three months. "Normal recovery for range of motion and exercise would be about one month from just the surgery alone," Dr. Forbes said. "Doctors would then recommend some period of time on blood thinners, perhaps one month, which also complicates the timeline." NHL players are not permitted to play games while on blood-thinning medication, as Chicago's Kimmo Timonen revealed last year. A conservative doctor would peg a return to the ice in two months. Will Tampa Bay still be playing in early June?
The $70-million (or more) question potential suitors will want to know before betting on Stamkos this summer: How likely are these clots to re-occur? The answer is not likely. It isn't possible to know Stamkos' complete medical history, but surgeons removing his rib will likely prevent a clot from forming there again. The doctor performing Stamkos' surgery at Tampa General Hospital explained that vein as located "right in a nutcracker jaw." With the rib removed, space is no longer an issue. Dr. Forbes said blood clots form for three reasons: sluggish blood flow (sitting/laying for long periods of time), trauma, and people who inherit hypercoagulable dispositions hereditarily. Timonen, for instance, found a protein deficiency that traced back to his mother, which made him susceptible to clotting. Barring an unreported hereditary condition, this is likely to be a one-time injury for Stamkos, not career impeding.
While romantics wax poetic about the cozy dump that is Rexall Place before Wednesday's final home game, I can't help but think of two potential trades that would have changed the course of the Oilers' last decade. The statute of limitations has long since expired on both. The first: a 2003 deal agreed to in principal - Mike Comrie to Anaheim in exchange for prospect Corey Perry and a first-round pick. It fell apart because GM Kevin Lowe demanded Comrie re-pay $2.5 million in rookie bonuses to "top up" the deal. The other: Lowe fished around in both Chicago and Florida to try and find a new home for Chris Pronger before settling on Anaheim. His offer to Florida: Jay Bouwmeester and a No. 1 pick (Michael Frolik). His offer to Chicago: Brent Seabrook and a No. 1 pick (Jonathan Toews). Neither would bite. The only other deal that was close was a package with Los Angeles built around Alexander Frolov and Lubomir Visnovsky. Lowe picked Joffrey Lupul, Ladislav Smid, two first-round picks (eventually Riley Nash '07 and Jordan Eberle '08) and a second-round pick (traded to Islanders, became Travis Hamonic). Hard to fault Lowe on that second one; his hubris prevented Perry from coming to Edmonton. Alas, the last playoff game played in the old Northlands Coliseum was June 17, 2006, Game 6 of the Stanley Cup final, one decade ago.
Four burning questions on the second-to-last Monday before the playoffs:
Is Marc Bergevin still beholden to Michel Therrien if Claude Julien is available this summer? Julien would be a home run for the Habs. It seems ever more the possibility with the Bruins slinking when games matter most for the second year in a row. For now, Boston can still guarantee a playoff berth by winning out.
Who would play Bergevin in the John Scott movie? How about Jack Huston? Bergevin is bound to play some sort of role, with Scott's season receiving a Hollywood ending after his re-call by the Canadiens on Sunday. All-Star MVP Scott never complained about his banishment to St. John's - professional hockey's polar opposite from life in Arizona - and waited for another shot at the NHL level that he wasn't sure would ever come.
Would the Flyers consider using defenceman Ivan Provorov for the playoffs? His Brandon Wheat Kings are back in control of their first-round WHL playoff series with Edmonton after a win on Sunday, but an upset seemed plausible. Scouts say Provorov, 19, could be every bit as much of a game-changer as Shayne Gostisbehere. He led all WHL defencemen with 73 points in 62 regular season contests. It's only tempting if his Wheat Kings are eliminated. The Flyers would have a nine-game trial run at their disposal without burning a year off his entry-level deal, like the Flames did with Sam Bennett during last year's playoffs.
Are the Stars re-thinking their move to the Central Division? It is mayhem on a nightly basis. We are guaranteed to have one of Dallas, St. Louis or Chicago - three bona fide Stanley Cup contenders - eliminated in the first round. Finishing first in the division, and avoiding either one of those teams in the opening round, is crucial this week.
Blackhawks GM Stan Bowman may be watching the NHL's scoring leaderboard more than the standings this week. That's because forward Artemi Panarin can earn a $1.725 million bonus by finishing among the Top 10 forwards in league scoring, according to GeneralFanager.com. Panarin, 24, momentarily jumped to ninth with his four-point effort Sunday afternoon, but fell back to 12th when the day's games ended. The Bread Man has eight points in two games in April so far. He can max out at $2.775 million in bonuses. Since the Hawks are on track to finish with just $156,442 in space on the $71.4 million cap, they would start out with an "overage" of more than $2.4 million on next season's cap. There goes any potential salary cap increase.
Happy trails to longtime linesmen Brad Lazarowich and Andy McElman and referee Greg Kimmerly. Lazarowich and McElman both called it a career on Sunday after 3,400 combined NHL games. Lazarowich, 53, was on pace to hit 2,000 games before an injury sidelined him for 13 weeks this year. He finished with 1,971 games and was the NHL's active leader among linesmen. McElman, 54, settled on the nice round number of 1,500. He was one of 14 linesmen picked for the 2014 Sochi Olympics. Kimmerly, who was an official since 1993-94, worked is last game on Saturday in T
Finally, give a read to World Junior hero Stefan Legein's new blog at The Hockey News. He doesn't pull any punches in describing his downward spiral, which included stepping away from the game at 19 in 2008 and dependency on prescription drugs. It is raw, emotional, and biting - a poignant reminder that the players we cover battle demons like us all.
Contact Frank Seravalli on Twitter: @frank_seravalli