#MondayMustRead: Scott approached about movie
All-Star Game MVP has a slew of new endorsement opportunities and has been approached about the possibility of a movie based on his career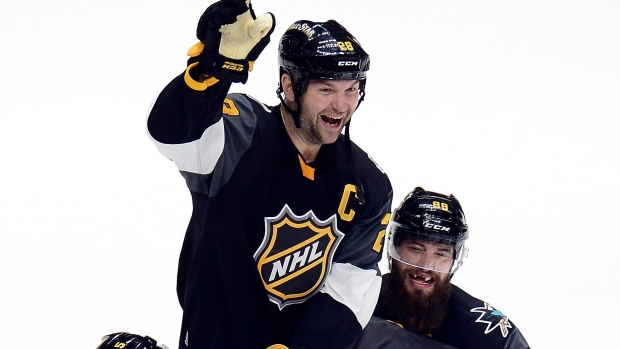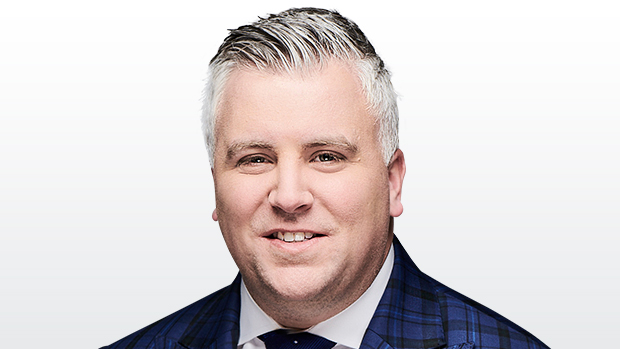 NASHVILLE, Tenn. — NHL All-Star Game MVP John Scott being carried on his teammates' shoulders on Sunday was better than any Hollywood script. It actually happened.
But Scott's story could eventually play out again on the big screen.
Through his agent, Ben Hankinson of Octagon Hockey, Scott has been approached about the possibility of a movie based on his career in addition to a slew of endorsement opportunities.
Hankinson said Monday he is only beginning to sort through the options.
"The John Scott ride has been nothing short of a rollercoaster to an incredible ending," Hankinson said. "We do have a lot of different options for him to pursue, but he's not looking to do everything there is. He's going to have some different routes that he can take as far as books and even a potential movie. He can take it as far as he wants to."
All-Star weekend was just the beginning of a crazy week for Scott. He returned home to Michigan with his wife and two daughters, set to move back into their house on Monday, which has been undergoing renovations for the last year.
His wife, Danielle, is scheduled to be induced into labour to give birth to twins on Thursday.
Luckily, the AHL is also on their All-Star break at the moment, allowing Scott a few extra days at home before heading back to St. John's, Nfld.
"He's in a whirlwind right now, but he's focused on his family," Hankinson said. "We'll see where it goes. The world got to see not just what a fabulous hockey player he is but also a fabulous guy. To be in his camp for the last 10 years, it has been an absolute pleasure to be a part of his life and career."
At 33, some wondered whether Sunday might have marked Scott's last appearance at the NHL level. Scott said he hoped the attention would open new doors for his on-ice career. His preference is to keep playing beyond this season.
It is believed Scott was offered a full-time position as a radio analyst for one of his former teams last off-season, but he declined when a one-year offer with the Coyotes materialized for $575,000.
"Hopefully I can stick around and do something in the sport," Scott said. "If not, I'll do something else for work, you know, 9-to-5."
Eventually, Scott will return to the ice, and back to reality. The attention will die down. But the magic will never fade from Sunday, an all-star moment that will never be duplicated.
"This is going to change John's hockey career forever," Hankinson said. "I'm sure you can imagine there were some bumpy roads and some dark days. But all along, John just let this thing play out. He's enjoyed every second of it."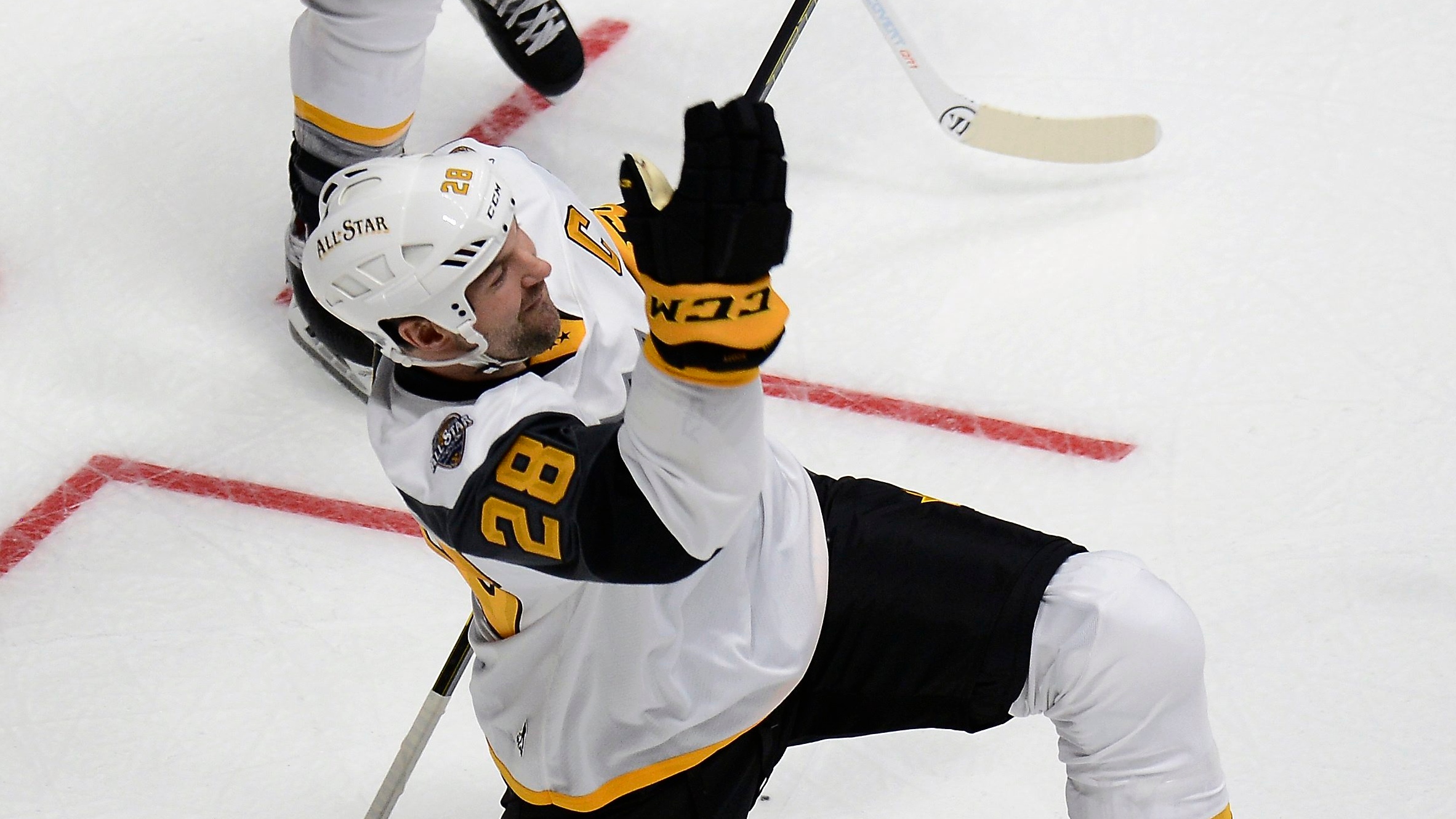 Who should play All-Star Game MVP John Scott if a movie is made about his hockey career?
Why did the new 3-on-3 format work? It wasn't just about the prize money, though that helped. One hundred grand is still a lot — even to players. The key was the extra ice. It mitigated some of the injury fear for players, particularly with trying to avoid getting hit by shots, but also left them nowhere to hide. They were forced to try. There was backchecking, just enough strategy and the late-game drama helped. Who would've thought a 1-0 All-Star Game would be entertaining? "There was a real big buy-in from players," Barry Trotz said. No All-Star Game will be perfect, but this worked. "It was more realistic. It was something close to what we do during the season," Penguins' defenceman Kris Letang said. Players were informally polled by the league afterward for feedback. "Originally, I thought it was a good idea, but it was even better after I've played in it," Stars' forward Tyler Seguin said. "I think it should just be like this from now on."
The initial feedback from the NHL's hockey operations department on the blueline cameras tested during Sunday's game was "operational and great." Rather than inside the actual boards, one camera was placed on the glass, and an additional camera was extended on a pole above the glass to provide a better aerial view. Gary Bettman admitted the NHL was a little too reliant on broadcasters in some buildings for video angles on coach's challenges for offside plays. Although there have been coaches quibbling about off-side plays coming down to inches or one skate hanging in the air, as Bettman said, offside is still offside.
Mike Modano tweeted that the Pacific Division All-Stars should have given their cut of the $1 million to Scott, but Scott said the players would "do the right thing" and split it up. Their cut actually adds up to just north of $100,000 (U.S.) for the weekend. In addition to the Pacific's $90,909.09 winnings, every All-Star received a $9,500 appearance fee for attending, plus a split of a prize pool from the Skills Competition - two things that were standard from previous All-Star weekends. That money isn't subject to escrow withholding, which makes the players smile.
Flames defenceman Dennis Wideman will have an in-person hearing on Tuesday in Toronto, with the NHL's hockey operations department (not player safety) presiding. For all the talk about the Rule 40 (Physical Abuse of an Official) after Wideman's run-in with linesman Don Henderson, the NHL has a lot more leeway in terms of punishment since that call was not made on the ice. There is no 10-game minimum for suspension. Colin Campbell has broad power to suspend based on Rule 28 (Supplementary Discipline) for "any offense committed during the course of a game." That Wideman's hearing is in-person just gives the NHL the ability to suspend for more than five games.
Dustin Byfuglien was very candid during Friday's media availability, and some wondered whether his lukewarm comments about Winnipeg were little more than a negotiating ploy. That's fair. Big Buff also had a funny story about his outdoor adventures, when asked about which Jets teammate complained the most on an ice fishing trip: "Probably Anthony Peluso. It was his first trip and he didn't really know what he was getting himself into. It was a cold, windy day and he didn't really have the proper boots on and stuff, and the heater shut off mid-afternoon, so we had an evening where it was a little chilly in there. He came back and said to a couple people, 'I don't think I'll ever go back out there again.'" Byfuglien laughed, but said it's been a useful tool in helping teammates calm down. "Once you get out there and they settle down, they're like 'God, this is kind of nice and relaxing.' There's no one out here to bother us. It's just you and your little hole and you just sit there and play video games pretty much."
By the way, if Jets captain Andrew Ladd is available later this month, look for the Florida Panthers to be at the front of a long line. He is a perfect fit. And few know Ladd better than Panthers' GM Dale Tallon from their Stanley Cup win together in Chicago in 2010.
Atlantic All-Star coach Gerard Gallant said every player requested to play at least a shift with Jaromir Jagr on Sunday, in Jagr's 10th and perhaps final All-Star appearance. Jagr, the oldest All-Star at 43, scored off a pass from the game's youngest All-Star in 19-year-old Red Wings' forward Dylan Larkin - a nice little pass-the-baton moment. Jagr and the Panthers now turn their attention to a second playoff berth since 2000. The Atlantic is up for the taking.
Jagr snapped everybody to attention when he said Friday, "It's not about the Cup." Huh? He relayed a story from his time in Philadelphia and the Flyers' epic first-round series against the Penguins in 2012. Then-coach Peter Laviolette walked into the dressing room during the first intermission and asked: "Guys, if I would bring the Cup right now in the dressing room, and somebody told you don't have to play any more games and you win it, would you take it?" Jagr relayed. "I guarantee there's nobody who would say yes because it's not about the Cup." That hit home with Jagr. "I remember that line. It was perfect. I feel it," Jagr said. "It's about the whole year spending with the guys. It's about the games. You have to suffer through everything to win it. So if somebody come to me right now and brings the Cup, I'm not going to take it. You have to earn it."
Thank you, Nashville. You did a tremendous job hosting All-Star weekend. Los Angeles has a lot to live up to in 2017.
Frank Seravalli can be reached at frank.seravalli@bellmedia.ca.