Montoya's play relieves concern for Habs while Price sidelined
With Carey Price unavailable to start the season, what could have been more hard times for the Montreal Canadiens has instead amounted to a solid start backed by the strong play of backup goalie Al Montoya, TSN Senior Hockey Repoerter Frank Seravalli writes.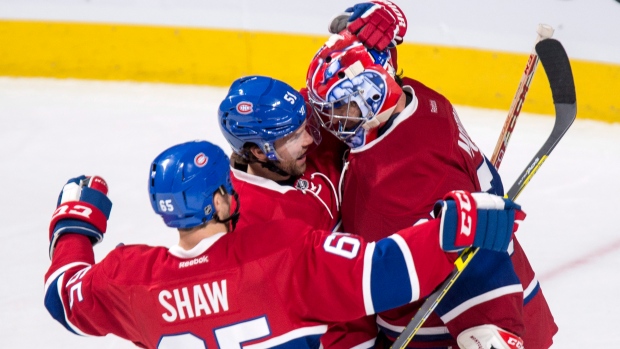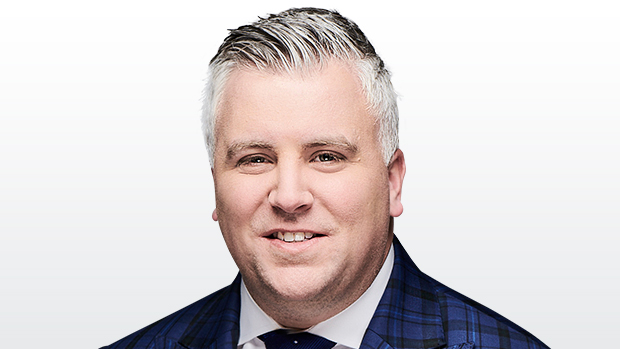 MONTRÉAL — If you told the Canadiens in July that all-world goaltender Carey Price would be unavailable to start this season, it would have felt like the continuation of a bad dream.
Somehow, Montreal's worst nightmare has turned into fantasy with Al Montoya in net.
It is just three games, yes, but backstopped by the journeyman Montoya, the Canadiens (2-0-1) have already done what they accomplished just once after their season swirled down the toilet late last December: reel off five out of a possible six points.
With help from newcomer Shea Weber, Montoya earned his first shutout in nearly three years on Tuesday night as the Canadiens trounced the defending Stanley Cup champion Pittsburgh Penguins, 4-0, on opening night at Bell Centre.
That Montoya was able to do it with last year's fall guy, Mike Condon, forced to watch by his lonesome as Pittsburgh's backup made for a delicious irony in a night full of theatre.
"He was exceptional tonight," Canadiens coach Michel Therrien said. "He enabled us to play with confidence. We were a nervous team in the first period, which is normal playing in your first game at Bell Centre. Al calmed things down, gave us a chance to stay in the game when things weren't going so well."
Captain Max Pacioretty received the torch from former Habs coach Jacques Demers in another habitually excellent pre-game ceremony, then scored 23 seconds into the contest to etch his name into franchise record books. Pacioretty's goal was the fastest goal ever in a Canadiens home opener, breaking a 53-year-old record set by Bobby Rousseau on Oct. 12, 1963.
Demers, 72, passed the flame to Pacioretty from a wheelchair in his first public appearance since suffering a debilitating stroke on April 6.
It was an emotional night - like every opener seems to be in Montreal. The faithful 21,288 roared when Weber was introduced for the first time to his new hometown after last June's seismic trade with P.K. Subban. You could tell the normally stoic Weber was touched with the ovation that was louder than all others except the sidelined Price.
"That was special," Weber said.
What Montreal saw on Tuesday night was exactly what Weber can bring. He skated nearly six minutes more than any other Canadien (28:09), killed five minutes worth of penalties, helped Montreal exit the zone cleanly, and consistently cleaned the crease in front of Montoya.
The trickle down effect on the rest of the Habs roster is real. Therrien was able to keep Andrei Markov under 20 minutes per night, which he said was his goal before the season. And Weber's impact on still-developing partner Nathan Beaulieu was only positive.
Sitting across the ice from his new Penguins teammates in a low-profile ballcap, Condon probably could not help but wonder where that kind of help was last year when he sputtered with a .903 save percentage.
In three games, Montoya has stopped 101 of 105 shots for a .962 mark. Two weeks ago, Condon was still with the Habs before being plucked off waivers by Pittsburgh.
"Sad? No … It was weird sitting on the other side of the ice," Condon said. "These things happen. It's a business, I wouldn't really put any emotion on it. There's a lot of adversity in this game and I'm thankful for a new challenge. It's just part of the game."
Injuries and opportunities are part of the game, yes, and Montoya is running with the one Condon squandered. Montoya, 31, is now on his sixth NHL team and has never been a starter despite being picked No. 6 overall in 2004.
His hot start is why the Canadiens spent $950,000 to sign him on July 1. In case Price ever went down again, they wanted someone they could count on in a pinch.
"I feel like I've been trying to make a statement for a while," Montoya said. "For me, it's just an opportunity to play. I don't try to over-do anything … It was a special moment for all of the guys on this team to start a season. We wanted to start off on the right foot."
A return is now imminent for Price. He could be back as early as Thursday night after a severe case of the flu kept him out for the first three games. This time, his absence went better than anyone could have dreamed.
"We have a lot to play for in this room. We want to prove last year was a fluke," Pacioretty said. "We weren't perfect, 'Monty' bailed us out. All three games he gave us an opportunity to win. He was special tonight. But I like where our heads are with guys playing for each other. We're going to play for each other all year in this room."
Contact Frank Seravalli on Twitter: @frank_seravalli