More physical now, Kapanen ready for next level with Leafs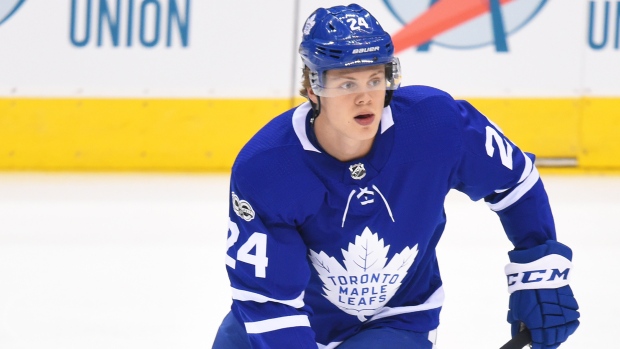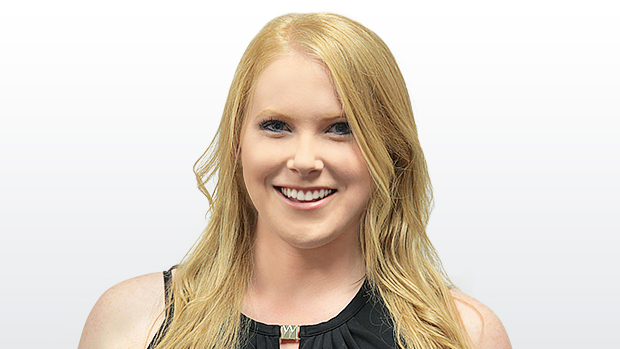 Kasperi Kapanen had hoped to make the Leafs' lineup out of training camp in October. Instead he had to wait until last Thursday to make his regular season debut. In the Leafs' 5-3 loss to the Los Angeles Kings, Kapanen finished minus-one with five shots on goal and no points, but his performance still earned high praise from Mike Babcock.
"He used to be a skinny kid and now he has some meat on his bones and he can fly," Babcock said. "He looks like an NHL player to me."
Babcock doubled-down on that sentiment Saturday, not only by keeping Kapanen in the lineup over Josh Leivo for the second straight game, but by detailing how the 21-year-old has grown more into his body.
"You look at him and he's a big, heavy guy, he's got heavy legs," Babcock said. "Last game he got pinched out by [Drew] Doughty, squeezed out to the corner and come out to the net front. So he's heavy enough to play in the league. We often say a guy is light. We don't mean he doesn't weigh anything, we mean he's not strong enough to handle the physical [part of] going and winning one-on-one battles. Kappy had great speed, but he was light. Now it looks like he's ready for the next level."
Kapanen had been among the last cuts the Leafs made this year, even with the writing on the wall that their lineup wouldn't be able to hold another speedy, talented winger given the crop it already had. Despite how well Kapanen played late last season and into playoffs for the Leafs (posting three goals in 13 games), he went back to the AHL's Toronto Marlies where a positive attitude was paramount.
Now he has Babcock praising his transformation into what Kapanen hopes will soon be a full-time NHL player.
"Oh, it's a confidence boost for sure," he said. "And you know you have been doing some good things if he says good things about you like that. I thought I had a pretty good summer of just working out, getting a little heavier and a little bigger. It's just hard work, is all it is. I knew this was going to be a big year for me and if things don't start the way I want them to in training camp, I just have to keep working hard and get up here and I feel like I had my chance and I played okay."
---
While Auston Matthews has had an incredible start to his season, posting 10 goals and eight assists to lead the Leafs, his linemate William Nylander hasn't had the same consistent success.
Nylander has three goals and eight assists so far, but has only two helpers in his last six games with no goals. When he's at the top of his game, Nylander is doing one thing particularly well from his coach's perspective, and he hasn't seen enough of late.
"It's called compete," Babcock said. "This game is so simple, you can watch all the skill in the world but if you put your skill in front of your work, you're no good. If you put your work in front of your skill, that's winning 50-50 pucks, that's your forecheck, that's your track, it's your compete every night. If you do that, your skill comes out, if you don't, you leave the rink disappointed."
After Babcock moved Nylander to the fourth line last season to encourage more effort from him at both ends of the ice, the winger seemed to take the lesson to heart. But the challenge for him as a second year player is to avoid complacency brought on from his terrific rookie campaign.
"He really has [come a long way]. Now we have to get it back," said Babcock. "Because this is how it goes during the year, it's a hard league. We're on the road now. They played against [Anze] Kopitar and Doughty last night, and tonight they're going to play against [Paul] Statsny and [Alex Pietrangelo]. Now, I could hide him, and play him no minutes but to me what good players do on championship teams is they outplay the other guys. That's what has to happen."
Throughout the Leafs recent skid they've struggled to start games well, falling into multi-goal deficits after 20 minutes in three of their last seven matchups. Toronto has only led after one period in two of those seven games. Playing from behind doesn't generally draw out the best from players, and for Nylander, he's also still adjusting to the top defensive matchups his line draws from the opposition.
"I think we've gotten off to a slow start sometimes, but I think once we get going we're pretty dangerous offensive team," he said. "I think the nights where we turn the puck over a lot, that's when we create problems for ourselves so I think we have to limit those turnovers and keep it simple in the neutral zone. I think we know what we've done wrong in past games, but we can change that for tonight and hopefully get a win today."
---
It was all the way back in the Leafs' season opener against the Winnipeg Jets that Mitch Marner scored his first, and only, goal of the season.
Since that tilt (where he also notched an assist), the second-year winger has tallied just four helpers. He's minus-10 on the season, and has yet to be a plus player in any of the Leafs' first 14 games.
After being shuffled through the lineup, whether by design or made necessary by the Leafs trailing in games, Marner has settled onto the fourth line with Tyler Bozak and Matt Martin. So far he's enjoyed the dynamic, and the chances it has helped him to create.
"I think we're just staying positive," he said. "Obviously I know Bozie quite a bit playing with him all last year and this year. We're getting used to Marty but I think we're using him for what he's great at and that's forechecking and getting on their D and being a threat to them. We've been putting the puck in and letting him go to work. I think when we do that, the puck finds a way to come back to me and we're finding open space."
Marner has been adamant since the summer that he doesn't believe in the so-called "sophomore slump" and while his six-point campaign so far isn't what he had in mind when the season began, he has no choice now but to keep battling through the adversity as it comes.
"That's just how the season always is, it gets tighter and tighter as the season goes on," he said. "People are getting more used to the systems and not all just a run-and-gun game, that's the most important thing I think everyone just needs to realize. We're trying to tighten up obviously and I think we're getting better with that."
Against a team like the Blues, who are 27th in the league in goals-against (32), scoring chances won't be easy to come by. Dictating the tone by playing their game on will be imperative for Marner and the Leafs.
"[The cycle] is what we want to build our team around, we don't want to be a rush team that trades chances all the time," Marner said. "We want to be a team that hems you in and makes you change when you get the puck out. That's what we want to get back to, we just have to make sure we're playing our game and getting the puck in and working the D."
Projected lineup for Saturday's game:
Hyman-Matthews-Nylander
Komarov-Kadri-Kapanen
van Riemsdyk-Marleau-Brown
Martin-Bozak-Marner
Rielly-Hainsey
Gardiner-Zaitsev
Borgman-Polak
Andersen starts
McElhinney