Murray: "We're just asking for justice"
Bryan Murray rarely pulls punches when speaking to the media and the Ottawa Senators general manager was in fine form on Thursday afternoon at the Bell Centre. As TSN's Ian Mendes reports, Murray talked about the Game 1 incident between PK Subban and Mark Stone and ultimately asked for justice to be served.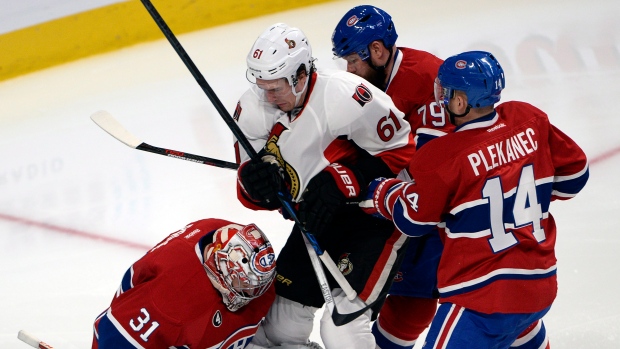 Bryan Murray rarely pulls punches when speaking to the media and the Ottawa Senators general manager was in fine form on Thursday afternoon at the Bell Centre.

One day after losing Game 1 to the Montreal Canadiens, Murray was still seething about the lack of a suspension to PK Subban after his slash injured Senators forward Mark Stone. The club confirmed a micro-fracture on the bone of his right wrist as well as additional ligament damage, which has left Stone with no mobility in that area of his arm. His status for the rest of this series is questionable and Murray said it was doubtful Stone would suit up for Game 2 on Friday.
And following up on Stone's accusations from last night, Murray also suggested that Subban repeatedly -- and intentionally -- targeted the vulnerable spot on the rookie's wrist in Game 1.
"The disturbing thing from our point of view is that there was a threat made before by Subban to Stone. There were two attempts on faceoffs to slash him. And then he two-handed him across the wrist in front of the net," explained Murray. "And as I say, he's been one of the top five players in the league in the last couple of months of the year. It's a huge loss to our hockey team."

In his post-game comments on Wednesday night, Senators head coach Dave Cameron made what appeared to be a veiled threat in the direction of the Montreal Canadiens if there was not an additional suspension for Subban. "I think it's quite simple. It's a vicious slash on the unprotected part of the body. You either do one of two things and I think it's an easy solution. You either suspend him -- or when one of their best players gets slashed, just give us five. It's not that complicated," Cameron told reporters in his post-game press conference.

That comment seemed to attract the attention of the hockey world, who assumed the Senators would be seeking retribution against Subban and the Canadiens. But Murray dismissed the notion that the Sens were now under a bigger microscope after Cameron's post-game remarks. Instead, the general manager suggested his team was merely looking for the right amount of discipline to be handed out by the NHL Department of Player Safety.
"The league will pay close attention to everything we do and say, but that doesn't bother us at all. We're not threatening anybody here, we're just asking for justice in a situation where we've lost one of our best players," said Murray.

The Senators informed the series supervisor Rod Pasma about Stone's injury on Wednesday night, but that did not seem to sway the NHL's decision one way or another. Murray also suggested that he would like officials to review the comments that were picked up on the in-game microphones to hear if there were any threatening comments made by Subban towards Stone before the slash occurred midway through the second period.
For his part, Cameron was more reserved in his remarks on Thursday. The Ottawa head coach said that going after Subban would not be in his team's game plan for Friday night -- or any other game moving forward in this series.
"One of our keys is discipline over emotion. And that's what we're going to preach. The best way to get even is to win the hockey game," said Cameron on Thursday. "That's what our focus is on. It's not about retaliation. It's about playing physical hockey whistle to whistle and finding a way to win the game. That's where our energy is going to be spent."

The Senators players echoed Cameron's comments, saying that Subban would not be a targeted player in Game 2.

"We don't want a penalty parade happening in the first period. If you've got a clean lick on him, take it. But it's like that with every other player. I can't stress enough how important it is to stay disciplined and not get carried away," said defenceman Marc Methot.
While the Senators are preaching discipline and taking the high road versus Subban, it should be noted that Chris Neil could be ready to return to the lineup on Friday night for the first time in two months. Neil -- the NHL's active leader in penalty minutes -- could dress in order to provide a different element to Ottawa's lineup.

"I have no idea to be honest with you. I approach every game like I'm going to play and we'll just go from there," said Neil. "Obviously, I know what I bring. My game doesn't change if I get in. And if I get in, I'll be ready to go."