Next chapter in Sin-derella Vegas story: Stanley Cup Final
Presented by:

Once a 500-to-1 shot to win the Stanley Cup when the puck dropped on their inaugural season in October, the Vegas Golden Knights are four wins away. Vegas is going to the Stanley Cup Final. Believe it.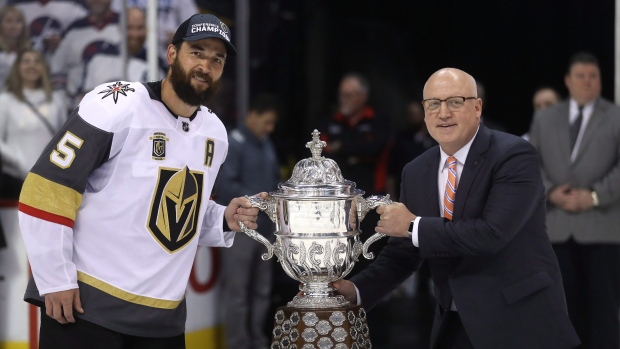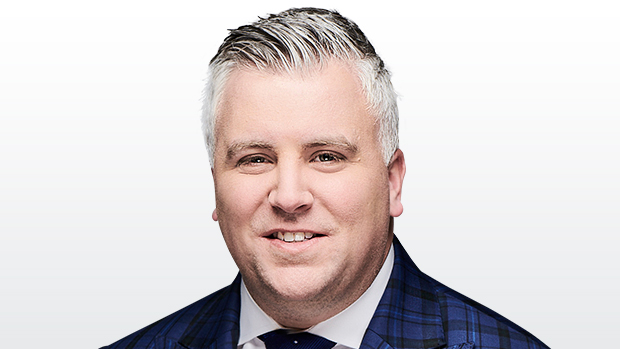 WINNIPEG — Deryk Engelland did not hesitate.
He grabbed the Clarence S. Campbell Bowl with the same steady hands that held the microphone on Oct. 10, when he told his adopted hometown it would be okay after the deadliest mass shooting in history, on the night the Knights were born.
To touch it or not? Superstition means nothing to a team that has defied the odds all season long. Luck has nothing to do with it.
"We decided as a group to take it," Engelland said.
Once a 500-to-1 shot to win the Stanley Cup, the Vegas Golden Knights are four wins away.
Vegas is going to the Stanley Cup Final. Believe it.
Perhaps the most unbelievable story in the history of professional sports, this group of Golden Misfits wrote another incredible chapter on Sunday afternoon when they silenced the Winnipeg Whiteout.
"It's insane," Engelland said. "If I were to guess I'd be sitting here doing this right now, I would be a little skeptical."
The Golden Knights never trailed after Game 1, knocking off Winnipeg in four straight games, culminating with a clinical 2-1 clincher in Game 5 at Bell MTS Place.
Canada's Stanley Cup drought will reach at least a 26th year. Now, Canada isn't the only one crying, not with 11 franchises who have played a combined 339 years in the league wondering how a team in its first year may well win it all.
"It was their time," Jets captain Blake Wheeler said. "Coming into it, I thought we had the best team. I felt that way and obviously I'm a little bit biased, standing in this room feeling like we had a great opportunity. That team … it was just their time."
The game-winning goal itself embodied the entire Vegas season. Sportsbooks would not have even offered odds so astronomical that Ryan Reaves, a son of Winnipeg, would deflect a Luca Sbisa shot behind Connor Hellebuyck for just his second career playoff goal.
The overwhelming majority of the Golden Knights were players their teams decided they could live without.
"We call ourselves the Golden Misfits for a reason," Reaves said.
Sometimes, the best stories are the ones the most far-fetched. The Golden Knights are the best of the West - it's a Sin-derella story.
Vegas will take on either the Washington Capitals or Tampa Bay Lightning - in what could be the NHL's first-ever all-Sun Belt final if Tampa wins - beginning on Monday May 28.
"Everyone needs to pinch themselves," Jonathan Marchessault said. "We couldn't draw it up any better."
The entire series was harder to figure from a Winnipeg perspective. Who saw this coming? Even the underdog Golden Knights' own fans and management could not have imagined advancing this quickly and cleanly. They will have a week to rest up now.
Remember when this round began with 17,000 strong chanting "We want Sub-ban," begging for backup Malcolm Subban, after rolling over the Knights?
"I thought this was our year," Hellebuyck said. "It's hard for me to depict it. I thought we were the better team. But they're walking away with a 4-1 lead. I don't know. I don't know."
Winnipeg's magical run came to an end with an audible thud. They finished the playoffs with a 9-8 record, and an incredibly bright future, but a bitter pill of opportunity lost. Wheeler described it as an "empty" feeling.
Maybe fatigue was a factor, the young Jets running out of gas in their 99th game of the season. Maybe they left it all on the ice, physically and emotionally, in that Game 7 against the Presidents' Trophy-winning Nashville Predators.
"That's why it's four rounds," Wheeler said. "If you can't withstand that and get through the next round then you don't deserve to win."
Maybe the Jets' offence went cold at the most inopportune time. They managed just six goals in the final four games of the series with very little secondary support. The Golden Knights got goals from Reaves, Tomas Nosek, Tomas Tatar, Brayden McNabb and Alex Tuch - timely contributions just as they had gotten all season long.
Mark Scheifele, who set a playoff record with 11 road goals, and linemate Blake Wheeler couldn't be counted on to do absolutely everything. Scheifele ended with 14 goals in three rounds, five short of the all-time record for goals in a single postseason.
Maybe the Jets simply just ran into a wall - in both Marc-Andre Fleury and the Vegas' attack and team speed. Fleury, the 33-year-old three-time Cup winner who spent his entire career in Pittsburgh before becoming the face of the expansion entry, emerged from the Western Conference final as the favourite for the Conn Smythe Trophy.
"Just couldn't score," Patrik Laine said. "I couldn't shoot."
Fleury finished the series with a .956 save percentage in the final four wins.
"Their goalie was extraordinary," Wheeler said.
Fleury's counterpart, Connor Hellebuyck, wilted when it mattered most, giving up untimely goals that broke the Jets in this series.
"Luck was on their side, definitely," Hellebuyck said. "I've never seen anything like it. Even their goals tonight were two tips. Any time a guy tips it and it goes bar-south, you know something is going right for them."
Really, it is the story and narrative of the Golden Knights that is hard to believe, a collection of castoffs cobbled together - devoid of superstars and ego and built in the sole image of today's fast NHL. When you see them in action, any feeling of a fluke dissipates.
The Golden Knights are four wins away from being etched in silver forever.
"All the work we've done, if we come up short now, it would mean nothing," Marchessault said. "All those records and everything, it doesn't mean anything if you're not the last team standing."
Few will be betting against them now.
Contact Frank Seravalli on Twitter: @frank_seravalli​