NHL says Canadiens followed concussion protocol with Beaulieu
Discussion of the NHL's concussion protocol and spotter system could not be more timely, following Tuesday's handling of Canadiens' defenceman Nathan Beaulieu after he was wobbled in a fight by Blue Jackets' captain Nick Foligno.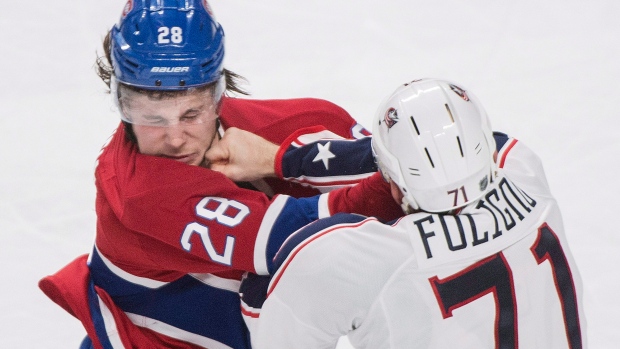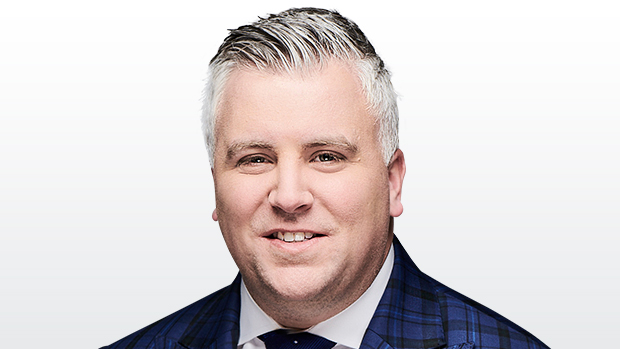 The NHL's concussion protocol and spotter system is one item on the agenda at next week's Board of Governors meeting in Pebble Beach, Calif.
Discussion on the effectiveness of spotters could not be more timely, following Tuesday's questionable handling of Montreal Canadiens' defenceman Nathan Beaulieu after he was wobbled in a fight by Columbus Blue Jackets' captain Nick Foligno.
After Foligno downed Beaulieu with a right to the jaw, Beaulieu skated directly to the penalty box to serve his major, rather than to Montreal's dressing room for evaluation.
Beaulieu was not available to answer questions post-game; he was receiving medical treatment.
Canadiens coach Michel Therrien told reporters Beaulieu sat for the final 50 seconds of the second period after returning from the box, passed the concussion protocol tests administered by doctors during the second intermission, then was cleared to play the third period. Therrien said "everything was fine," and contended Beaulieu would not have gone to the penalty box if he wasn't feeling well.
NHL deputy commissioner Bill Daly said Wednesday that the league's concussion protocol was properly followed in this instance.
"The purpose of the protocol is to keep the player safe and to shield him from further exposure to potential injury until he is properly evaluated and diagnosed," Daly said. "(Beaulieu) was properly evaluated after the second period and returned to play. There is no violation of the protocol unless the player is allowed to participate before he is evaluated. That didn't happen here."
Canadiens defenceman P.K. Subban joked Beaulieu had "a nice little shiner," saying girls would find him "extra attractive" after the fight.
"I wasn't surprised (to see him back)," Subban told the Montreal Gazette. "He came back out and it didn't look like he missed a step. He's a tough guy, I was just happy to see that he's OK. He was fine on the ice. I think kind of when he got hit he was kind of already going back, falling back."
The NHL's independent concussion spotters, new for this season, are required to notify a team's training staff to remove a player from the game to be tested only if said player exhibits three distinct and visible concussion symptoms.
The criteria includes: slow to get up following a hit, clutching head following a hit, suspected loss of consciousness, lack of coordination or balance issues, or a blank or vacant look. The latter three would require mandatory removal from the game. Beaulieu may not have exhibited any one of those criteria on Tuesday.
For the Canadiens, the stakes were a little higher than usual on Tuesday night. Montreal was already down a defenceman after Alexei Emelin was given a game misconduct for his first period hit on Matt Calvert. Subban logged 29:45 of ice time in Emelin's absence, 49 seconds off his season-high. It would've been considerably more without Beaulieu, too.Goaltender Mike Condon was starting his first game as Carey Price's replacement for the next six weeks.
Beaulieu, who turns 23 on Saturday, is no stranger to concussion confusion. He missed seven Stanley Cup playoff games last spring with what many suspected to be a concussion - returning to skating with a tinted visor.
Meanwhile, a sixth Ottawa Senators' player may have suffered a head injury this season. Mika Zibanejad left the game in the third period after a hit to the head from Flyers defenceman Radko Gudas.
There have been 19 other previously suspected or reported concussions throughout the NHL according to a TSN log. And if Zibanejad is concussed, Ottawa would account for nearly one-third of the league's total so far this season - a bizarrely high number. Seventeen of the NHL's 30 teams do not have one player with a suspected or reported concussion.
Forward Clarke MacArthur has been out since Oct. 14; Andrew Hammond is also currently sidelined. Patrick Wiercioch, Curtis Lazar and Marc Methot have also missed games with concussions.
Coincidentally, Foligno - the combatant in Beaulieu's scrap – inadvertently concussed both Methot and Wiercioch previously.
Senators' coach Dave Cameron called for Gudas' hit to be a major penalty in his post-game press conference. The NHL's Department of Player Safety announced Wednesday that Gudas will have a hearing for possible supplementary discipline for the hit. Cameron did not provide an update on Zibanejad's status.
"It's tough to see," Senators centre Zack Smith told TSN's Brent Wallace. "Especially when they are cracking down on hits to the head and fining and suspending guys. But they're still there, it's still part of the game and it's a quick game. It's unfortunate to see. It's one of the worst things to go through in terms of hockey injuries."
Frank Seravalli can be reached at frank.seravalli@bellmedia.ca.