No war of words between Matthews and Laine
The top two prospects in the NHL Entry Draft have avoided competition in favour of striking up a friendship, Frank Seravalli writes.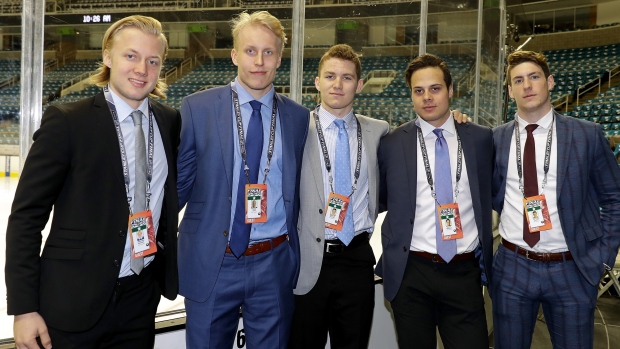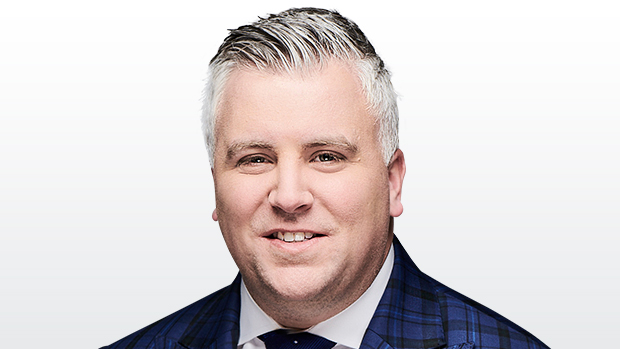 SAN JOSE, Calif. — From the outside, it would appear that Auston Matthews and Patrik Laine are wrapped in an awkward bubble leading up to the NHL Entry Draft in Buffalo 18 days from now.
Matthews, of course, is the understated presumptive No. 1 pick of the Toronto Maple Leafs. Laine, meanwhile, does not lack in bravado, telling most any microphone he meets that he is the best player available in the draft.
They are two entirely different players and personalities, on a collision course for stardom in the NHL in short order. But for the next three weeks until draft day they will be practically joined at the hip, powering through the whirlwind lead-up together.
So, when Laine says he is the draft's top player, does Matthews respond by giving him a little elbow on the five-hour flight from the NHL Combine in Buffalo to the Stanley Cup final in San Jose?
"No," Matthews said, laughing. "Everyone has their own right to their own opinion. That's his. He doesn't mind expressing that. There's really no problem with that. We're all here to just enjoy the process. Everybody here, they're all good guys. To get to know them, we all come from different places, so it's definitely pretty cool."
Laine said he and Matthews have avoided making the draft a competition off the ice by not talking about it.
The two 18-year-olds aren't just playing nice in front of the cameras. They strolled through the media room together after their interviews on Monday morning at the Stanley Cup final and snapped a casual selfie together. They laughed.
"We know hockey is the main thing, but we're friends," Laine said. "We don't have to talk about hockey. We know we're going to be good players in the NHL someday. We don't have to compete in our free time. We just want to focus on things other than hockey. We don't have to race in our free time."
Matthew Tkachuk, Alex Nylander and Pierre-Luc DuBois joined Matthews and Laine at the Stanley Cup final, an annual tradition for a handful of top prospects dating back to Chris Pronger's draft year in 1993.
They watched Monday's morning skate prior to Game 4 and met Joe Thornton and Joe Pavelski, among other NHL stars, for a quick chat prior to a round of media interviews.
Matthews marveled at Thornton's "big body" and the two shared a personal moment, chatting about Switzerland. Thornton's wife, Tabea, hails from Davos. They met there during the 2004-05 NHL lockout and Thornton would one day like to live there. Matthews spent his pre-draft season playing in Zurich.
Some 20 years ago, Thornton went through the same exercise as Matthews, watching the Philadelphia Flyers take on the Detroit Red Wings weeks before he was picked No. 1 overall.
"He's been an unbelievable player for a long time," Matthews said of Thornton. "We were talking about Switzerland and just the experience I had there. He was saying to enjoy this, it's a once-in-a-lifetime thing. It's cool to come here and take part in this. I've never been to a Stanley Cup final game before. Just looking at how calm and cool they are — it's pretty eye-opening."
The team interview experience has also been eye-opening for Matthews and Laine. Matthews said he has met with seven teams in all.
Matthews said there were approximately 10 people in the room for his interview with Toronto, but Maple Leafs president Brendan Shanahan was not one of them. GM Lou Lamoriello, director of player personnel Mark Hunter and amateur scout Lindsay Hofford were among the group who grilled Matthews.
Matthews said meeting with the Leafs was "very straightforward, very serious, business-like."
Laine said his meeting with Toronto was his toughest.
"I liked their interview," Laine said. "It was just harder than the others, but I think it went pretty well."
Laine didn't back down from his claim then that he was the top player available in the draft, either. He isn't saying it for show or entertainment. It's his honest belief.
"I want to be No. 1 because I want to show everybody that I can be the best player in this draft," Laine said. "That's the thing that I want to be: the first one. I just want to show people what I can do on the ice. If it's entertaining, it's good, of course."
That's just fine with Matthews. He will wait to see whose name is called first on June 24. No hard feelings.
"I let my actions speak for my words," Matthews said. "It's his personality. I feel I'm a good player. I could sit here and say I'm the best player, but I'm not going to split hairs."
Contact Frank Seravalli on Twitter: @frank_seravalli