Nogueira gives Raptors unexpected lift in win over Jazz
There was an unusually small crowd gathered around DeMar DeRozan's locker as he got set to address the media after Wednesday's 104-94 win over the Utah Jazz.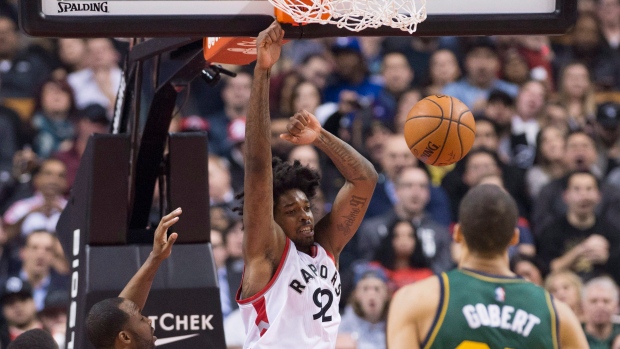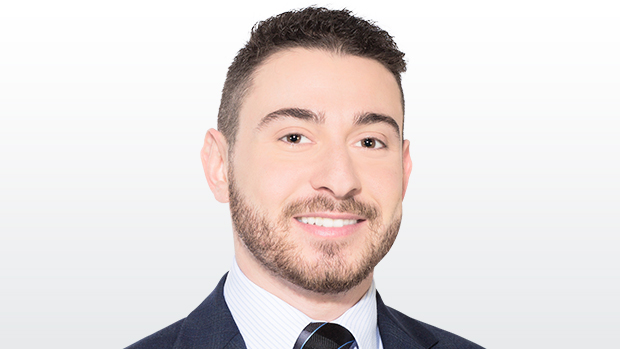 TORONTO - There was an unusually small crowd gathered around DeMar DeRozan's locker as he got set to address the media after Wednesday's 104-94 win over the Utah Jazz.
DeRozan and the man seated to his left, Kyle Lowry, had led the charge once again, each of them eclipsing 30 points and combining to score 63 on an efficient 24-of-35 shooting. However, several reporters were preoccupied on the opposite end of the Raptors' dressing room.
They were huddled around always-chatty sophomore centre Lucas "Bebe" Nogueira.
"What is he even talking about?" DeRozan asked.
He knows well enough to just assume it could be anything. Something of an open book, Nogueira is certainly not shy, to put it mildly. He's regaled us with everything from his affinity for a Brazilian street sport called 'taco" - which resembles cricket, if we understood it correctly - to the importance of his family and his faith.
This time he was in the middle of a completely unsolicited rant on the pitfalls of social media. (Very) Long story short: some of the negativity athletes get from fans on Twitter, Instagram and Facebook can become an unnecessary distraction and, as a result, he's done with it, at least for the time being.
He says his focus is on basketball, now more than ever, and that seemed to pay off on Wednesday.
Skimming the boxscore, nobody would blame you for overlooking Nogueira's modest stat line: two points, four rebounds, a turnover and a foul in 4.5 minutes. If anything, the 4.5 minutes might jump out, it's 4.5 minutes more than he typically plays. They didn't come in garbage time either, instead they came late in the first half, a stretch that turned the game.
The Raptors were fortunate to only be down by eight, given how generous their defence had looked. The pace favoured Utah and the atmosphere in the building reflected it, despite another sellout crowd. Immediately, the place livened up as Nogueira, an obvious fan favourite, approached the scorer's table.
With the similarly long and agile Rudy Gobert on the other side, Dwane Casey had anticipated using Nogueira, who hadn't played meaningful NBA minutes in almost three months.
"During [the morning] presentation to the team, [assistant coach Jama Mahlalela] came and said 'you might get in the game today, so stay ready'," Nogueira told reporters. "Of course I'm always ready, because you never know when your name is going to be called, but I didn't know about the rotation of the team."
"I try to stay ready every time, but today especially. I tried to stretch during timeouts because guys got a couple of fouls, got my body ready early. I felt so happy to get in the game and do the best that I can and try to change the game a little bit."
As you might expect, his first couple possessions were bumpy. The big-haired Brazilian was promptly called for a defensive three-second violation, and later stepping out of bounds after wrestling a rebound away from two Jazz players. Yes, like most 23-year-olds, Bebe makes mistakes, but they're usually not for a lack of effort. To his credit, when he comes into a game he generally makes things happen, for better or for worse. What happened next falls under the 'for better' category.
Running the floor in transition, Nogueira caught an alley-oop pass from Lowry, something they perfected when the young 7-footer got some run earlier in the season. Crashing the glass a couple possessions later, he grabbed an offensive rebound, then another. By the time the second quarter came to an end, that eight-point deficit had turned into a three-point lead as Toronto out-scored the Jazz 16-5 with Nogueira on the floor. They would hold onto the lead for the duration of the night. The fans loved every moment of it, and so did his teammates.
"He used that athleticism and his energy to help boost us," Lowry said following the win. "And we all felt it, we did, and we appreciate it. We're definitely going to tap him on the back, but we expect that from him every night."
"His length against Gobert was what we were trying to get," Casey said. "He [came in] and gave us some presence. He had a couple of rebounds. That's his gift. I just thought we were lethargic and I thought he got the crowd into the game and it paid off. It was a calculated gamble."
Nogueira has gotten most of his run in practice and with the Raptors' D-League affiliate in Mississauga this season, but he's a player of interest for the organization. Nogueira, who was acquired from Atlanta in the deal that also brought Lou Williams to Toronto in the summer of 2014, possesses an intriguing skill set for a 7-footer. He's long enough to change shots around the rim, quick enough to come out and guard on the perimeter and run the floor on offence, but he can also shoot and pass the ball pretty well at his position.
"The coaches are seeing how we can develop Bebe even more," general manager Masai Ujiri had said the day prior. "I think here and there coach will find time for Bebe to continue to develop, but he's somebody we see as a big part of our program going forward and a really, really big part. You don't find bigs like that; that are skilled. He's shown us a little bit, has to do it more consistently, but we all know bigs take time so hopefully we can find a little bit more time."
Before we get any ideas, like say giving Nogueira some minutes at the four next to either Jonas Valanciunas or Bismack Biyombo, Casey insists that he'll continue to be used situationally. Barring injury, that's his role and he gets it but the Raptors know they've got to figure out what they have in the young Brazilian. Biyombo can opt out of his contract this summer, which he almost certainly will considering he'll be up for a substantial raise. If Toronto goes all-in on DeRozan and Biyombo can quadruple his current $2.8-million salary elsewhere - a very realistic possibility given the rising cap - the Raptors may find themselves in the market for a back-up centre. Could Bebe fill that void? Perhaps. In the mean time he's just worried about working and staying ready.
"Coaches know, they all say the same thing, young guys have to be ready every time," Nogueira said. "Doesn't matter if you play 30 seconds or 30 minutes, you have to get in there and do the best you can, try to do something to change the game. On offence, or defence, running, screens, try to do something to change the game. Don't stay on the court for a long time and [have] nobody see you there. Try to make everybody see you there. This is what I put in my mind when I get in the game."