Nylander and Pastrnak revel in divisional rivalry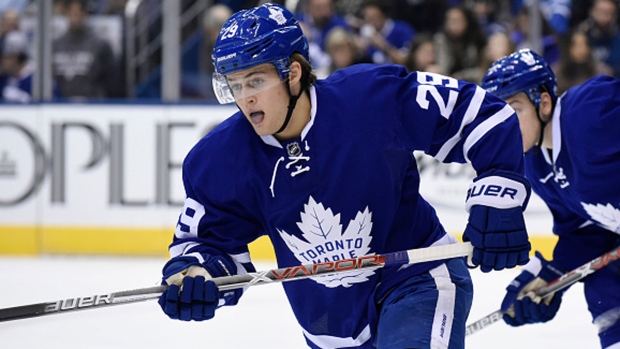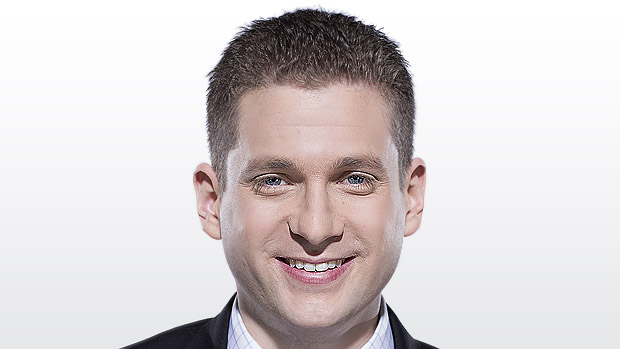 TSN Toronto reporter Mark Masters checks in daily with news and notes from Maple Leafs practices and game-day skates. The Leafs and Boston Bruins skated at the Air Canada Centre ahead of tonight's game.
- When the Leafs beat the Bruins in a 6-5 thriller last month in Boston, William Nylander scored his first career NHL hat trick while his good buddy and former Swedish league linemate David Pastrnak had two goals and an assist. Before that game the pair grabbed dinner and caught up. Did they do the same on Sunday night? "No," said Pastrnak with a chuckle. "The last time I caught up with him he scored a hat trick."
When Pastrnak joined Nylander's team (Södertälje) in 2012 he only spoke Czech so, at first, they communicated through Google translate. And yet there was still instant chemistry. Why? "I don't know," Nylander said. "Maybe we think the game the same way. I don't know exactly what to tell you." Pastrnak believes it's all about their hockey sense. "The biggest part of it was we really liked to play with each other," he said, "and we had such good chemistry that, especially on the ice, we really didn't need to talk." Pastrnak said there's always some "chirping" between the two during their NHL head-to-head meetings. "It's always special, you know, there's always some rivalry between us," the Bruins winger, currently riding an 11-game point streak, noted.
Head coach Mike Babcock has certainly taken notice. "Well, I actually considered buying one of those toys with 88 (Pastrnak's number) and putting it in Nylander's stall and taking it on the road so he'll think he's playing him every night," the coach said. "Obviously, they're friends and they want to be good against one another and Willy's played great against him so we expect Willy to have a big game tonight." Nylander's hat trick against Boston marked the start of a blistering 21-game run for the Swede who has scored eight times and registered 12 assists in that stretch.
- The Leafs are trying to stay ahead of the New York Islanders and Tampa Bay Lightning while also looking to catch up to the Bruins. How does Nazem Kadri look at the standings these days? "Look up, look down, I mean, sideways, it doesn't matter. We're looking all over the place," he said. Boston is three points ahead, but Toronto has a game in hand. "This is essentially a must-win for us if we want to place anywhere other than the wildcard spot," Kadri admitted. So, do the Bruins see this as a chance to finally get rid of the Leafs? "Not get rid of," said Brad Marchand. "They're a very competitive team and a lot can happen in 11 games. It's a huge game, no question. It should have a playoff-type feel and hopefully we're prepared."
- There was a ton of respect for Marchand in the Leafs dressing room on Monday morning. Kadri, who will likely draw the matchup against the Bruins top line, insisted he's not surprised the pesky winger has 27 goals in his last 30 games. "No, I always knew he could score," Kadri said. "That's not really surprising. I mean, he's hot right now and sometimes, as an offensive player, that's what you need, you catch those breaks and start to score in consecutive games and start to pile up the points so that doesn't surprise me at all." Is Marchand any less annoying now that he's so productive offensively? "He's definitely annoying, for sure," Kadri said with a grin. "I can definitely relate, because I feel guys feel the same way about me. I have no disrespect towards it. I think he plays the game hard."
Auston Matthews was linemates with Marchand at the All-Star Game in Los Angeles. "He's a really nice guy, actually," the Leafs rookie said. "You never know what to expect [with] someone who on the ice kind of likes to get under your skin or plays with a little bit of an edge, but then you meet him off the ice and he's an unbelievable guy." Matthews certainly appreciates the way the Nova Scotia native plays. "He's tenacious, I mean, he never gives up on a puck. He plays with a lot of passion out there. A pretty gritty player, but he's got a lot of skill."
For his part, Marchand has been impressed with the Leafs, who have swept all three games against the Bruins this season. "They play a really fast game," he said. "They play a high tempo. Obviously, their system is different now with Babcock and they play pretty tight, man-on-man all over the ice. They can make stuff out of nothing so we have to make sure we bring our best game. It's going to be a battle."
- James van Riemsdyk missed Monday's morning skate after also missing Sunday's practice, but Babcock said the left winger will play against the Bruins. Tyler Bozak also sat out the morning workout, but will suit up. Defenceman Connor Carrick will return to the Leafs lineup after missing 11 games with an upper-body injury.
David Backes missed Boston's skate, because he was feeling under the weather. Head coach Bruce Cassidy said the gritty winger will be a game-time decision.
* Projected Leafs lineup for Monday's game:
Hyman-Matthews-Nylander
Komarov-Kadri-Brown
van Riemsdyk-Bozak-Marner
Martin-Boyle-Soshnikov
Gardiner-Zaitsev
Rielly-Carrick
Hunwick-Polak
Andersen starts