Nylander, Marner working on chemistry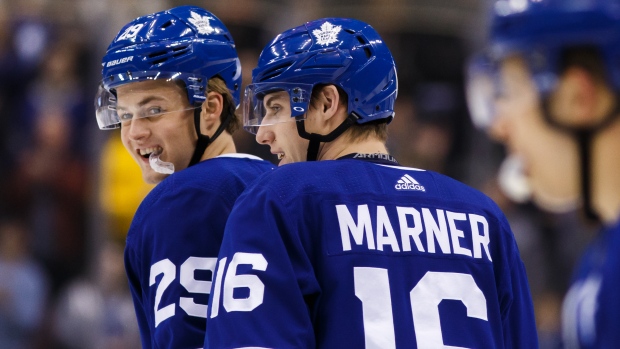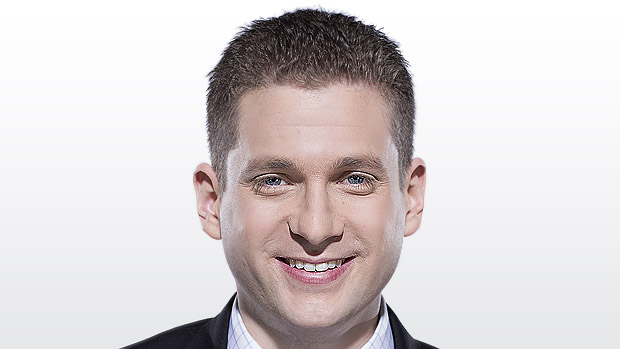 TSN Toronto reporter Mark Masters checks in daily with news and notes from Maple Leafs practices and game-day skates. The team had an optional skate at the Air Canada Centre on Wednesday morning.
William Nylander didn't register a point on Saturday night against the Penguins, but head coach Mike Babcock still considers the performance one of the better ones the 21-year-old has had in the NHL.
Nylander, who has only played a handful of games at centre this season, was able to hold his own against one of the league's hottest players in Evgeni Malkin.
"I thought they checked well," Babcock said of the Nylander line's effort against Pittsburgh. "I thought they were above the puck. I thought they worked hard. I thought they did a good job in the faceoff circle. They didn't maybe roll around in the offensive zone as much, but neither did Malkin's line so I appreciate the saw-off. And when you look at the stats before the game it's simple: If you can saw-off guys who score more than you then you've done your part for the night."
Nylander and Malkin were on the ice together at even strength for 11:27 and in that time the Penguins had an edge on the shot clock, but no goals were scored. And Pittsburgh generated only four scoring chances while Toronto had two. It was good, but not good enough for Nylander.
"Even though you're playing against those guys you still want to generate offence," Nylander insisted when informed of his coach's praise. "I mean, that's who you'll be playing against. You have to be able to create offence against those guys. I mean, playing good defensively is big but, in the end, you still want to create offence."
With Auston Matthews out, Nylander has found himself centering a line with Mitch Marner at times. The pair played together on Saturday and has remained together in practice so far this week.
"He's got a lot of speed," Marner observed. "He's a great player when he's got the puck in his hands. We play similar. Obviously, Willie's kind of new to centre, but other than that, similar minds, similar players."
Nylander and Marner have only played together 52 minutes and 52 seconds this season, dominating possession in those minutes (57.43 CorsiFor%).
"He reads the ice very well," Marner said. "I think he manages the ice very well. He knows when guys are going to come at him. He draws people in very well and then makes the play out of it and then gets around that guy. He's very good at give-and-gos and getting back open."
"It's amazing," said Nylander when asked about Marner's playmaking ability. "You talk out there and you just get open and he finds you, threads the needle through guys. It's great to play with a player like that."
Nylander has racked up plenty of assists this season (36) while riding shotgun with Matthews. That total trails Marner by one for the team lead. But the Swede is looking to change his mind set a bit with Matthews sidelined and Marner now on his wing.
"Got to shoot the puck more," he said with a smile. "That's something I probably got to change."
Nylander has six shots on net in the six games since Matthews has been out. He hasn't scored in 11 games with five assists in that stretch.
(Advanced analytics are courtesy naturalstattrick.com)
----
Nikita Zaitsev (illness) will miss a second straight game, but Travis Dermott, who sat out practice yesterday, skated this morning and is good to go. The rookie said he's been battling a head cold and slept most of yesterday to get his energy level back.
Calle Rosen was sent back to the Marlies after being called up on an emergency basis for practice yesterday.
----
After playing just once in the last eight days, Toronto's schedule is about to get much busier.
"I like playing the games," said veteran defenceman Ron Hainsey. "I just think it keeps you in a better rhythm playing every other night and maybe you get two days [off] here and there. In saying that, we had two real good practices last week and then the Saturday game. A lot of us felt really good; at least from talking to everybody, it felt like we had really good legs."
"The rest has been unbelievable for our goaltender and for our team in general just to get re-energized," Babcock said. "We're set up pretty good now here, we've just got to get to work and use our depth the best we possibly can."
The Stars have played twice since the Leafs last played on Saturday night. Dallas lost in Pittsburgh on Sunday and then fell again last night in Montreal.
"We'll have a big challenge with this team tonight, because they'll be ready to play," Hainsey said. "They played last night and they're right in the thick of a four, five-team race in the West so we're aware of that."
Dallas has won just twice in its last six games and its hold on a playoff position has become precarious.
"It's a new experience for a lot of guys and you're seeing some guys, quite frankly, not wear the pressure very well right now," Stars coach Ken Hitchcock told reporters after the loss in Montreal.
"We have to help them through that. That's our job. We got to make sure they're comfortable when it's really uncomfortable, because right now it's really uncomfortable for everybody. And it's kind of fun, to be honest with you."
----
Left winger Andreas Johnsson admits he's dealing with some nerves ahead of his NHL debut. Babcock was asked if he'll have any words of wisdom for the 23-year-old ahead of tonight's game.
"Nothing I'm going to tell you guys," he said with a smile. "We'll have a few laughs with him today, to say the least. Get out there and enjoy it, you spend your whole life dreaming of this. Dreams do come true if you work hard enough. If you have enough passion, they can come true. Here's an opportunity for him. In saying that, loose and driving, there's no sense being uptight. Get out there and play and do what you do. You got here because you have something."
Babcock expects Johnsson, the team's seventh-round pick in 2013, to be a full-time regular in the Leafs lineup next season.
"I think so, for sure," he said. "But, in saying all that, our job is to find more players. That's the beauty about hockey; the truth today isn't the truth tomorrow. If you get someone better, you get someone better. That's just the way it is."
Johnsson's family has remained back home in Sweden, but he says they'll be staying up late tonight to watch the game.
----
Projected Leafs lineup for tonight's game:
Hyman-Nylander-Marner
Marleau-Kadri-Komarov
van Riemsdyk-Bozak-Brown
Johnsson-Plekanec-Kapanen
Rielly-Hainsey
Gardiner-Polak
Dermott-Carrick
Andersen starts
McElhinney
Injured: Matthews
Illness: Zaitsev
Healthy scratches: Moore, Martin, Leivo