Oduya brings veteran presence to blueline
Two-time Stanley Cup champion Johnny Oduya reached a two-year deal with the Dallas Stars where, as TSN Senior Hockey Reporter Frank Seravalli writes, he will help mentor a group of young defencemen.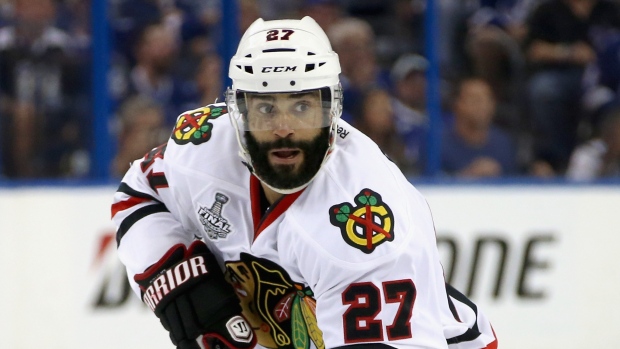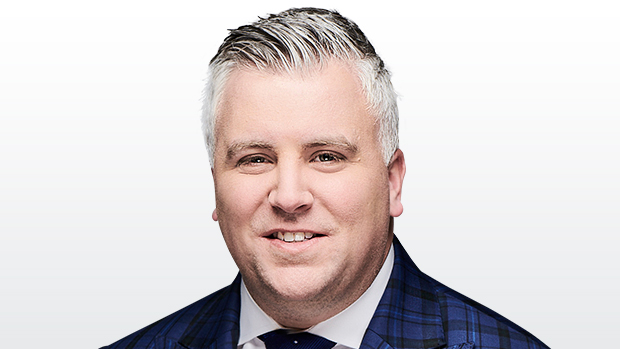 Two-time Stanley Cup winning defenceman Johnny Oduya lingered for two weeks on the open market, waiting to see if Blackhawks general manager Stan Bowman could shake free more salary cap space in Chicago.

The writing was on the wall for him after the Blackhawks acquired another left-handed defenceman, Trevor Daley, from Dallas in the Patrick Sharp trade last week.

Now Oduya and Daley are trading places.

Oduya, 33, signed a two-year contract with the Stars on Wednesday, where he will be reunited with Sharp. His deal is worth $7.5 million, bringing him a raise of approximately $400,000 per season, and includes a limited no-trade clause.
Oduya was the No. 9 ranked free agent on TSN's Top 40 unrestricted free agent list. Defenceman Cody Franson (No. 4) is the only other player inside the Top 10 still searching for a job.
"The [Blackhawks] organization, there was some will to try to make something work at some point," Oduya said in a conference call with reporters from Europe, where he is on holiday. "As a player, you want to wait when there's somebody in a situation like that. As time goes on, other things become maybe more interesting - and you start to see yourself in a different spot."
Oduya said Sharp was recruiting him to the Stars via text message not long after his trade. The veteran defender will immediately slot into the top four on the Dallas blueline - his fourth NHL club - where he will be expected to steady a young, offensively-charged club. He reportedly turned down more money and term elsewhere to join the Stars.
"I think it's a very, very fast team, a team that wants to play hockey (with) a similar style to Chicago," Oduya said. "They want to have the puck, they want to create things."
When Nill began his off-season evaluation of the Stars in April, the glaring weakness was in their own end of the ice.

The Stars finished second in the NHL in scoring last season with 257 goals and featured the league's leading point-getter in Jamie Benn, but also allowed the fourth-most goals (also 257) and missed the Stanley Cup playoffs for the sixth time in seven seasons.

Sharp, also 33, will aid Tyler Seguin, Jason Spezza and Cody Eakin in scoring. Healthy again, Valeri Nichushkin will also provide a big offensive boost after missing all but eight games last season following an October hip surgery.
But big changes were sorely needed on the backend.

So, Nill added veteran goaltender Antti Niemi to compete with Kari Lehtonen for the starter's job. New goaltending coach Jeff Reese, who helped resurrect Steve Mason's career in Philadelphia, will help sort out any issues in net between the two Finns.
Oduya quickly becomes the elder statesman on the Dallas blueline, a dimension desperately needed on a depth chart filled with 22- and 23-year-olds.

The Stars do not have a bona fide No. 1 defenceman, but Oduya can help mentor John Klingberg (22), Jyrki Jokipakka (23), Patrik Nemeth (23) and Jamie Oleksiak (22) in their quest to become one. Stephen Johns, 23, was also acquired from the Blackhawks in the Sharp deal and will be pushing for an NHL roster spot in September.
Oduya, who represented Sweden in the last two Olympics, compared the development of Klingberg to watching Ottawa Senators captain Erik Karlsson grow. Nill said no one in the NHL knew Klingberg's name at this point last summer. Now, after a 40-point rookie season and a $29.5 million contract extension, Klingberg is hard to miss.
"I think I'm the oldest one back there now," Oduya said. "It's going to be fun to watch them be teammates and grow up."
Aside from his Stanley Cup pedigree, Nill said what he "loves" about Oduya is "the way he lives his life."
"Any time you can add a player of Johnny's stature, a guy who does everything right, you can't go wrong with him," Nill said. "He prepares right. He's a fitness fanatic, (in) his preparation, his workouts. I know that's going to be huge for the guys in our dressing room. We think we've got a real good young core of defencemen coming up. We've just got to be patient. You can't speed this process up."
Oduya will certainly try.
Nill knew the second he moved Daley to Chicago, a huge hole was created in the Stars' lineup. Oduya will definitely not net the 16 goals Daley scored from the Stars' blueline last season. In fact, he hasn't scored more than 16 points in a season since 2011-12, but he is a different kind of player.
Stylistically, he's a better fit than Daley for the Stars moving forward – a steady veteran who averaged north of 24 minutes a night during the playoffs for the Hawks and rarely seemed rattled with the puck on his stick. The two will even earn similar money next season.

Oduya entered Chicago without much fanfare among the advanced stats community, but left the Blackhawks with positive numbers in possession categories in all four seasons and two Stanley Cup rings. It was that resume that made Nill start dialogue with Oduya long before the Sharp deal, reaching out during the interview period before free agency opened.
"Johnny was one of the top free agents that we targeted," Nill said. "He was kind of the last piece of the puzzle. We're in the beginning of where I think we can start making that jump."
Frank Seravalli can be reached at frank.seravalli@bellmedia.ca.