On another level, MacKinnon is early Conn Smythe favourite
There was an end-to-end rush. There was a thwarted rebound jam. There was no shortage of highlight reel material, an Avalanche of chances as Nathan MacKinnon led Colorado on a second period surge. TSN's Frank Seravalli has more on the early Conn Smythe candidate.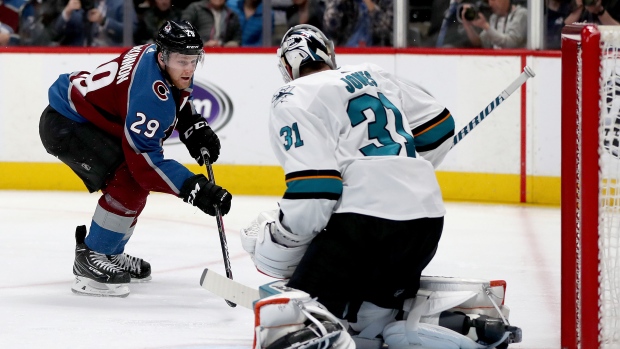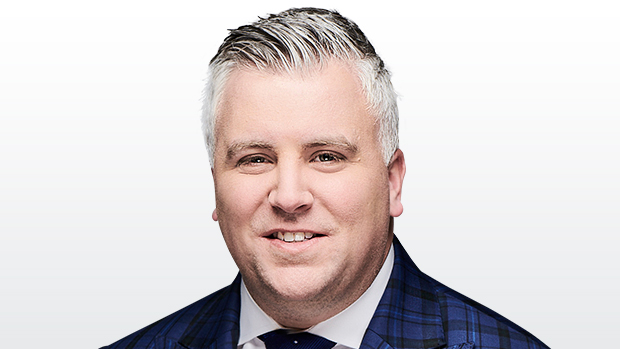 DENVER — There was an end-to-end rush. There was a thwarted rebound jam. There was no shortage of highlight reel material, an Avalanche of chances as Nathan MacKinnon led Colorado on a second period surge.
MacKinnon cradled the puck at the top of the circle, then toe-dragged it through the outstretched 6-foot-5 wingspan of Brent Burns.
He let it fly.
"I just air-mailed it," MacKinnon said of his shot over Martin Jones.
After all of that, MacKinnon finally got on the board with a little grease.
One shot? Make it a double. MacKinnon whacked a Mikko Rantanen rebound out of mid-air twice with Burns breathing all over him, once into Jones' blocker and once again into the gaping net to send 18,110 white pom-poms flying at Pepsi Center.
MacKinnon can score pretty and he can score gritty.
"I don't get a ton of those, I should probably go to the net more," MacKinnon said. "They feel great. It feels better than any highlight reel goal, for sure."
There must be something in the water in Cole Harbour, N.S., that develops that kind of hand-eye coordination around the crease.
"That's a Sid thing," MacKinnon said, laughing. "I don't know, it's one of the first times I've ever done that."
There is seemingly nothing Nathan MacKinnon can't do. The freak of nature was a force of nature in Game 4.
No one else is in his orbit right now, which why MacKinnon is the clear early favourite for the Conn Smythe Trophy. The Avalanche evened their Western Conference semifinal series with the San Jose Sharks at two games apiece on the back of his game-winner on Thursday night.
His Conn Smythe candidacy could have been in trouble without his relentless effort in the second period. The Sharks smelled blood, a chance to take a 3-1 series lead back to San Jose hung in the balance, an opportunity for a tired and banged up team to maybe have a short series.
"It was do-or-die tonight," MacKinnon said. "We were facing a tough deficit. But it's 2-2. It's back to even. We're in a good spot now."
MacKinnon is checking all the boxes. The Avalanche have six wins (6-3) and MacKinnon has netted the game-winning goal in half of them. Check.
"If he's not the best player in the world right now, I don't know who is," Avalanche defenceman Erik Johnson said. "Thank God he's on our team, because he'd make a lot of us look silly. What a player. He's clearly on a different level right now and just feeling it."
MacKinnon now stands alone leading the Stanley Cup playoffs with 13 points. Check.
He is the first Avalanche player with 13 or more points in a spring since the 2002 Western Conference Final.
MacKinnon pushed his playoff point streak to eight games. He has only been held off the scoresheet once this postseason, back on opening night against Calgary when the Avalanche were shut out. That gives him six goals and seven assists in these eight games. Check.
He is now floating in rare Mile High air, encroaching on playoff records held by Joe Sakic and Peter Forsberg.
"Yeah, I mean it's obviously really cool," MacKinnon said. "Joe and I have a really good relationship now. I've been with him for six years. He's kind of like an old vet around here. He's such a nice person, a classy guy. I've met Peter a few times. But those guys have two Cups. That's the goal. But if we don't ever win one, no one will really care about my eight-game point streak."
True enough. But what was most impressive about Thursday night's show was that MacKinnon dug in. He has a penchant to get frustrated when things aren't going his way (See: Blow up with coach Jared Bednar on the bench in Calgary in January).
Sometimes it's hard to remember that MacKinnon is just 23 years old. This is his first extended playoff run.
"I love it as a coach because I don't think you're going to be out there dancing around and making a bunch of high-skilled plays in traffic and scoring the highlight reel goal that's going tic-tac-toe," Bednar said. "I just don't see that happening."
MacKinnon was comfortable being uncomfortable in Game 4 and it trickled down through the rest of the Avs.
"It can get scary when you're all over them and you never score," MacKinnon said. "You kind of feel like if we let in one, we're screwed, we're never going to get one. It's good. We got a bounce. But I feel like we earned it tonight.
"We were prepared for a 0-0 game the whole way. It just felt like a really tight game out there tonight. We had some looks, but not a ton - and that's okay. It's playoff hockey."
It was tight out there, but MacKinnon created separation. He's done it with regularity, the most dangerous player still skating right now - and it isn't close.
"What a player," Johnson said. "He's going to take us as far as he wants to."
Contact Frank Seravalli on Twitter: @frank_seravalli