Orlov, Niskanen stand tall for Capitals in Game 2
Washington defensive pairing kept Vegas' lethal top line in check to help preserve a crucial road win, Travis Yost writes.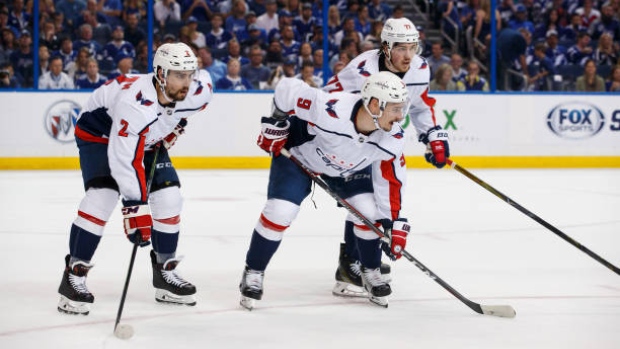 The Washington Capitals knew that to steal a game in Las Vegas, they would have to slow down the speed and pace of the Golden Knights attack.
Mission accomplished.
Game 2 of the Stanley Cup Final was filled with action, but the number of scoring chances for both sides predictably dwindled. The opener saw 30 dangerous shot attempts generated from scoring-chance areas in a game flush with goals. Wednesday night's affair saw just 18, with only 11 going to the Vegas side. Seven of those 11 came in the third period, when Vegas were down two goals and chasing the game.
No unit was leaned on more heavily to slow Vegas than Washington's pairing of Dmitri Orlov and Matt Niskanen. The combination once again led the Capitals in ice time at even strength and Niskanen in particular was a workhorse, playing 27 minutes across all situations.
Capitals coach Barry Trotz has always been more liberal in his ice-time allocation but it's hard to imagine the defensive pairing have played a more stressful, higher-leverage game than the one Wednesday night. Playing a lot of minutes is one thing. The type of minutes they played was another.
For starters, Trotz consistently buried Niskanen and Orlov with tough defensive zone starts. At even strength, Niskanen and Orlov were among most called-upon group to shut things down in front of Braden Holtby.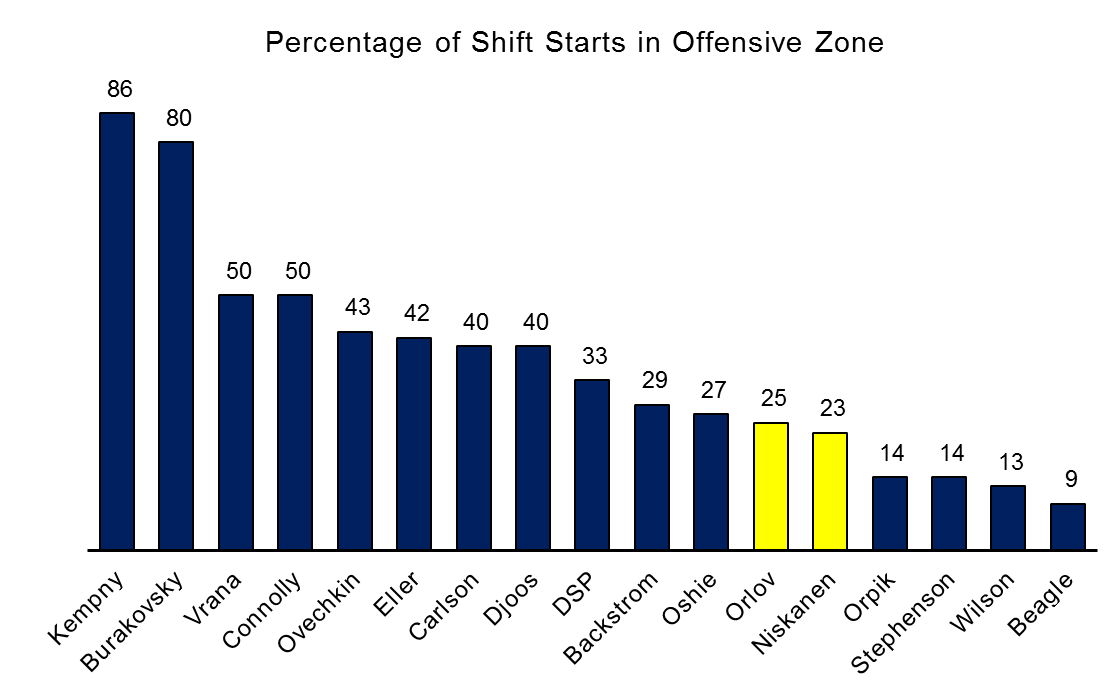 Twenty-five per cent of shift starts in the offensive zone is brutal. And keep in mind that although Brooks Orpik, Chandler Stephenson, Tom Wilson and Jay Beagle saw comparatively difficult shift starts, they also saw substantially less ice.
On top of the difficult shift starts and burdensome ice time, Niskanen and Orlov also had another challenge – slowing down one of the NHL's most lethal lines in Jonathan Marchessault, William Karlsson, and Reilly Smith. Vegas' last change resulted in the Niskanen and Orlov pairing seeing a ton of Vegas' top line, and they were incredibly effective. They consistently thwarted neutral-zone rushes, and in the situations where they made it into the offensive third, they were consistently pushed into less dangerous scoring areas on the perimeter.
Marchessault was on ice for two dangerous shot attempts at even-strength, and Karlsson and Smith were blanked (via NST). As a group, they didn't score a goal on the night – a confirmation of a job well done by the Washington duo.
Here was the matchup shakeout for the Niskanen and Orlov group: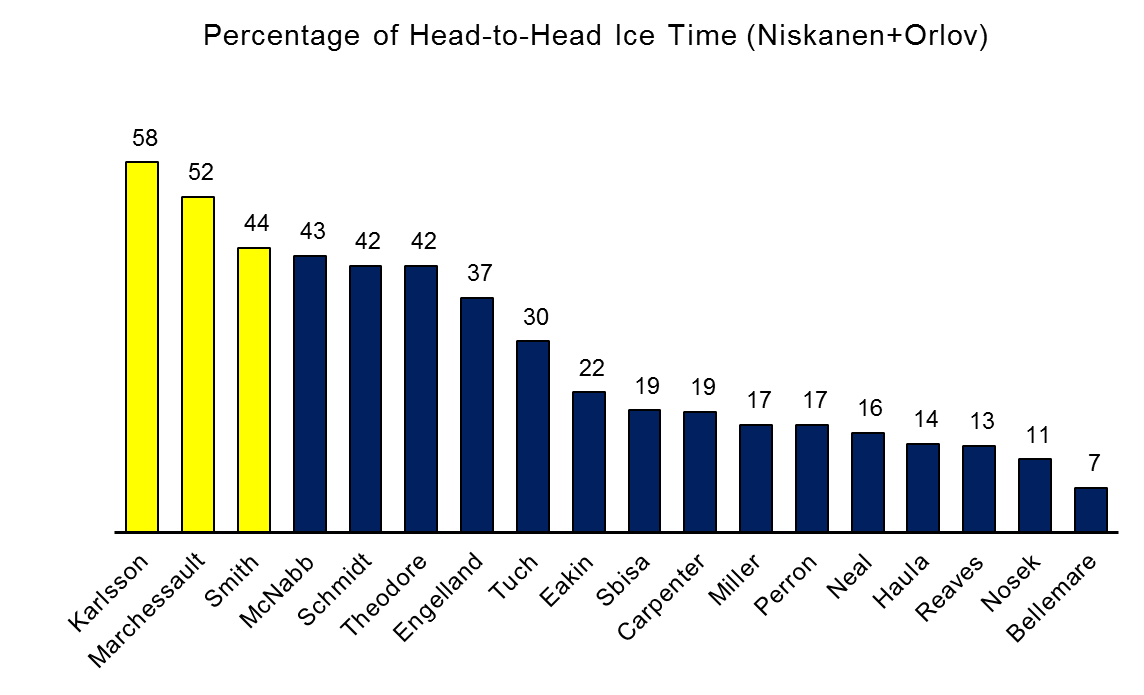 So, to summarize here: the Washington pairing played close to half of the game, starting most of their shifts in the defensive zone and with most of the ice time against perhaps the deadliest attacking trio in the NHL. They effectively eliminated any impact that line had in a pivotal Game 2.
Thanks to their work, Washington heads back to D.C. with home-ice advantage in hand. San Jose and Winnipeg had a similar luxury, but couldn't make use of the stolen game in Vegas. Let's see if Trotz's team can buck the trend.