Oshie shares indelible Cup memory with his father fighting Alzheimer's
T.J. Oshie struggled to find the words to describe embracing his father, Tim, after winning the Stanley Cup on Thursday night. Tim Oshie was diagnosed with early-onset Alzheimer's in 2012 at the age of 48 and the embrace between father and son left an impact on all of the Capitals.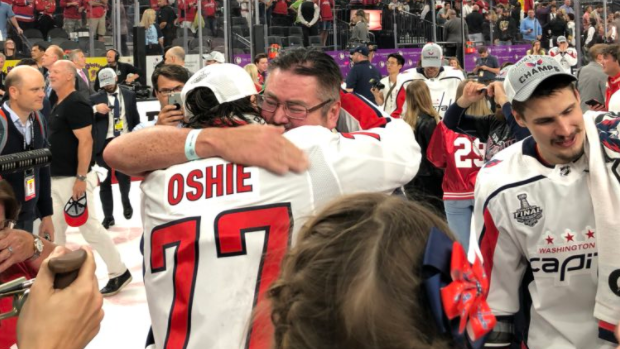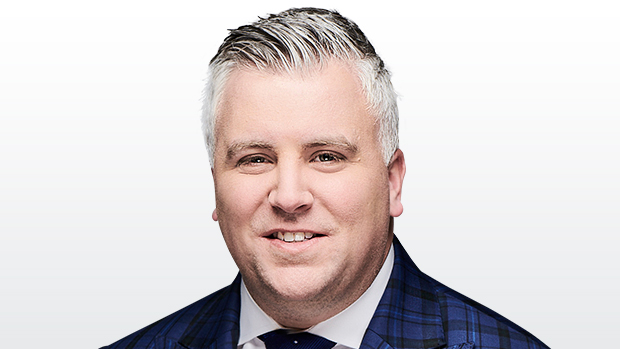 LAS VEGAS — T.J. Oshie tried to keep it together, but the tears that welled up in his eyes eventually rolled down his cheek and merged with the sweat of a champion.
He could not hold back, not with the Stanley Cup on the ice, no matter how hard he fought it.
"You try to prepare for this for a long time because you dream about it for a long time," Oshie said. "What a feeling. I don't know, I really care about these guys. These guys are my brothers and we're going to be etched on the Cup together forever here."
Oshie skated over to his wife and two young daughters, then saw his father had made it to the on-ice celebration.
It wasn't an easy trek. Tim Oshie was diagnosed with early-onset Alzheimer's in 2012 at the age of 48.
The disease has robbed him of many of his faculties. He requires a cane to walk now and more constant care than before - but "Coach Oshie" wasn't missing this for anything.
The two Oshie men embraced in a way that can only be described visually.
Oshie, 31, struggled to find the words for the moment. He later helped his Dad hoist the Stanley Cup on the ice.
"I'm really happy," Oshie said. "I'm almost more happy for him than I am for me, to tell you the truth. That was his dream growing up and he made a lot of sacrifices for me to get here and he hasn't really gotten a fair shake with his disease. What a cool thing to share with your Dad."
One by one, Oshie's closest friends on the Capitals fought back tears when they saw the photo.
"That picture speaks 1,000 words," John Carlson said. "It's amazing. He's such a great guy and he's done so much for T.J. This was payback time."
Matt Niskanen choked up. The Capitals have all seen Alzheimer's devastation firsthand, progressively wreaking more havoc each year. Washington made special arrangements to ensure Tim Oshie could continue to attend the team's father's trip each year.
The Capitals have all been rooting for the Oshies.
"Yeah, that …," Niskanen said, his voice trailing off, looking at the photo. "That's a pretty special moment right there. Oshie's dad means a lot to him. He's an awesome guy. With what he's going through, that's pretty cool."
Looking at the photo, Nicklas Backstrom said: "That's what it's all about."
"That's a great memory that everyone can share with their family," Backstrom said. "Especially with what T.J. and his dad have gone through. It's been a lot.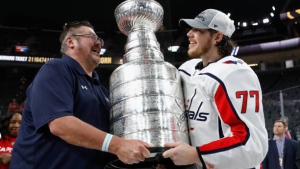 It is an incredible memory, yes, but that's the thing about Alzheimer's. You don't get to pick which ones you keep.
Oshie didn't have any doubt. No matter what, this one won't be going the way of so many others.
"Some things slip his memory," Oshie said. "He's right over there and he won't forget this one."
Just in case, both will have that photo to forever remind them of the night Oshie raised the Stanley Cup - and the embrace that said so much without saying anything at all.
"That one is going on the wall for sure," Oshie said. "That might be No. 1. That was really special for me. I never want to forget that moment lifting the Cup. I never want to forget sharing that moment with my Dad."
Contact Frank Seravalli on Twitter: @frank_seravalli​