Ottawa's depth issues magnified by Karlsson's absence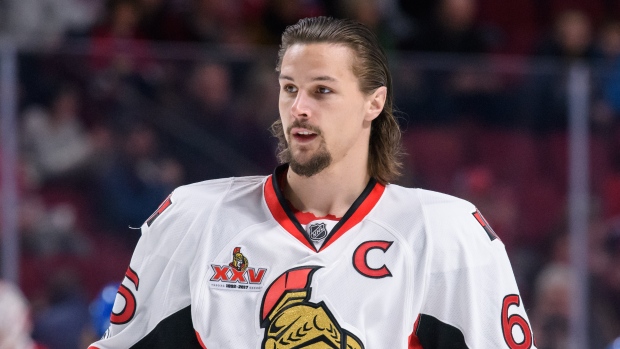 If there is one thing that the Ottawa Senators cannot afford, it's to lose superstar defender Erik Karlsson for an extended period of time.
In part, that's why Karlsson had off-season surgery to repair torn foot tendons – to ensure that long-term, the nagging pain goes away. But there are two sides to every coin, and on the other side is the reality that the recovery from such a surgery appears to be a long one. Karlsson, right now, has a two-to-three week timetable before he begins skating with Ottawa. And whether he returns towards the end of October or at some point in November, it's clear he's going to miss some regular-season games.
That, of course, is unfortunate news for Ottawa. The Senators were one of the biggest surprises of last season – a team that was better than most stats-savvy people expected, but one that still had a number of positional holes. No area in Ottawa is more vulnerable to depth issues than the defence, and, knowing that Karlsson could miss anywhere from five to 17 games to open the year, it's an immediate concern for head coach Guy Boucher.
The depth issues behind Karlsson have basically been a problem his entire career in Ottawa. Karlsson joined the NHL in 2009-10, and by 2010-11 had become one of the league's premier defenders. But outside of last year's run to the Eastern Conference Final, Ottawa hasn't had a ton of success during that stretch.
That's at least in part due to the fact that the Senators have been a historically average – and in many years, that's being kind – team when Karlsson's off the ice. Even though Karlsson can perhaps play more minutes than any other player in the league, there's still an awful lot of time where he's watching from the bench as his team is mercilessly shelled.
A team showing materially worse when their best player leaves the ice isn't unique to Ottawa. Find any team in the league, look at their performance with and without their best player, and you'll generally see that there's a divide. The issue in Ottawa, though, is how sizable that divide is, and, moreover, how long that divide has existed.
Over the last seven years, Ottawa's been a tale of two teams: Great with Karlsson on the ice, beatable with him off the ice. This is true whether you look at the shot data, scoring chance data, or goal data over basically any given season. To illustrate this, I've outlined all three below:
First, the shots: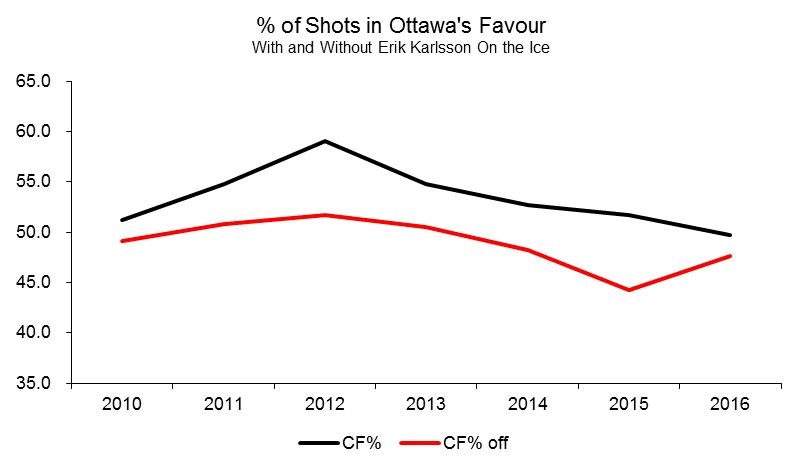 Last year, the gap for the on/off-ice numbers actually closed a bit, but there was still a pretty decent divide between the two. The bigger story is that Ottawa has historically gotten about 53.1 per cent of the shots with Karlsson on the ice, and about 48.7 per cent of the shots with him off the ice. For a frame of reference, I pulled out every regular defender over this same seven-year stretch to measure team Corsi% splits with and without that given player. Karlsson's still running the biggest variance, even after last year's gap closure: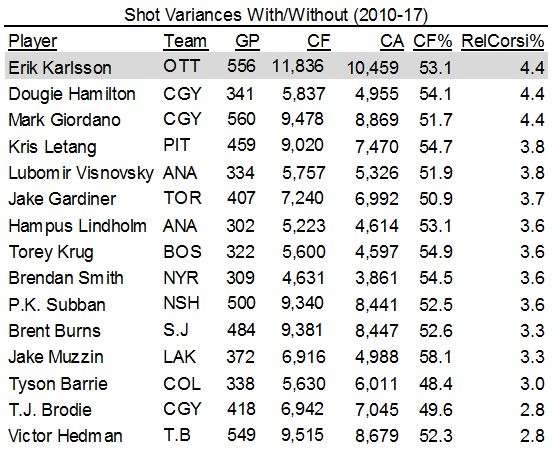 What you'll generally find about the players above is they have played on decent, but at times, top-heavy teams that have been victimized by underperforming depth players at both the forward and defence positions.
Moving on to scoring chances: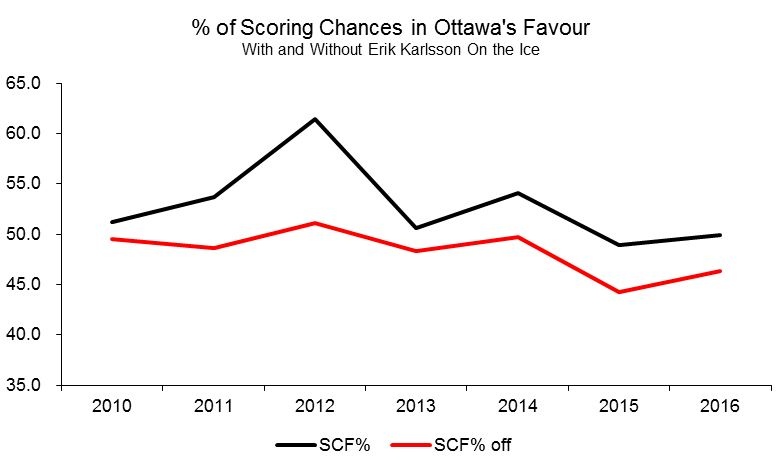 Basically the same exact findings here, but a confirmation that dangerous shots align with total shots for Ottawa. The Senators again are about 4.5 percentage points worse on the scoring chance front without Karlsson on the ice. What I think is particularly interesting is that last year's team – a team billed up as deeper, more structurally sound, and the like – only won about 46 per cent of scoring chances without their superstar defender. (A 46 per cent scoring chance team, for benchmarking purposes, would be the Vancouver Canucks of last season.)
Lastly, goals: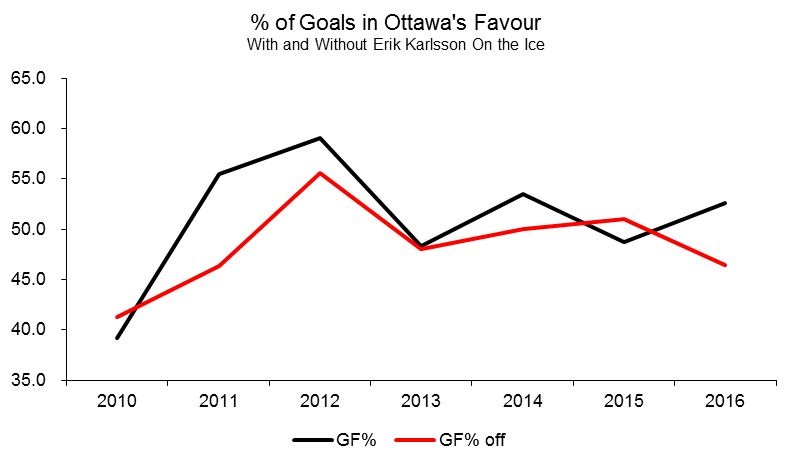 This data is much more prone to peakiness, in part because it's reliant on goaltending performance. But, what was true about the scoring chance data in 2016-17 is also true about the goal data in the same year: Ottawa, despite purported gains in many areas, only owned about 46 per cent of the goals with Karlsson off the ice – right in line with their shot and scoring chance numbers.
The point here is not to confirm what everyone knows about Karlsson and his talent, but rather to illustrate that Ottawa – perhaps more than any team in the league – doesn't have the depth right now to offset his loss from the lineup. The Senators are hopeful that a couple of their younger players (in particular Thomas Chabot, who Karlsson raved about last week) can step up and fill in key top-four roles in the not-so-distant future.
But, at least for the opening month, Ottawa's going to be increasingly reliant on players with a lot of questions surrounding their game. Johnny Oduya and Dion Phaneuf will be the veteran anchors, but both players have seen their best years come and go some time ago. Cody Ceci and Mark Borowiecki will also have increased roles, and although the Ottawa front office loves both, there's not a lot of evidence proving that they're adding wins to the standings.
It's entirely possible that Ottawa can get by with a gritty effort and some solid goaltending through the first few weeks, and, at that point, Karlsson could be ready to log big minutes and return them to the post-season. That's the scenario Boucher is certainly banking on. But Ottawa can't afford to roll that dice for too long – they need Karlsson back, and as quickly as humanly possible.