Ottawa's roster overhaul plan aggressive but not unprecedented
Gutting nearly half of your lineup in one off-season seems a tall order, but we've seen NHL teams go through rapid transitions before, Travis Yost writes.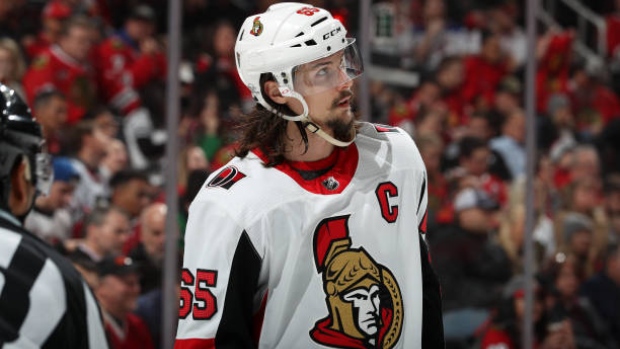 The Ottawa Senators haven't been short on drama this off-season, and that trend continued this week. The team released a video outlining the front office's vision for a lengthy rebuild – one that will emphasize a quick transition of the roster and the growth and development of the team's young players.
One of the interesting parts of the rebuilding plan was the focus on gutting the 2017-18 lineup. It's clear the organization is prepared to move on from what was a disastrous season, and that inserting waves of rookies or newly acquired assets into the lineup (and, perhaps just as notably, into the locker room) was the first step in restoring order and building a winning foundation.
The plan, as it was explained, could include 10 rookies or newly acquired players on a 22-man roster. By 2019-20, Ottawa believes that number could grow to 15.
I was particularly struck by the magnitude of this transition. Gutting nearly half of your lineup in one off-season seems a tall order, even for a team that got a head start with last year's trade deadline. But we've seen teams go through pretty rapid transitions before. One of the things I became curious about was whether or not any teams in recent history could offer up a template for not only how to execute such a plan, but also whether or not such a massive overhaul was practical or feasible.
Starting with the 2008-09 season, I went back and looked at every team's roster by year, and then every skater who logged at least 10 games of action with a respective team. I then looked at that same team's roster in the following season to understand how many active players rolled over to the next year.
Naturally, you would expect contending teams to carry higher return rates and weaker/rebuilding teams to carry lower return rates. For what it's worth, the average NHL roster maintains about 70 per cent of their players from one year to the next.
If Ottawa's plan comes to fruition, they'd be around 54.5 per cent (12 of 22) of players returning from last year's roster, as highlighted by the orange bar. It might seem aggressive, but the reality is that this degree of turnover has been seen a number of times before. In fact, around 15 per cent of rosters have that kind of roster flip each year, which indicates that Ottawa's plan, in a vacuum, seems eminently feasible.
You might scratch your head a bit for an example of a team that transitioned year-over-year more radically than Ottawa's proposal. There aren't many, but a couple in recent history show that this is an achievable objective – though, obviously, a different and more important debate would centre on whether or not this type of gutting would make sense.
Remember the 2007 and 2008 Tampa Bay Lightning? They were effectively two different teams. The below table shows rostered players in 2007-08 who weren't around for 10 games the following season and rostered players in 2008-09 who were 'new additions' from the prior year: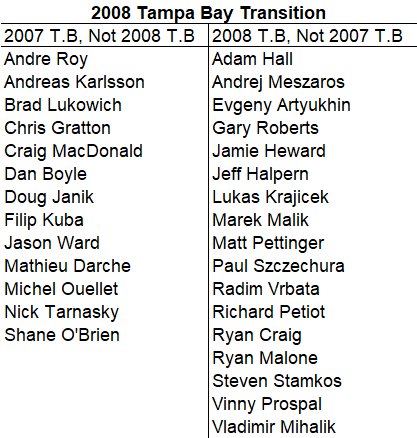 That's an astonishing number of names – Tampa Bay barely returned a third of their roster. Some of the unique players from the 2008-09 season came by way of free agency (like centre Paul Szczechura), others by trade (like winger Gary Roberts), and yet others by the draft (like centre Steven Stamkos – you may have heard of him). This was a total gutting, driven in large part by being the league's worst team in 2007-08, injuries and corresponding off-season activity.
Here's a more recent example – the 2015-16 Toronto Maple Leafs. This team, you may recall, had a full game plan to blow up their roster following the purging of most of the front office and coaching staff. Their transition was similarly incredible: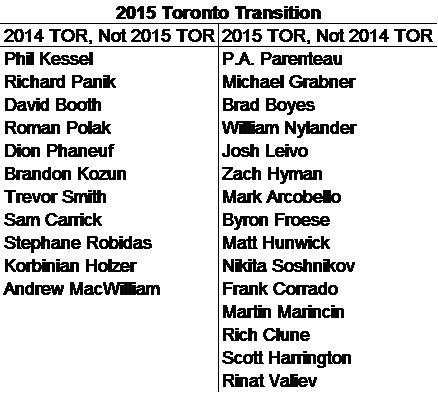 Not as emphatic as Tampa Bay's turnover but pretty darn close. This Leafs roster returned about 40 per cent of their team year-over-year, which is on the low end of our distribution. But this was still a radical change – certainly more radical than the one Ottawa is proposing.
Long story short, Ottawa's plan doesn't appear impractical by any measure. In fact, you could say that they're following a tried and true plan. There is one caveat, though.
Ottawa doesn't have the same type of roster flexibility as a lot of prior teams who have transitioned quickly. As Dorion and the front office pointed out, the team's core age is much higher – by about four years – then they'd like it to be. With that comes a number of contracts that may be harder to move or a number of key players that you may not want to transition from.
In the first group, you have Bobby Ryan, Marian Gaborik (whose status remains uncertain), Mikkel Boedker, Craig Anderson, and Zack Smith – all guys who are eating substantially into the salary cap and have a significant number of playing years under their respective belts. In the latter category, you have three core players: Erik Karlsson, Mark Stone, and Matt Duchene, all elite talents with contracts that expire at the end of the year. So the Senators, as it stands today, have eight players with futures that are uncertain for very different reasons occupying roster spots.
I should also point out that, unlike the aforementioned Tampa Bay and Toronto, Ottawa has no pick relief on the way. Their first-overall pick in the 2019 draft sits with Colorado. Those types of picks tend to accelerate rebuilds because of the star talent they bring, like Auston Matthews did with the Maple Leafs.
So clearly there's a path forward, and taking Ottawa at their word, they're prepared for a substantial rebuild. Now we will have to wait and see how the front office engineers the plan.