Abbott: Bonino proving to be the "Real Deal" for the Canucks
Nick Bonino came to Vancouver as part of the quiet return for the trade of Ryan Kesler to the Anaheim Ducks. But as Jon Abbott of TSN 1040/1410 explains, Bonino has made a name for himself and is quickly becoming the centrepiece of the deal for Canucks GM Jim Benning.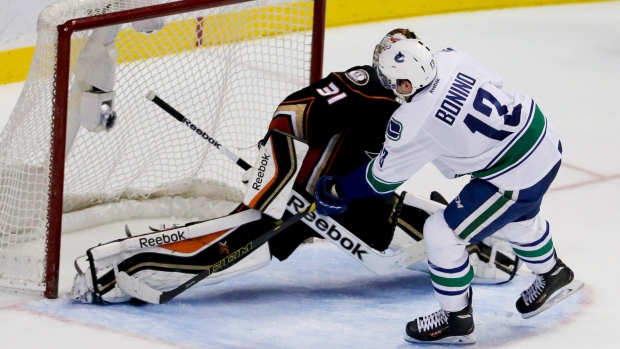 June 27, 2014. Two weeks after the Kings became NHL royalty for a second time; sitting on top of the hockey world, Stanley Cup in hands. The Vancouver Canucks were preparing for life after missing those playoffs, with a new GM and knowing the challenges that lurk ahead within that tough Pacific Division.
A few days ahead of free agency, the NHL was world buzzing for the upcoming draft and plenty of decisions to be made by 30 teams, directly impacting direction and fan base, with each one divvied out.
On the scene was Canucks GM Jim Benning, who may have felt like he was walking around with a podium attached at his hip the entire draft, rather than when the announcements were made for his selections. It was a new direction for Vancouver and with it a multitude of attention.
This day in late June proved to be a start for things to come. The Canucks landed freedom from Ryan Kesler by sending him to Anaheim, and inherited both cap space and younger talent. Jared McCann was chosen with the pick the Ducks sent over, along with 24 year-old defenceman Luca Sbisa and budding centerman Nick Bonino.
While some were quick to say the Canucks were "fleeced" in the trade, or "doomed from the start" because of the "handcuffs" Kesler had Vancouver wearing; the real breakdown would not develop until the new group in BC dropped the puck on this season of change and made their first trip through California...not only facing division rivals, but the Ducks with Kesler in tow.
Bonino quickly became the centrepiece of the deal. The Connecticut-born pivot arrived fresh of his best season in the NHL, with 22 goals and 49 points for the Ducks.
Looking back at his college career, one could see how Bonino would project to be able to make the jump to the NHL ranks as an offensively gifted middle man. He would not finish outside of the top 5 in scoring for Parker's Terriers and would lead the team in points his final season.
Drafted by the Sharks 173rd overall in 2007, Bonino was sure he would begin his pro career in California. He was right, but it would not be in black and teal.
Although traded out of San Jose in favour of veterans Travis Moen and Kent Huskins, Bonino looks back on his days with the Sharks franchise as a good first experience, even if he couldn't keep any of the gear, due to NCAA rulings.
"You're at camp for four or five days a couple of years in a row. You get to see the facilities and skate with NHL guys and get a taste of what it takes to live that lifestyle. The real adjustment was when I went to Anaheim from Boston."
California stop number two placed Bonino in Orange County. He would begin his career in the Golden State, but with the Ducks.
"I knew coming out of college I'd get a few games. The next year I was about half and half, up and down. The year after that I really wanted make sure I was on the team and it worked out to about 60-70 games. You learn a lot. You're probably not doing what you are used to, playing less minutes, breaking into the league. But ask any player, it's fun. Its beneficial and it helps you in the long run."
That mindset would be put into place by newly appointed Anaheim coach Bruce Boudreau, who saw Bonino as an asset, providing depth and a threat away from the likes of Getzlaf and Perry. That said, there was room on the pp for Bonino and he would take advantage...scoring 7 of his 22 as part of the top group.
"I was playing with a lot of good players. Whether on PP with Getzlaf and Perry or on the fourth line with Palmieri, Beleskey or Winnik...everyone was good. We were a threat to score every night, no matter what line. It rounds out your game when you are counted on offensively and defensively."
With added responsibility arrives enhanced minutes and key situational play. In his final year with the Ducks, Bonino consistently played late in hockey games, earning the reputation to be counted on and results followed. He would score two game-winners in that campaign and add another in the playoffs. Perhaps that number seems low in the grand scheme, but it is the repetition and the knack of knowing how to perform when the game is on the line that can not be defined by numbers alone. A trait that would prove valuable for his next stop. Vancouver.
Bonino would join the Canucks during the off-season transformation in 2014 and would immediately be thrust into the spotlight as the "replacement" to Ryan Kesler. While many doubters existed, Bonino has quickly made them forget about No. 17 and start pulling for No. 13. Joining a line with Chris Higgins and Alex Burrows has not only paid immediate dividends offensively, in support of the Sedins/Vrbata, but is proving to be a lot of fun for the 26-year-old adopted British Columbian.
"I gotta look at that beard all the time," listed Bonino of Higgins on adjusting to that line and although in joking nature, the trio has made it seem like that could be the biggest hurdle to overcome. "We're pretty laid back with each other. I think that's why we've been having success right now, because when we get on the ice we play hard and we want to make good plays, and make sure we don't leave the other guy out to dry. At times you play with linemates who are upset when you mess up, but these guys are the exact opposite. They've been great for me and have made it very easy to settle into Vancouver and find my way."
That trio has 34 points to this mark in the season and have stood out in many key games, including the trip through California.
The Canucks gathered only one win versus the Sharks in 2013-14. That would change in part thanks to Bonino. After a remarkable game from Miller, Nick would score his 7th of the season, which was the winner in a 3-2 final.
"That is the biggest part of my game that I want to participate in...playing in the last moments, late in the game; with a lead or even without a lead. Those are the most fun moments to play, that's where the drama is...if you can succeed in those moments it's pretty special."
Despite playing well against the Kings in his career (4-3-7 in 14 games) and his linemate Higgins scoring in L.A., there would be nothing special in a Canucks loss to the defending champs. However, the stage would be set for drama in the next game.
Kesler versus the Canucks might as well have been the sign outside the rink in Anaheim. However, it would be the ex-Duck and his new mates who had the last laugh. After perhaps the best team effort of the season and some formidable stops from Eddie Lack, the game needed a hero in a shootout. That man would be Nick Bonino, who came up with the winner in what he described after as one of the most intense shootouts he's been involved in. The win not only shed thoughts of a year ago, when Vancouver failed to win a game against Anaheim, but provided reaffirmation to the skeptics that the Canucks had found a game breaker, who wants nothing more than to enjoy being part of this new direction.
"There is no feeling like winning. You like contributing to a team that wins, it feels that much better. We have a good group of guys, that want that (success) to continue. One of the things I think we have in this room, is that everyone contributes and those are the teams that make the playoffs."
While there is still a lot of season left on the schedule, it appears there was no wool over the eyes of Benning when he acquired Bonino. Instead the "fleecing" may reveal Benning has become a wolf in sheep's clothing.