Point, Batherson work their way onto Team Canada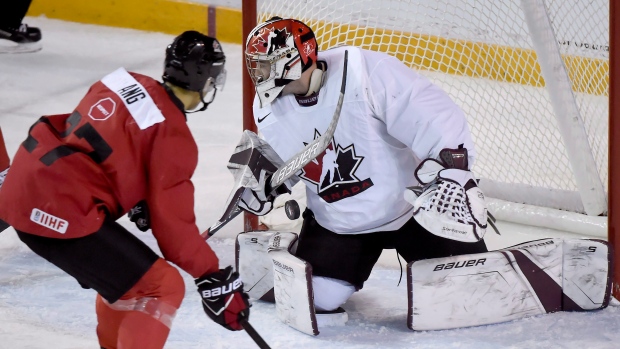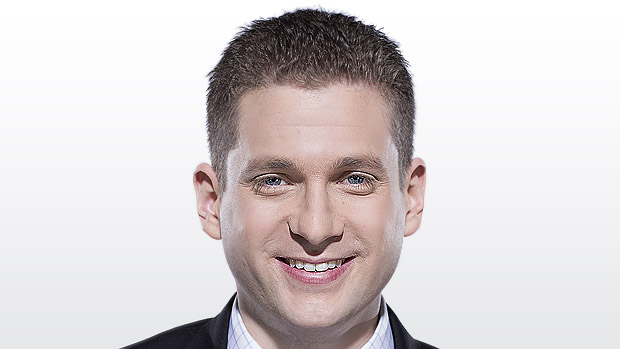 It was a nervous few h​ours for Canada's World Junior hopefuls on Friday night as they waited for the final cuts to be made.
"We were just sitting in the hotel room waiting for the call and it's a good thing that it never came, because that's how you know you made the team," said goalie Colton Point. "Me and (roommate Brett) Howden were just sitting there and were both just stressing out about whether the phone would ring at any second. Every once in a while I'd hear a door open and shut and you'd know another guy got cut so it's a stressful two hours just sitting there waiting."
"It was a pretty dramatic day," said forward Drake Batherson. "Pretty nerve-wracking leading up to the final cuts. When I got the final word that I'll be representing Team Canada at th​e World Juniors, you know, the emotions kind of ran through me and I never really felt like that before besides the draft. It was like the draft all over again … To finally hear that final call last night was definitely overwhelming and I really couldn't believe it."
Point and Batherson did not receive an invite to Canada's summer camp for World Junior hopefuls. Both were late-round picks with Batherson getting scooped up by Ottawa last June in the fourth round (121st overall) while Point went to the Stars in the fifth round (128th overall) a couple years ago. Both earned invites to the final selection camp with impressive starts to the season and then edged out the competition in St. Catharines, Ont.
"First my dad called me and then my mom tried to call me at the same time so that was interesting trying to deal with both of those," Point said with a laugh. "My mom was just yelling. She was at some staff party and saying, 'Oh my goodness, you made it! I'm so excited!' My dad was like, 'Congrats son. I'm so proud of you.' And hearing them so excited about my hockey is an unbelievable feeling."
Batherson and Point are two of five players to make the final roster without having been invited to the summer camp. The others are forwards Maxime Comtois (Victoriaville), Tyler Steenbergen (Swift Current) and Alex Formenton (London).
—-
Point beat out Canucks prospect Michael DiPietro, who backstopped Windsor to a Memorial Cup last spring, for the final goalie job. Point's numbers with Colgate University this season show he's more than deserving of a spot. The sophomore is 8-4-4 with a .938 save percentage. Last season, he was 2-5-2 with a .918 save percentage.
"I came in with a different attitude," the North Bay, Ont. native explained. "Last year, I struggled a lot. I missed eight weeks with mono and that was a whole process. I came back this year stronger and ready to play every game. I came in with the mentality I wanted to dominate. I approached every game like it was my last and just played my heart out."
He had never been involved with Hockey Canada before this week and only realized he was on the radar a few months ago.
"I started hearing rumours midway through October when I was picking up some steam and we were beating some real good teams and my goalie coach would drop something like, 'Hey, if you keep this up you might get some World Junior looks.' And that stuck with me. And then (TSN's) Craig Button put something out there about me and then last Wednesday I got the invite and it seems like it all happened really quickly."
At times this past week Point couldn't help but be a bit star struck.
"It's a learning process," he said after Thursday's game against a team of USports all-stars. "I've never been here before. A lot of these guys are either returning or been through the whole development process. It's overwhelming, almost, sometimes, but I'm trying to stay laid-back and have some fun and show them what I can do."
And now he's the first NCAA goalie to make Canada's World Junior team since Cornell's David LeNeveau in 2003.
"I think it's a testament to my potential," Point said. "I've been underrated for a long time in my life and I'm just glad I'm finally getting an opportunity to show what I'm capable of."
Canada will play two sets of back-to-back games in the preliminary round in Buffalo this year, which means Point is likely to see some action even though Carter Hart, a returning player with a sparkling .961 save percentage with Everett in the WHL, is viewed as the clear No. 1.
"I've thought about stepping on the ice for the first time wearing the jersey and all the gear and the helmet and looking around and seeing all the fans going crazy for Team Canada," Point said. "It's almost, like, chilling just realizing they're all cheering for you or the team in general so it's still kind of surreal."
—-
Batherson shared a similar sentiment on Saturday as he and his teammates went through a series of promotional shoots with the TSN and RDS broadcast teams.
"It's pretty cool," the Cape Breton forward said with a grin. "I've never really done a photo shoot or anything like that before so I was trying to put my actor personality on I guess you could say."
Standing only five-foot-five in his first year of eligibility for the QMJHL draft in 2014, Batherson went unpicked. Despite a growth spurt, he was also passed over in his first year of eligibility for the NHL draft.
"When I finally made major junior at Cape Breton at 18-years-old and after kind of a slow start, I finally started to get hot so I thought maybe I can make a run at something here," he said. "Then I started getting a few calls from NHL teams l​ast year and that was kind of an eye opener so I just kept working and to hear my name called in June at the draft was pretty cool and after that this was my goal, to make this team this year."
Batherson edged out Brandon's Tanner Kaspick and Owen Sound's Nick Suzuki for a final spot up front. After his place was confirmed he received a flurry of messages.
"Some of my buddies were like, 'I can't believe it,' so it's pretty cool hearing that from them and I'm just looking forward to representing Nova Scotia and the Maritimes at the World Juniors."
Batherson, who hails from New Minas, N.S., is the only player from Atlantic Canada on the roster and one of only two QMJHL players, joining Comtois who also earned a spot thanks to a standout camp.
Batherson stormed out of the gate in Cape Breton this season with 17 goals and 22 assists in 24 games. He was also excellent in the CIBC Series against Russia scoring the winning goal in the game on Nov. 14.
"The past couple summers have been huge for me training-wise," he said. "Working as hard as I did and on my skills and stuff like that and getting better every day and just having that drive to make that next step. Then to get drafted last year was obviously huge. That led to the rookie tournament and main camp and bringing a lot of confidence back to junior from that and having a good start to the year. Then getting the invite here was cool and now I've made the team. It's been a crazy last couple of months."
—-
Cal Foote claimed the last spot on a strong Canadian blue line earning the nod over Regina's Josh Mahura and Mario Ferraro from UMass (Amherst). After watching his father, Adam Foote, represent Canada on multiple occasions, this will be Cal's first time wearing the Maple Leaf in international competition.
"It means a whole lot," he said. "It means a lot to my family to put on this jersey. It's going to be a great feeling. Growing up, always being a Canadian fan, it's been in my blood."
The elder Foote was at Canada's Selection Camp and talked his son through a stressful process.
"He's given me advice throughout my whole career and for this he just said to give it my all and try my best and good things will happen."
At six-foot-four, Foote is the tallest Canadian defenceman. No one else on the blue line stands higher than six-foot-one. Head coach Dominque Ducharme said Foote's size played a role in him getting picked, but it wasn't the only factor.
"It's going also by what kind of role they can play," Ducharme noted. "We need guys moving the puck, playing on the power play and killing. And Cal, he's doing a good job on the PK for sure. He's well-positioned, he's a good defender, he's moving the puck well and he's a bigger body so it's all those kinds of things and he's playing well."
Foote has 30 points in 30 games this season in Kelowna, but knows he'll be leaned on for harder defensive minutes with Team Canada.
"I have to play hard," said Foote. "I have to be hard to play against and fill more of a defensive penalty kill role. It's going to be fun."