Potential McDonagh deal a complicated matter
The New York Rangers captain's true value is tough to determine because he's never really been put in a position to succeed, Travis Yost writes.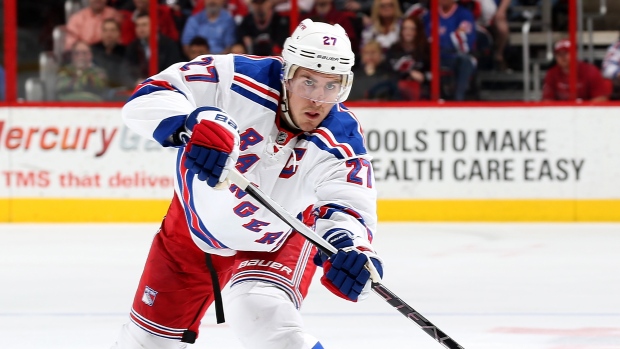 With the New York Rangers expected to conduct something of a fire sale at this year's trade deadline, all eyes are turning to defenceman Ryan McDonagh.
The Rangers captain is an interesting trade candidate for a variety of reasons. For a top-four defender, his $4.7 million per year contract – set to expire at the end of 2018-19 – is a reasonable carrying cost, especially for a player who is just 28 years old.
He's also earned a reputation as one of the league's best in the defensive third, a guy you can throw at the opposition's best in every situation. Pair him with a capable puck-carrying and transition-minded defender, and you could have a perfect balance of complementary skills.
One thing that I find particularly interesting about McDonagh is his playing environment in New York. The Rangers have been a quality and competitive organization for close to a decade now, but they've never been able to get over the hump. Part of that is because the blueline in front of Henrik Lundqvist has always been an unknown. Outside of McDonagh, there have always been a number of questions marks up and down the lineup.
This is a point worth emphasizing for prospective buyers. You can watch hours upon hours of tape on McDonagh. On each shift, keep in mind that he is shouldering a substantial workload burden – partially because the Rangers aren't very good and partially because McDonagh's partner is usually of substandard quality.
If you look at who McDonagh has played with over the last few years, you will pick up on two items really quickly. One, the sheer number of minutes he's played with second or third-pairing types in a first-pairing role is ridiculous. Two, even when he has been tied to these tough minutes, he's generally performed well and has improved the performance of his partner.
On the pairmate piece: The below graph shows the buildup of McDonagh's ice-time since the 2013-14 season. As you can see, three players have really defined his career over the last five years.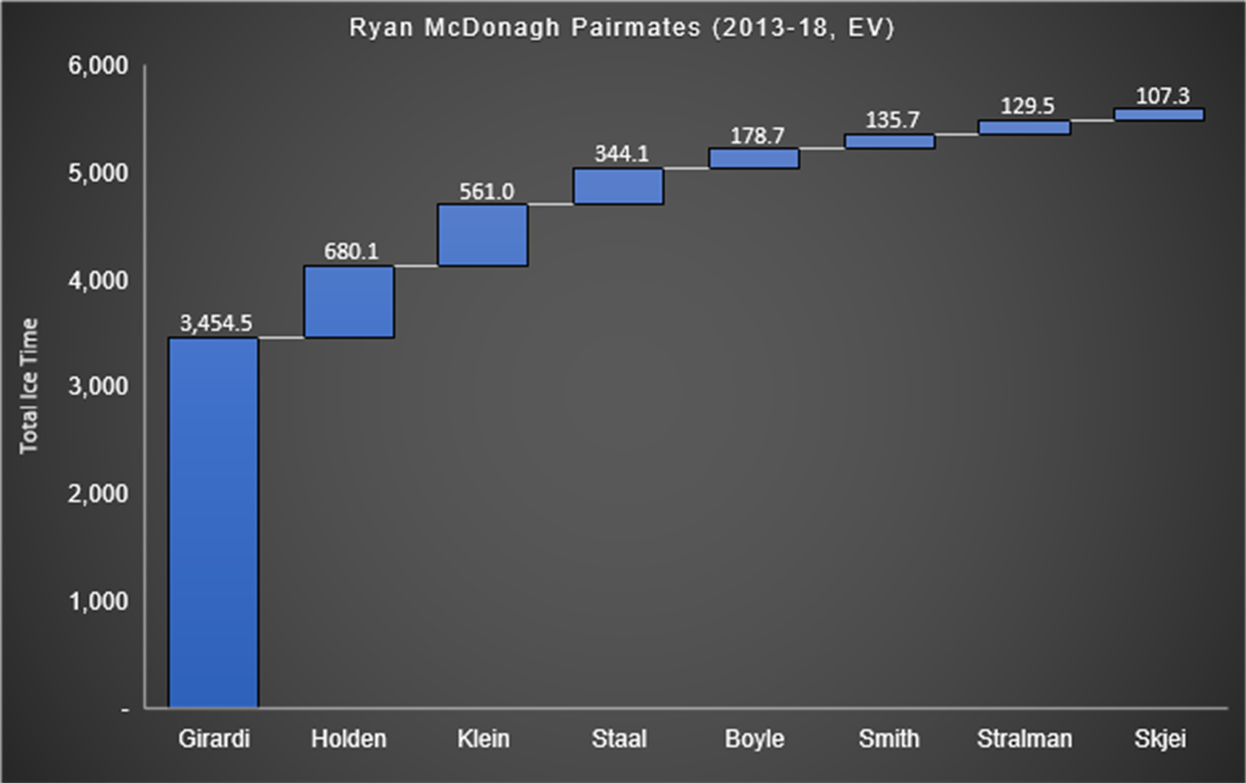 Dan Girardi has been the guy most commonly anchored next to McDonagh. Add Nick Holden and Kevin Klein to the mix, and you have effectively captured about 85 per cent of the minutes McDonagh has played at 5-on-5 over the last five seasons. Add Marc Staal and it is over 90 per cent. Say what you will about any one of those four guys, but I think it's fair to assess that no one has them as first-pairing guys. Even calling them top-four talents might be a bit of a stretch, though Staal did have some solid years in there.
Part of this has been strategic by head coach Alain Vigneault. He has loved using McDonagh in a shutdown role and he's never had an issue putting a more defensive-minded guy on McDonagh's side. The problem is that you run into redundancy issues and never complement McDonagh's weaknesses, which are probably only related to his ability to act as a primary distributor and puck carrier. These units, for the most part, have been dropped over and over into the defensive third with the primary (and perhaps only) goal of mitigating goals against.
Back to my earlier point about performance. We know that McDonagh has spent a huge amount of time with the above four names. If you look at how each player's Corsi% – our measure for a player's ability to drive shots, scoring chances, and goals – over this period of time, you can see that McDonagh has been the one elevating the performance of others. When McDonagh is moved away, his numbers tend to spike a bit. When his pairmate is moved away, his numbers tend to slide.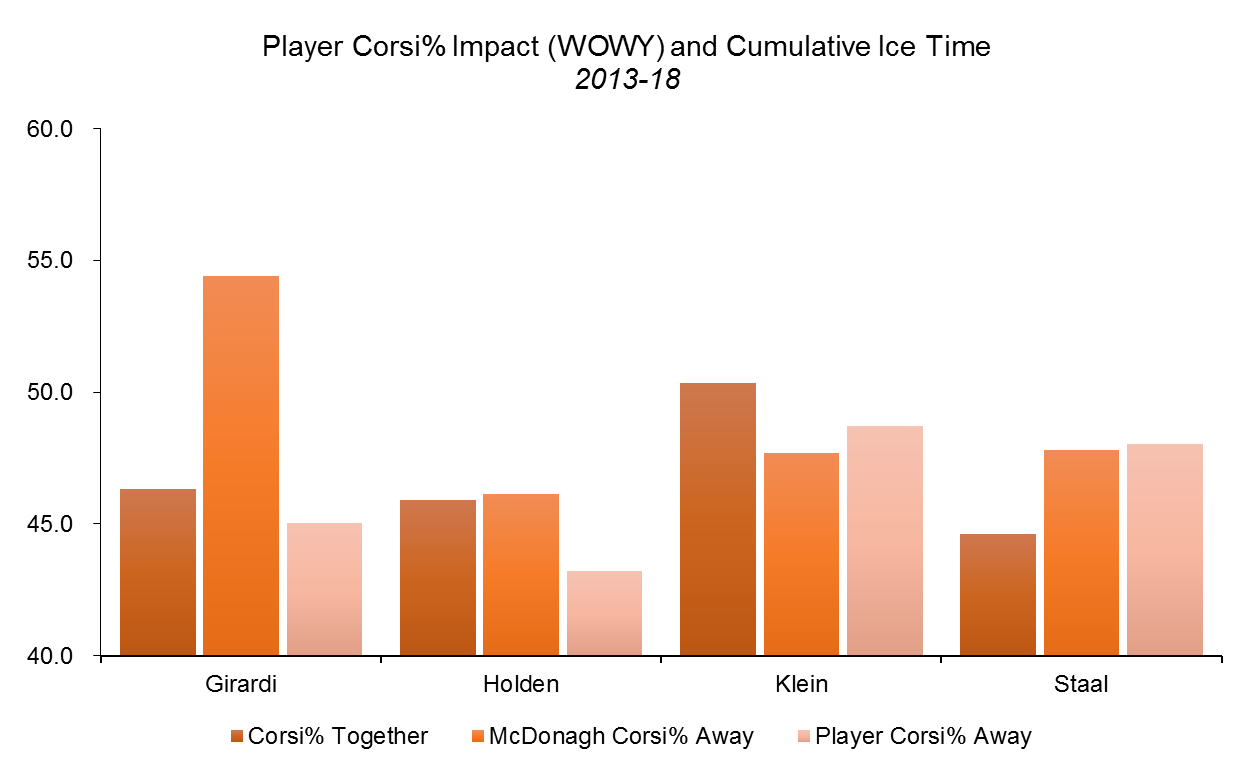 In the case of Girardi, Holden, and Staal, McDonagh's numbers are better when he's played with anyone else. (In Girardi's case, substantially so.) It would seem to me that of the four units that Vigneault tried out, McDonagh and Klein probably complemented each other the best. Both players saw a decrease in performance when split. This would make some sense as Klein, at least during his playing prime, was known as a better offensive player than any of the other three names. But again, we are talking about 90 per cent of McDonagh's minutes tied up with these four names.
My point being: It's going to be difficult to assess the true talent of McDonagh on pure video. How do you effectively capture the fact that he's almost always been the best player on his pair? How do you properly adjust for the fact that McDonagh has really never been put in a position to succeed?
It's not easy, and it could make this one of the more complicated trade deadline deals of 2017-18. McDonagh is clearly a strong and capable player off the puck. But how do you weigh shaky team performance and limited individual offensive production against truly brutal deployment – both in terms of teammate quality and the mere fact that so much of his time is spent playing against the opposition's best in unfavourable situations?
It will be fascinating to see what a team does pay if a trade materializes. There's clearly a market for him. The question now is how high the price will go.