Rank gets a taste of the U.S. Open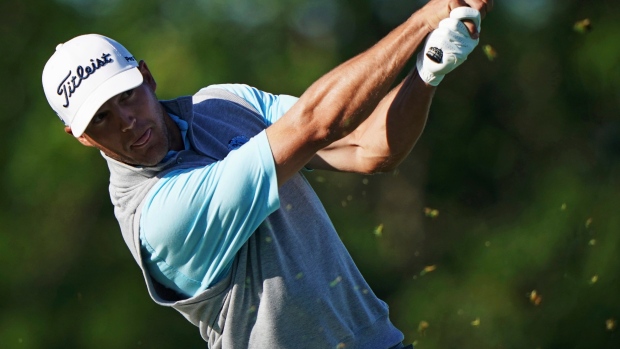 TUCKAHOE, N.Y. – Garrett Rank didn't have to wait long to get his welcome-to-the-U.S. Open-moment. It happened not long after he teed off.
"It hit me right in the face on the very first hole," he said. "I got up by the green in two and was in a pretty good position and thought I hit a good chip shot. All of a sudden I'm 40 yards away from the pin."
His chip slinked up to the hole, but continued to roll, going on a slow death roll off the green and back down into the fairway. The result was an opening-hole double and things never really got on track the rest of the way in what was part the brutal conditions and part mediocre play.
The 30-year-old from Elmira, Ont., who is also an NHL referee, posted a lofty score of 83 that included four double bogeys. While he battled the strong winds that buffeted Shinnecock Hills, he was also hampered by a weak short game, especially out of the bunkers. Some of his score was due to the drastic change in the course from the first three days prior to Thursday's opening round.
"I might as well not have played any practice rounds," said Rank. "That's how different the course was."
There was also a difference in the consistency of shot-making between Rank and his playing partners, Mackenzie Hughes and Aaron Baddeley.
"I hit some good shots," he stated. "The good shots I hit were just as good as the good shot of the guys I played with, but I've got a bad shot in my bag too."
Rank admitted that even if he'd played the best round of his life, he still likely would have been at least five over par on Shinnecock. That's just how extreme the course was playing.
Even with the disappointing score, Rank was able to enjoy his day, smiling on most of the walks between shots and stopping to take in the vista from the ninth green that looks out at the course.
And the fans treated him to some good old New York cheers. At one hole, a loudmouth yelled "We need more slashing calls on Pittsburgh." At another, someone encouraged him to "Smash that Timbit."
Through it all, Rank was still smiling and still in awe of playing in the U.S. Open.
"What a cool experience," he said.
He'll get to do it all over again on Friday afternoon.