Raptors' rookie Anunoby adjusts to NBA life
Toronto forward has been a revelation this season, but he's learning what it feels like to hit the rookie wall, Josh Lewenberg writes.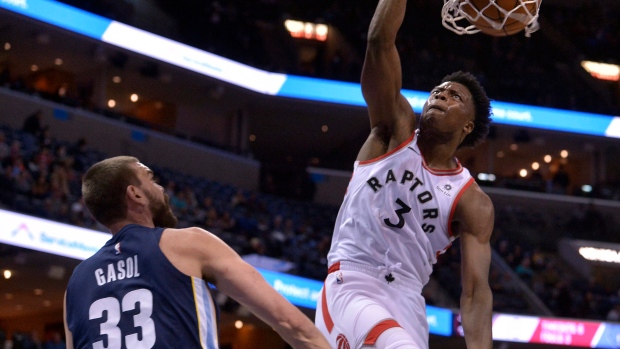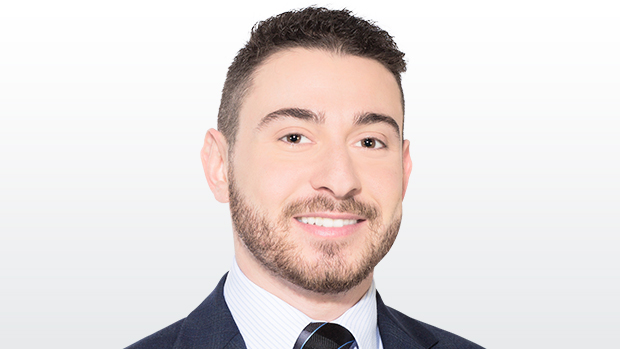 TORONTO – Looking back at his rookie season, Raptors second-year forward Pascal Siakam realizes he may have been in over his head, especially early on.
Of the team's many young players, he was the outlier. While Norman Powell, Delon Wright, Jakob Poeltl and Fred VanVleet are all regular rotation guys now, each of them – as the global ambassador would say – started from the bottom. They all worked their way from the D-League and the end of Toronto's bench into Dwane Casey's circle of trust.
Thanks to some extenuating circumstances – namely an injury to presumed starter Jared Sullinger in training camp and a lack of depth at the position – Siakam was thrown right into the fire. He was an early season success story before falling out of the rotation altogether by February. He had hit the rookie wall, as they say.
"It's hard," Siakam remembers. "It's really hard. Especially when you're that high, right? Like, you start and you play good every night and the team depends on you and you're making shots and then at some point you're missing shots. So it's hard, there's no way to sugarcoat it.
"You put so much pressure on yourself. But when you're trying to [play] catch up it's like, 'Hey, at the end of the day I might not play, so why not get in there and give it whatever I got?' So I think it's easier to climb up then to be at the top and sustain that."
Rookie OG Anunoby can relate. Like Siakam, Anunoby was thrust into a prominent role out of the gate. He opened the season in Casey's rotation, earned his way into the starting lineup by mid-November, and has started every game since. Also like Siakam, he's beginning to look his age as the all-star break approaches.
All things considered, the 20-year-old forward has been a revelation for the Raptors. He was supposed to miss a big chunk of his first season after tearing his ACL a year ago last Friday – the biggest reason why he was available to Toronto with the 23rd pick in June's draft.
Instead, he hasn't even missed a game. Although he's still raw offensively, he's exceeded expectations as a playmaker and three-point shooter. Defensively, he's been as good as advertised, taking on the impossible task of trying to stop the opposing team's best perimeter player every night, from LeBron James to Kevin Durant to Giannis Antetokounmpo.
Lately though, Anunoby's production has taken a hit. After averaging 6.7 points on 48 per cent shooting (42 per cent from three-point range) in 34 games through Dec. 31, he's putting up just 4.8 points on 37 per cent shooting (20 per cent from three) in 12 contests this month. Those inevitable 'learning moments' all young players experience have been happening more frequently, even on the defensive end.
In cases like his, or Siakam's a year ago, there are a number of causes for a mid-season slump. Firstly, Anunoby is no longer catching opponents off guard. With a better idea of what he can and can't do, teams are more prepared for him. The other explanation is one that's far more difficult to appreciate, at least for any of us who haven't experienced it.
While seemingly glamorous from the outside looking in, adjusting to the many facets of NBA life isn't easy. The hectic schedule, the travel, the spotlight and the pressure – it would be a challenge for anyone to get used to, let alone a kid coming straight out of school.
"I think the rookie wall is more about young guys not knowing how to be professionals," Casey said. "Not knowing to get in the cold tub, or eat right or sleep right. Instead of going out with your buddies or playing video games at night or whatever, get your rest."
"It's something you've got to get mentally used to – the traveling, the ins and outs, the practising, everything," said all-star guard and nine-year pro DeMar DeRozan. "So it's a learning process. It's something you've got to face head on, you can't complain about and that's one thing I definitely remember is just that grind that feels like it's never going to end."
The games are coming fast, which most first-year players cite as the biggest adjustment. In two college seasons at Indiana, Anunoby played 50 games. He's already played 46 in his first three months as a professional, with the 47th coming on Friday.
Unlike some of his teammates, who didn't play a lot at first, he hasn't had the luxury of easing into it either. He's had to adapt on the fly, getting accustomed to a new routine while also logging high-leverage minutes and trying to improve on the court.
"It's a lot of games," said Anunoby. "You don't realize until you're in it how many games it is. You feel it more now, but everyone goes through it. [I'm] just taking it day-by-day. Getting rest is the biggest thing."
With that in mind, it probably wasn't a coincidence that one of Anunoby's best games of the month came after three consecutive days off – a 10-point performance in Atlanta on Wednesday.
Like everyone else around the team, he was surprised that he and the other three eligible Raptors were left out of the Rising Stars game, even a little disappointed, but he's looking forward to getting away for All-Star Weekend and using that time to recharge his batteries ahead of the stretch run.
The team's veteran players will tell you that there's no cheating or even simulating experience. In fact, it's something they've all told Anunoby. There are going to be bumps in the road, both on and off the court. There's no avoiding that. They can be there to help guide him along the way, and many of them have been, but ultimately it's something he has to go through and learn to overcome on his own.
"We told him the other day, man, we all went through it at some point," DeRozan said. "But you've got to push through it. You're not the first and you're definitely not the last so don't let nothing discourage you. Fight through it and embrace the struggle."
"At the end of the day you have to cope with it by yourself and understand it's going to go away with time and with work," Siakam echoed. "I don't think there's much people can tell you other than not to get too down yourself. I think that's the only thing. Just keep your confidence high."
Although that's something most young athletes struggle with, remaining grounded, Anunoby is as levelheaded as 20-year-olds come. He doesn't seem to get too high or too low, a prerequisite for any successful NBA player. He's cerebral and doesn't seem easily fazed. That's the biggest reason why the Raptors felt confident in throwing him out there from the get go and the reason why they believe his learning curve will be shorter than it is for most.
Don't let his quiet persona fool you. He's not just like that with the media. He's a young man of few words, but those who know him best can confirm what is already apparent after having a quick conversation with him. His brevity is not a product of arrogance; on the contrary, he comes off as humble and thoughtful. Masai Ujiri calls him one of the smartest players, and people, they've ever brought in.
Asked how he's acclimating to the nuances of his new life, Anunoby put it simply.
"You kind of figure it out on your own," he said, as if to say, it's an adjustment but it's not rocket science. "If you're tired during the day, you take a nap."